If you love ceiling fans, you have probably realized that they are a remarkable addition to elevating decor in terms of both aesthetics and utility. But given that you can only have so many ceiling fans in the home, the question begs, what other decorative fixtures can you use to deliver playful lighting and exquisite beauty that complements the already existing decor? Well, the answer lies in the best types of suspension or pendant lighting fixtures that are delicately crafted with an immensely broad spectrum of materials, shades and lighting design that evokes curiosity, beauty and emotion.
Below we have lined up the best suspension lighting fixtures that will enliven spaces in your home or business establishments while mesmerizing you, your guests and customers.
---
A well designed suspension craft is one of the most popular and stylish ways to decorate a given space. But nothing quite prepares you for this exquisite sort of lighting that has a fantastic wow factor.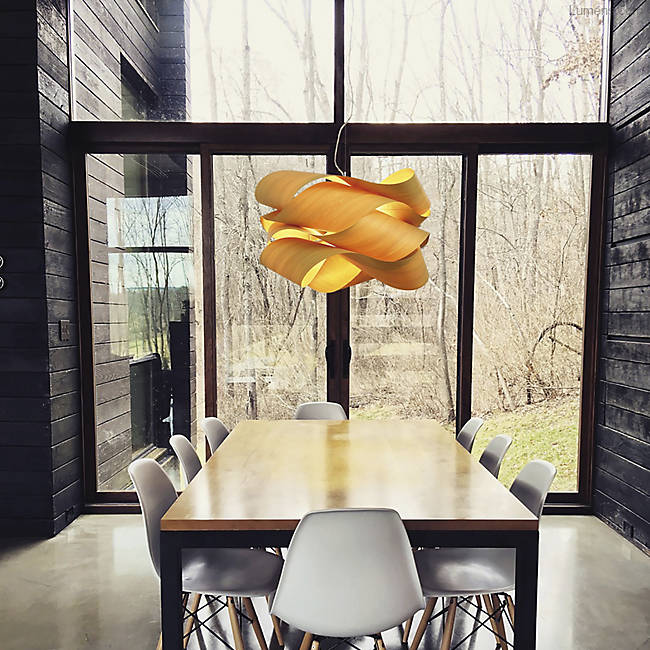 Spaces where this fixture can add some spice ranges from the office and living room to the reception or hallway. The transparent cord and aircraft suspension cable is adjustable up to 107 inches in this unit. That is in case you have a higher ceiling or would like the fixture to hang low.
The decoration of this artistic craft comes from a seemingly broad continuous ribbon of wood veneers that have been interwoven creatively.
It comes in numerous delightful colors that are attention grabbing. The playful design combined with the interesting colors is fun way to dress your ceiling without cluttering the room.
---
The Marset Discoco Pendant is a marvelous lighting piece with radiant flair.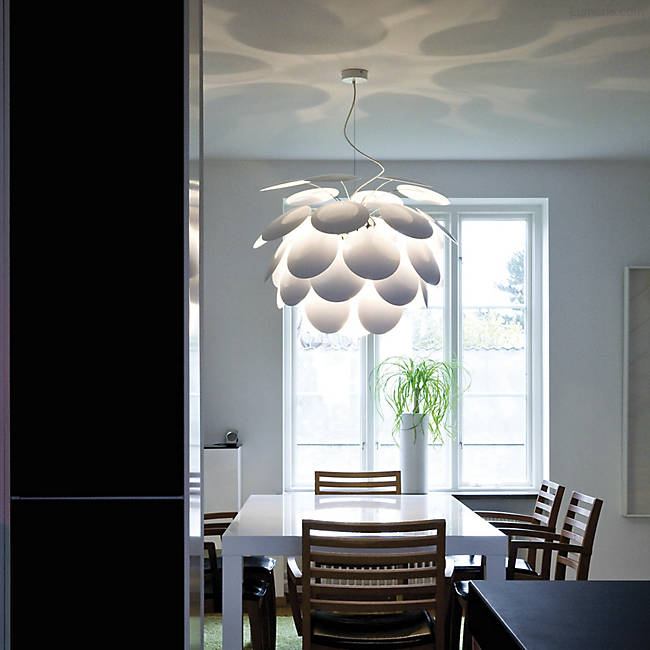 This unit comprises of several lacquered discs that float around a chromed and lit semi-sphere. The discs' meticulous arrangement acts as shielding layers to the central light source. At the same time they serve the purpose of redirecting and reflecting the light onto the underlying disc.
The effect is a beautiful and captivating symphony of light and shade that is surely enlivens any space.
It can be used in different spaces ranging from a dining area in the home, living room, bedroom, hallway or restaurant.
The unit comes in several colors that can work with numerous decors and color schemes. The available colors are white, matte beige, matte grey and black with gold.
---
This pendant is an exquisite piece of lighting that will work exceptionally well on a dining area, shop outlet or can be hang repetitively in a restaurant environment.
The fixture illuminates brightly but also uses shade for beautiful contrast and emotion. Its light is gentle and inviting to the eyes because it is 100% glare free.
The unit is made from rolled aluminum struts that make up the shades which have a unique and artful sculptural layering design. It evokes your curiosity as it utilizes a reflective three shade system that immaculately plays with both light and shade.
The unit comes in a myriad of color options to complement an expansive range of decors.
---
If "hope" could be suspended, then this is what it would like! This is an amazing piece of lighting that is nothing short of brilliant imagination.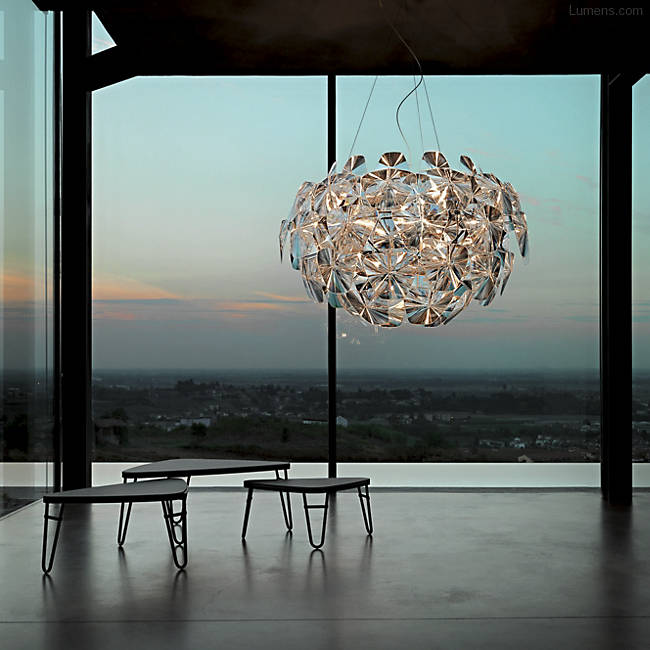 This Hope Suspension unit is constructed from a series of thin polycarbonate prismatic Fresnel lenses. This material creates a refractive effect similar to glass or water but without the bulk and weight.
The lighting is evocative and arouses your curiosity while infusing an emotion of calmness and beauty into the space.
The dazzling design of the Hope Suspension is named after the brilliant 45 carat diamond that inspired this creation.This piece comes in several sizes and is an amazing way to dress a ceiling. It comes with field-adjustable suspension cables.
---
The beauty of light and elegantly designed lighting fixtures such as this one is that they can set the tone or mood of your home. This lighting kit is literally named after heaven which is "Cielo" in Spanish.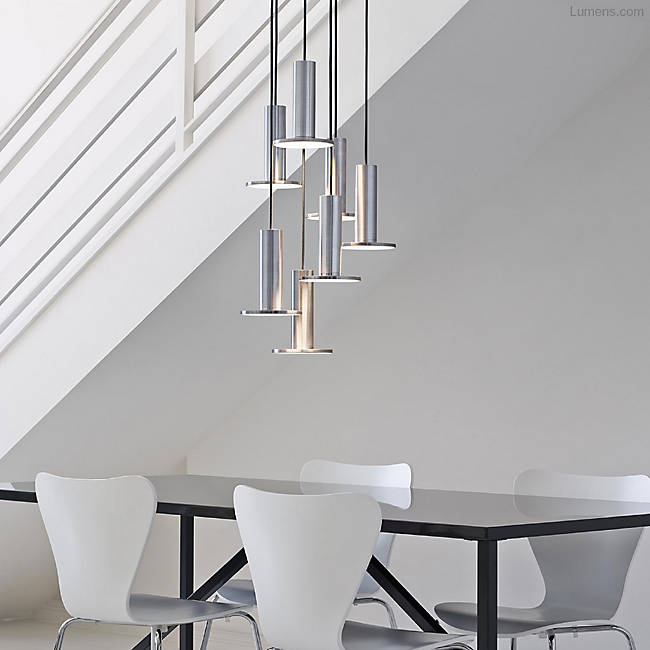 Having this in a hallway entrance to your home or restaurant makes you feel like you are being welcomed by angels.
The LED Multi-Light Pendant is a customizable and made from an aluminum body while the lenses are polycarbonate.
The light is glare free and dimmable which is not only friendly to the eyes but also great for mood setting.
This fixture can also work above a dining area in your home.
With the help of a field-cuttable colored, fabric suspension cable, the installation blends in rather well with the rest of the decor. In terms of matching this unit to your decor, the various color options that it comes in make that task all the more easier.
---
Mini Mikado Pendant is a unique example of contemporary lighting at its best.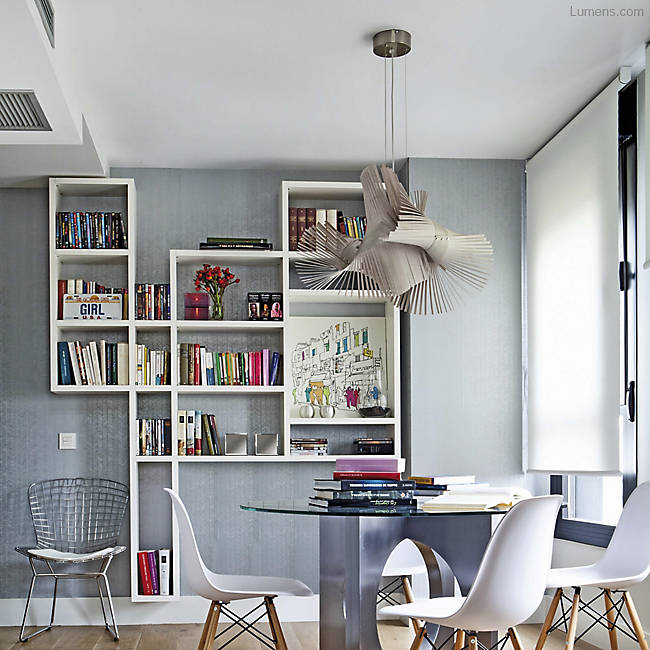 This fixture will no doubt inject a delicate look into the décor of residential homes as well as entertainment establishments such as swanky cocktail bars or elegant restaurants.
Composed of two die-cut sheets of wood veneer and stamped strips, the unit conjures up a feeling of sensuality.
There are different colors to choose from depending on the color scheme of your space. Some colors are calm and collected while other are vibrant and charge the air with an intense sensual aura.
The lighting kit suspends effortlessly with the help of a transparent cord and three aircraft suspension cables. These are neatly attached to a brushed nickel steel canopy that anchors the fixture to the roof. This design is bespoke and very playful.
---
The Silvia pendant is a gorgeous creation made from polycarbonate. The fixture hangs from a round shaped canopy with the help of a black chord. It assumes the shape of a budding flower.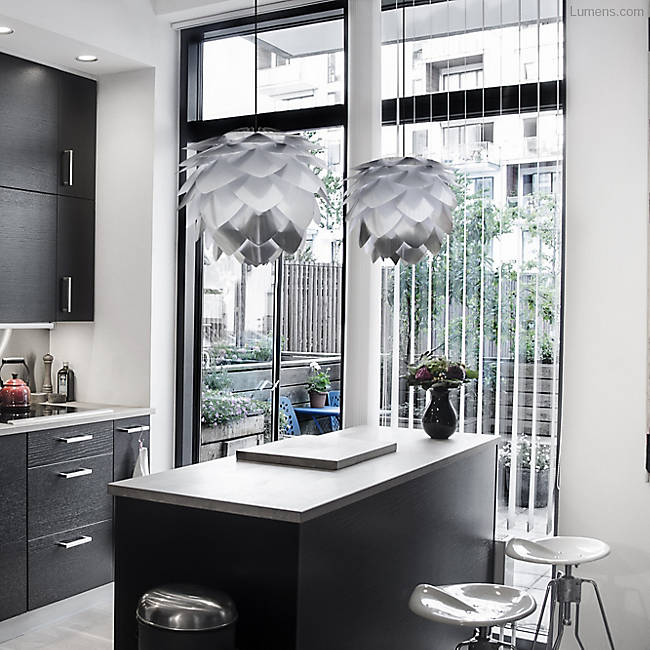 The designer did an impeccable job of using layers of polycarbonate to bring out the delicate beauty of a flower with lighting at the heart of it.
The layered design is anti glare and will certainly create a subtle and comforting ambience for dining, living spaces and lounges. This lighting unit comes in several shades of white, copper and steel making it flexible to match with numerous decors.
What's more, this unit is remarkably affordable.
---
The Crysorama Broche Pendant has a unique and beautiful metallic feel and design without coming across as bulky. Interestingly, the inspiration behind this unit is a metallic brochure that was found in a French flea market. That back story adds even more character to this creative lighting unit.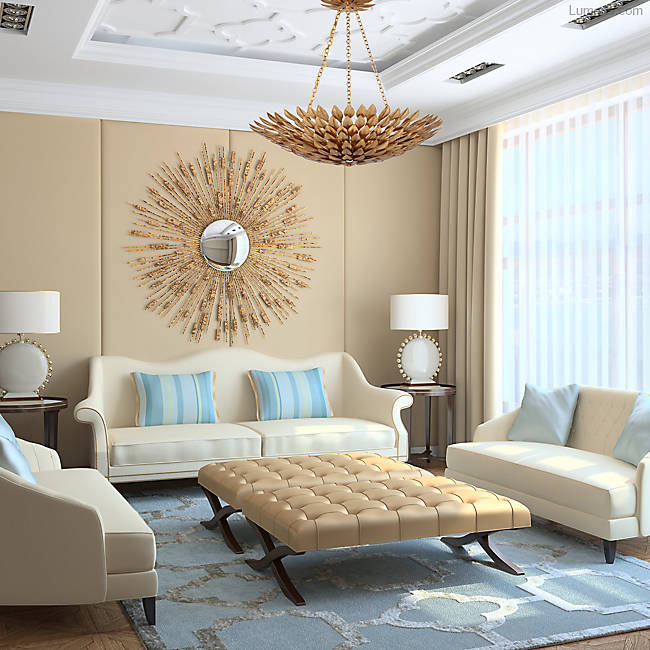 The fixture is constructed from wrought iron and the leaves are wrapped in a metal foil to give them a beautiful sheen. With two sizes to choose from, one can always get a suitably sized option for your space.
The smaller unit holds 6 bulbs while the bigger unit takes 8 bulbs. They are both dimmable and a good choice in setting the mood for an ambient space. The chain link that extend from the canopy to hold the leaves adds an element of dramatic effect.
It comes in several exquisite metallic finishes that are good enough to work with multiple decors. These include antique silver, antique gold and a matte white finish.
---
Crystals and chandelier styles have their roots in the past but the present can be inspired by that past to create innovative contemporary designs that have a modern sparkle.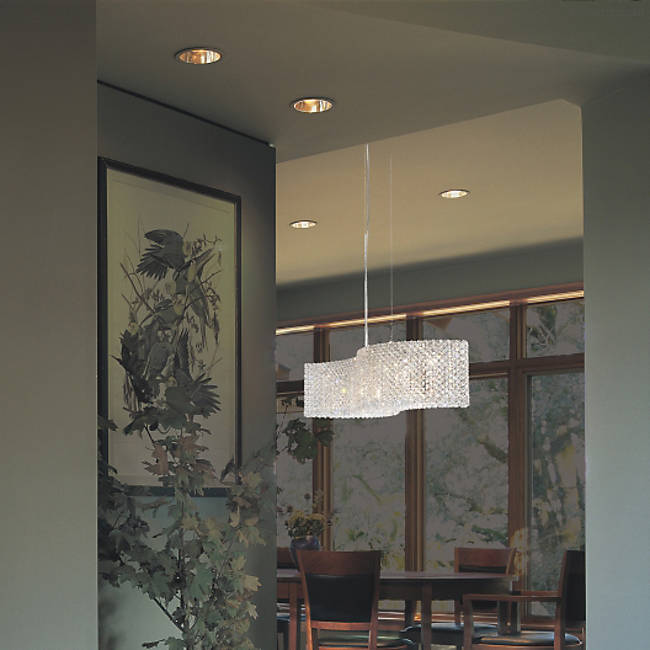 This lighting fixture assumes the shape of a shallow wave with an S-curve that has been adorned by numerous finely faceted Swarovski crystals. The crystals can come in a variety of color elements or Spectra crystal in clear. No matter what color option you chose from, they all come with a clear crystal bottom.
This lighting fixture is a good fit for a lounge or dining area. It can also be used repetitively in a restaurant among numerous other spaces that need a touch of pristine artful elegance.
The different color elements helps makes matching and contrasts on existing color schemes much easier.
Crystal elements include clear, jaguar, golden teak, travertine and ocelot. When the fixture is lit, it infuses elegance and an air of calmness and intimacy to a space.
---
The Ellicot Pendant is a beautiful creation and concept that evokes curiosity.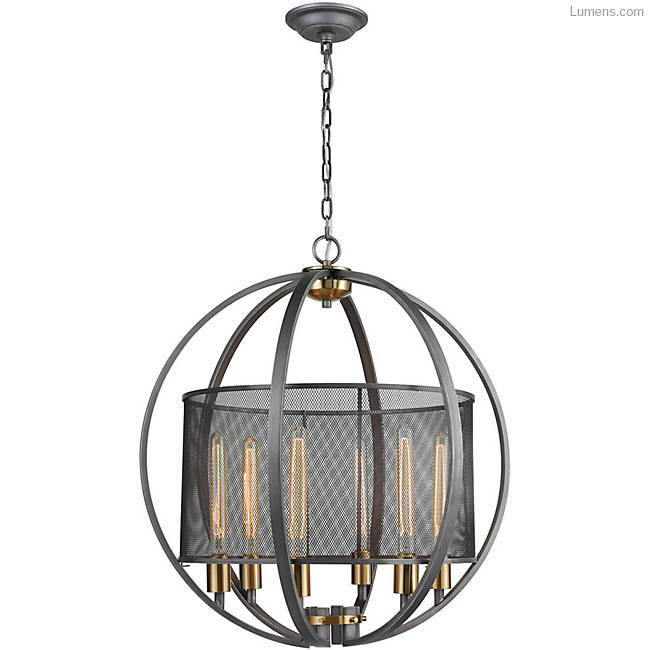 This is no doubt brought about by the interesting design of an orb shaped cage. Within the cage you have this cylindrical fine wire mesh that surrounds and provides shade for several light bulbs.
The metal on this fixture has been given a weathered zinc and satin brass finish. The chain link design that supends the unit from the ceiling adds a touch of drama to the entire design.
The result is a pendant with a rustic feel and look which still provides a soft, diffused light. This would be ideal for areas such as entry ways, hallways, living rooms, and dining spaces. This is a fantastic unit for a contemporary space whether commercial or residential.
---
The Escape Pendant literally brings an out of the box design to your living room, hallway, reception or office.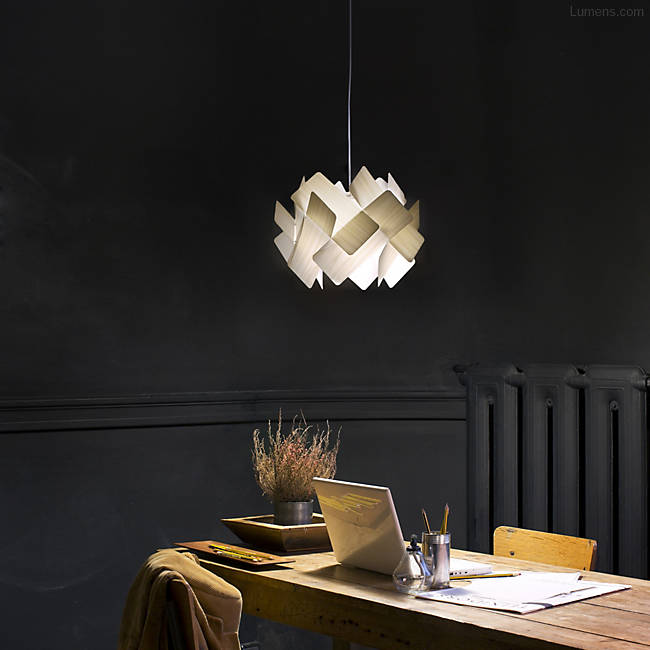 The traversing geometric planes with semi-translucent veneer panels criss cross each other to bring an air of organized chaos.
It has a neatly tucked in light bulb in the midst of the chaos to illuminate and reflect against the panels forming an interesting play of light and shadow. Only a shaded light with no glare escapes the chaos. The unit evokes curiosity and delivers interesting muted lighting.
You get a soft light with adequate brilliance for any room in the house. And it also looks natural with the earth tones used on the pendant.
---
The Bover Dome LED Pendant is a perfect example of form and function merging together to produce exquisite and gorgeous lighting.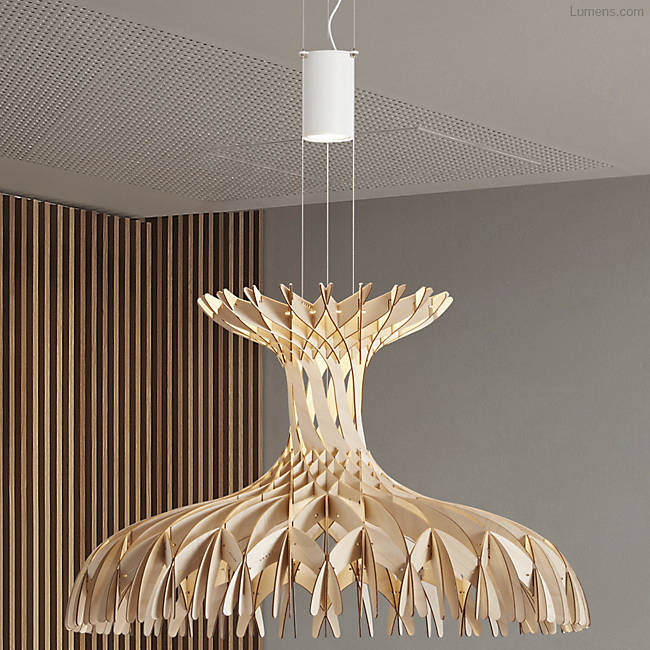 The whole unit has been crafted from putting together hundreds of wood fragments.
The LED lighting is housed in a compact metal cylinder matching the canopy which has been placed slightly above the handcrafted shade. The lighting still merges perfectly with the unfurling star bursts and Fibonacci sequence patterns to form a dome silhouette of the fixture.
This unit is great for large spaces like a board room or a conference area. This is because its delightful illumination and glamorous art add a sophisticated signature and rustic elements to the otherwise very serious space.
---
This design displays a retro futuristic appearance with remarkable simplicity and unfettered class.
The Estiluz Siso Pendant's ability to deliver an unobstructed down light and warm splashes of shaded light to the immediate surroundings, is due to a white satin glass interior diffuser placed in the central inner sphere. The playful lighting is achieved with the help of a triumvirate of interlocking aluminum rings orbiting around the satin glass.
This unit is made from aluminum ring shades and comes with several color options such as white lacquered matte and polished chrome. It is a good option for a bedroom, living room and entryways.
---
The wedge LED Lighting pendant is a beautiful evocative piece of lighting with a delightful circular design which fills a room with up and down lighting.
The fixture conjures up the image of the sun with sun rays shooting out from the center. Only in this case it does so from two rows of 30 angled trapezoidal forms attached to a center ring.
These are all equipped with edge-lit replaceable LED panels composed of an optical lens, reflective layer and outer extraction lens.
The unit has a clean look from a polished chrome finish. That is sure to light up any space while oozing character and elegance.
---
Fusing 19 century Japanese elements with contemporary design gave birth to this eclectic pendant. This lighting fixture aims to merge strong metallic elements with a box frame design.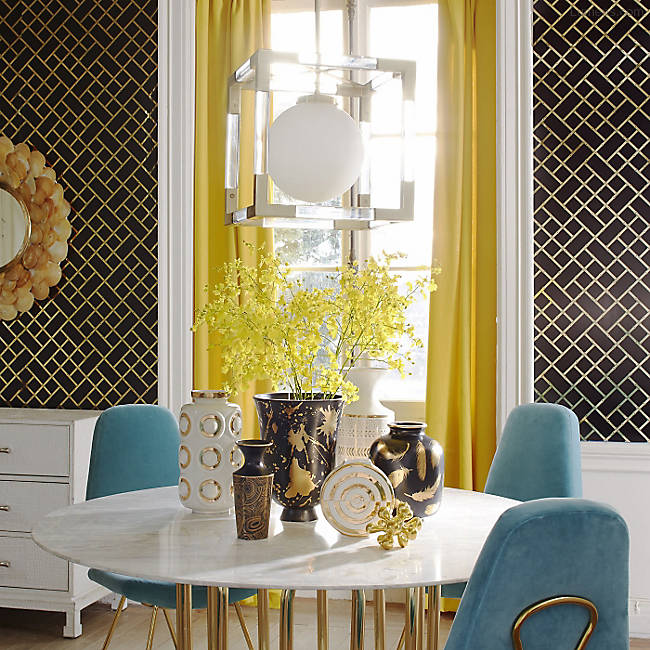 At the very heart of the cube is a white spherical diffuser.
When lit, it illuminates a transparent Lucite acrylic frame and metallic golden accents for a delightful light display.
This unit will work in restaurants or hotel bathrooms. But don't dismiss it for the home where it is a great fit for the living room.
It is the epitome of contemporary décor.
---
This is a pendant that is masterfully crafted with thin strips of Birch plywood. These are assembled in offset layers to conjure up a delectably soft ambience as light bounces between the inner and outer shades.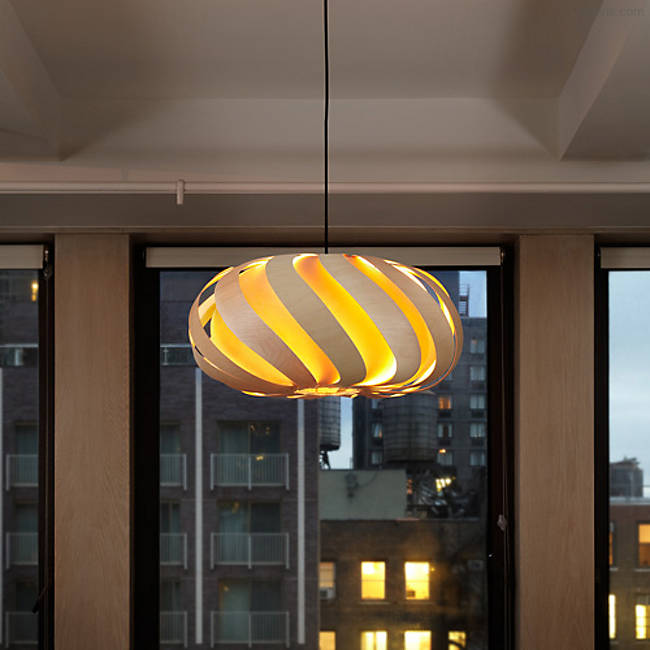 Because the holes in the interior unit are hidden from an observer's eye, the light reflects on the thin birch plywood grains for a calming warm glow.
The strips outside form a decorative layer and give the unit an artistic look. You can hang this pendant anywhere you want in the home or office.
---
The word spectacular only begins to describe the artful beauty of this lighting piece. This ought to be placed in an area of the home where its full splendor can be displayed without inhibition.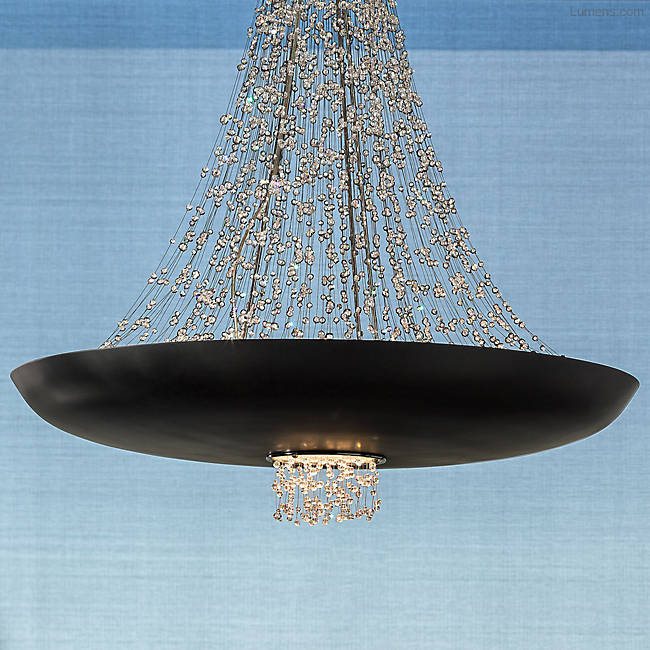 It makes for a great conversation starter and a centerpiece for a living room, but can be installed repetitively in a long hallway or corridor in a hotel or a posh spa.
The generous amount of crystal droplets looks like halted beads of rain in mid air anticipating dropping into a bowl.
The crystals capture the multiple sources of LED light through the various sides of each bead. The light play is simply beautiful and quietly cheerful.
This unit is available in delightful finishes such as matte white and matte black. It also comes in different sizes to suit smaller, medium and expansive spaces.
---
Pendant craft is clearly elevated in this lighting unit. The fixture is made from two Rattan slats. The slat on the interior directly provides shade to the centralized LED light and has a wooden hue while the second slat houses the first and sports a black color.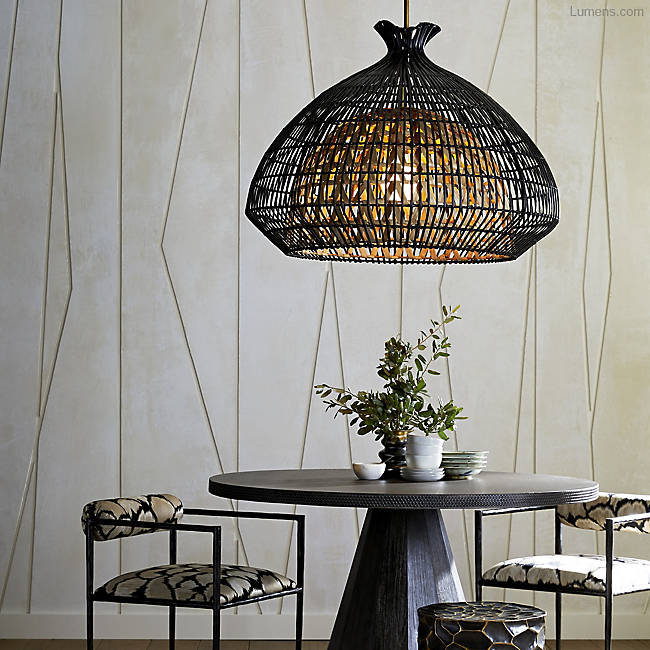 This contrast brings out interesting light play. The LED light is dimmable for ambience setting. This looks amazing and thematic in restaurants and it also helps that they can be used repetitively throughout a space.
These types of fixtures that can be used repeatedly are ideal for commercial settings like a dining area in a restaurant or cocktail bar.
---
With this lighting unit, you can effectively bring a touch of rustic farm house feel into your home.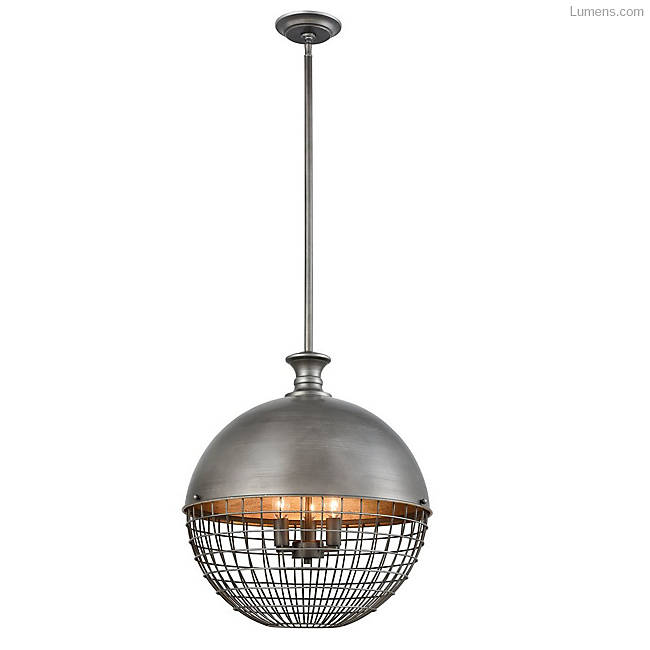 The hefty metal sphere comprises of a solid upper half and a contrasting wire frame on the bottom half that showcases the inner candelabra-style bulbs. A petite matching metal rod attaches the unit to a canopy that firmly secures the the fixture to the ceiling.
This is a hardy and beautiful addition to a space looking to inject some traditional charm.
---
In this unit, the orb shaped cage has been curved out from wood and finished with a distressed look. Hammered detailed metal forms the center which brings balanced weight to the unit and at the bottom of it, hooks serve as holders for 6 visible candelabra lights.
The fixture is held with a chain link that extends all the way to the canopy. And the center of the orb shaped sphere is lined with a strip of riveted metal that adds a touch medieval charm to the unit.
This will work well in a library or study. Some may even venture to place it on the entryway as you enter the house.
---
Conclusion
Given that not all sections of the home can be decorated using ceiling fans, we are glad that there are those ceiling areas that can be dressed up with these amazing suspension LED crafts. They provide beautiful ambience and tone to any space they touch.
Restaurants can particularly benefit from suspension LED crafts to add allure, theme and class to the space and attract more customers. After all, customers choose a restaurant according to the ambiance and what better way to create an unbeatable mood than by using creative lights.
The above options provide a large range of choice to fit even the most eclectic of tastes.