What are the best dehumidifier brands?
Aprilaire

Dri-Eaz

Ebac

AlorAir

Black & Decker

Frigidaire

Honeywell
Dehumidifiers basically reduce the humidity level of your home or office space. Too much humidity creates moisture in the air that becomes alarming to the safety of your family as well as the structure of the house and all furniture and equipment you own. No thanks to mold.. 
Regardless of whether you are a first-time buyer scouting or an owner of a dehumidifier unit looking for an even better dehumidifier unit, this article is for you. When investing in your family's comfort and overall health, you want to be sure you are getting the best solutions available for use at home.
Therefore, we rounded up some of the highly recommended and consumer-friendly brand manufacturers of only the best dehumidifiers in the market. With no particular hierarchy, here are the best brands .
1. Aprilaire
The Brand
Headquartered in the USA, Aprilaire is committed to continuously providing only the innovative indoor air quality solutions that are subjected to ongoing programs of testing, engineering, research, product refinement and practical experience. 
Considered to be a leader in the Heating, Ventilation and Air Conditioning (HVAC) accessories industry, Aprilaire works closely with associations such as the Air-Conditioning and Refrigeration Institute (ARI) and the American Society of Heating, Refrigerating, and Air-Conditioning Engineers (ASHRAE) to produce quality and efficient products for market consumption. Moreover, these affiliations allow the Aprilaire brand to remain one of the best brands. 
It was during 1953 when Aprilaire first introduced the effective home dehumidification system. Since then, they have continually innovated and expanded their products to meet the growing and ever-changing demand for indoor air quality solutions.
All Aprilaire dehumidifiers are manufactured in the USA. They boast of high-capacity, whole-home moisture removal and robust, commercial-grade performance. Backed by an industry-leading  5-year warranty, Aprilaire assures you that air in your home is effectively dehumidified.
Featured Product
Aprilaire 1850F Large Basement Pro Dehumidifier
The Aprilaire 1850F Large Basement Pro Dehumidifier internal coils are made of corrosion-resistant aluminum which is designed and built to last and for extensive dehumidification use. 
It can remove 95 pints of water a day within a 5,000 sq ft location without the need to empty drain trays so often. Aprilaire 1850F Large Basement Pro Dehumidifier can fit in tight spaces like under the stairwell and crawl spaces.
The major features of the Aprilaire 1850F Large Basement Pro Dehumidifier include wide and extensive coverage and built-in evaporator coil that processes air and auto-defrost control. Its compact size enables it to fit in tight crawl spaces and basements. 
In cases of extremely cold weather, the auto-defrost control turns off the compression. 
---
2. Dri-Eaz
The Brand
Dri-Eaz dehumidifiers performance and rugged reliability have long been a consumer choice for the air dehumidifying process. Dri-Eaz equipment are designed and constructed in the USA using only the most innovative and latest technology to efficiently manage the environmental control needs in residences.
Dri-Eaz is part of Legend Brands Restoration, a family of companies with more than 185 years of combined experience in producing professional environmental control equipment and solutions.
Featured Product
Dri-Eaz DrizAir 1200 Dehumidifier
High-powered and yet compact, the Dri-Eaz Drizair 1200 Dehumidifier is engineered and created for rugged use and  can remove moisture up to 15 gallons. It is tough enough to perform efficiently for the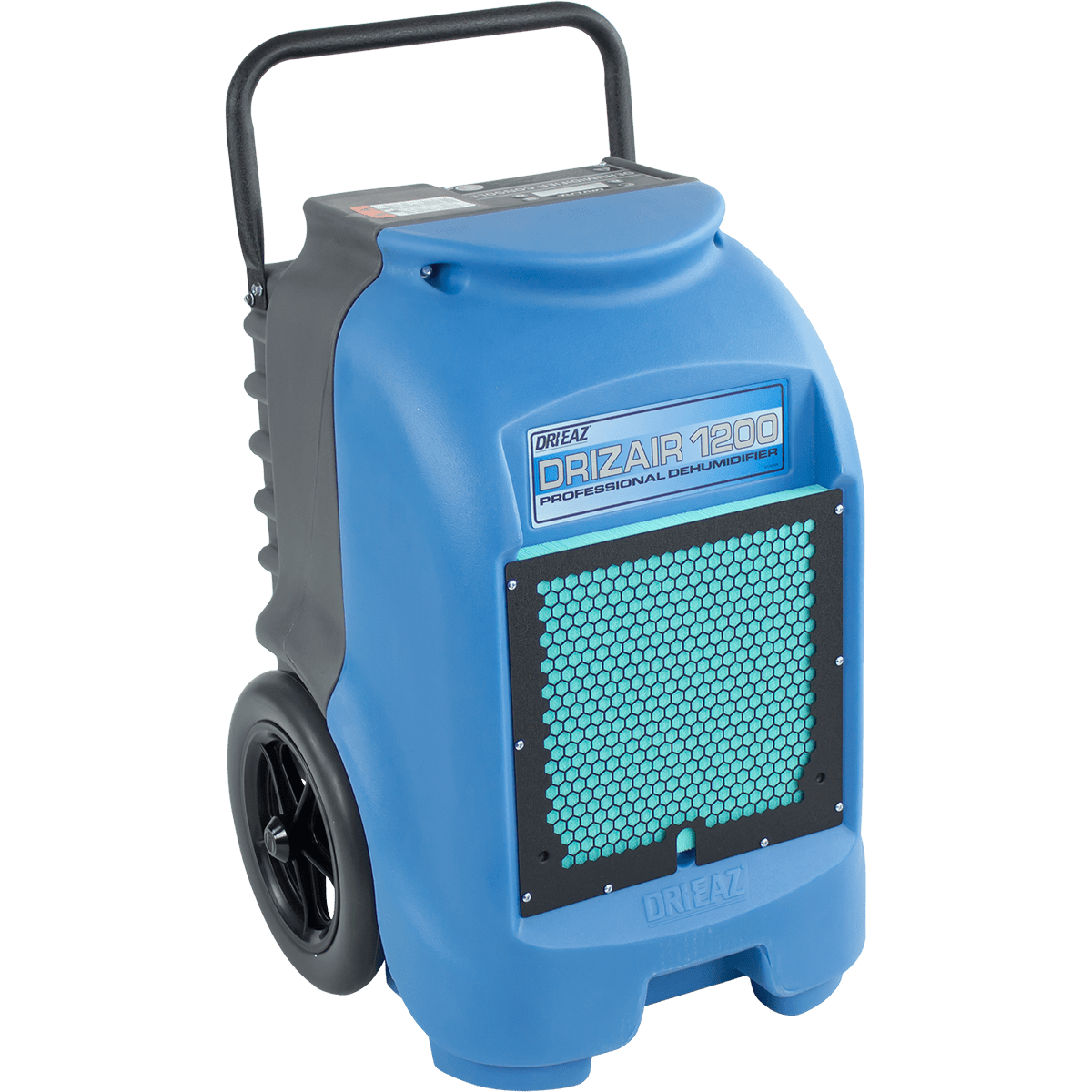 use of professionals in restoring water damage and simple enough for use at home and residential applications. 
With its powerful core, the Dri-Eaz DrizAir 1200 Dehumidifier is capable of continuous draining, able to automatically defrost the coils every six minutes to allow moisture that is collected to be drained before pulling in moist air again. 
The best features of the Dri-Eaz DrizAir 1200 Dehumidifier include; optimal drying temperatures, detects frost build up in coils during a normal operation, and has a hot-gas bypass that allows the system to defrost faster. Other standard features include its heavy and extensive coverage that removes up to 15 gallons of water a day. It is easy to transport, maneuver and tack with its semi-pneumatic wheels and rigid handle for heavy service as well as its sturdy and stackable frame with dimensions of 83 cm x 50 cm x 50 cm. 
Finally, its effective touchpad control panel consists of straightforward functions of the unit which includes on and off controls, job hour meter that counts the operation time, reset function to restart the cycle, and purge control for draining condensate pump.
---
3. Ebac
The Brand
Ebac is among the number best selling dehumidifier brand in the UK. The efficient Smart Control was patented by the brand in 2003 as well as Intelligent Defrost back in 1995 and many other features. It was in 1974 when the first dehumidifier was invented. 
Featured Product
Ebac PD200 Dehumidifier
The Ebac PD200 Dehumidifier can remove up to 190 pints of water vapor per day. It has a quiet two-speed (low or high dehumidification speed) fan and is made of heavy-duty steel case and its internal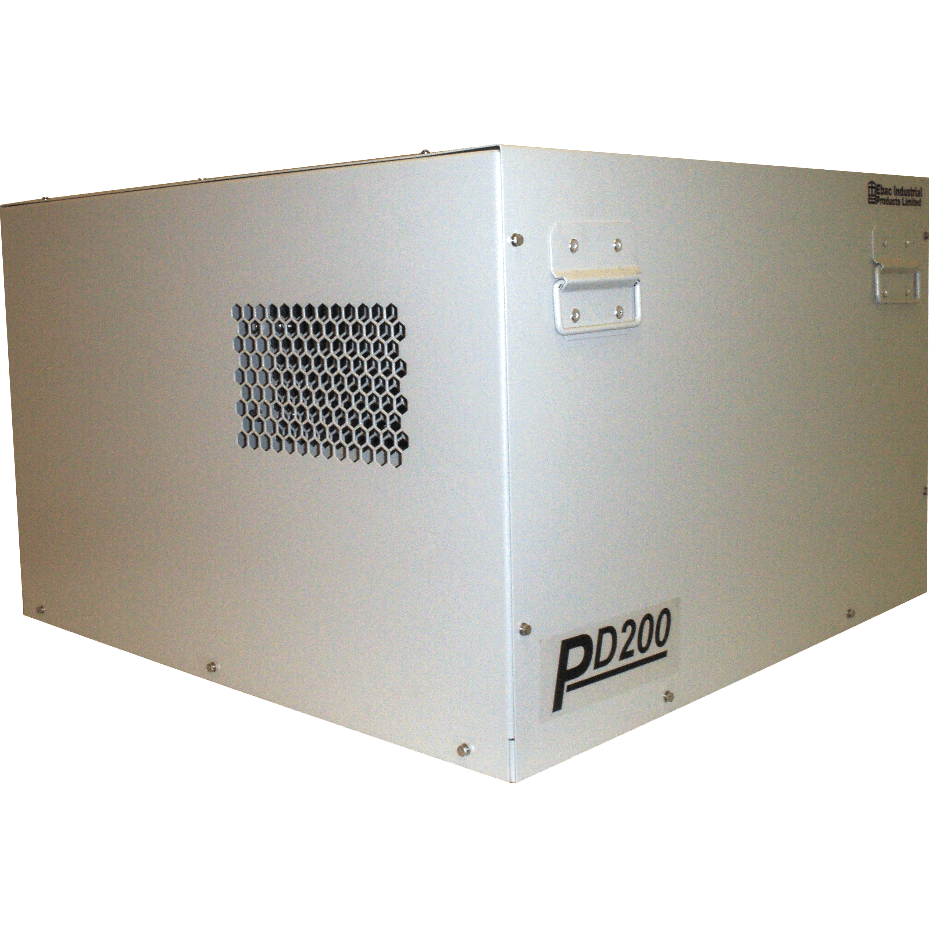 components are epoxy coated to make coils rust-free.  
The unique features of the Ebac PD200 Dehumidifier include a wide and extensive coverage and operating temperature range that allows the unit to remove 130 up to 190 pints of water vapor every day in a 4,500 sq ft room. The unit is able to operate in temperatures as low as 33 degrees F and 95 degrees F.
With its hassle-free and simple control features, the dehumidifier is considered to have energy-efficient operations with adjustable humidistat maintaining the level of desired humidity so that there is no need to cycle the fan on and off. It also has a reverse cycle of defrosting that melts frost build up on coil, providing ambient and correct temperature.
For extra efficiency, it is comprised of two coils that work to evaporate and condense air that goes directly through the cold evaporator coil, which cools the air down to its dew point. The cooled air then passes through the hot condenser coil. Air is already dehumidified at this point. Lastly, the air filter of the dehumidifier is washable. 
---
4. AlorAir
The Brand
AlorAir was established based on the philosophy of providing the market with leading features, performance, value and outstanding customer support backed by a generous 5-year limited warranty. AlorAir products are designed and tested to guarantee the highest level of service provided to consumers at a fair price point. 
AlorAir dehumidifiers have coils that are larger than conventional dehumidifiers. In addition, the coils and fins are designed using the latest technology and include unique features. The dehumidifier are customer proven to last for up to 10 years.
AlorAir dehumidifiers are CE, SAA, ETL, SGS, TUV certified.
Featured Product
AlorAir LGR Compact Dehumidifier
The AlorAir LGR Compact Dehumidifier has a huge capacity of removing 85 to 190 pints of water per
day within 2,300 sq ft area. The dehumidifier unit is known for its ability to sink into the water without damaging the unit because the circuit board is sealed with a rubber strip. This unit is also built to last, with its coils coated with epoxy to extend its life as well as to maintain the coil's heat transfer function. 
The best feature of the AlorAir LGR Compact Dehumidifier is the epoxy powder coated coils to avoid freon leakage and to maintain the heat transfer ability of the dehumidifier. Epoxy powder also extends the life of coils, making it safe from corrosive environments. Its water-proof housing is made to resist water in case of flooding. The rubber strip protects the circuit board from the water. It can operate within a temperature range of 33 to 105 degrees F. With a functioning humidity range as low as 35% humidity range and as high as 95%. It removes up to 85 pints per day and covers 2,300 square feet.
Other functions include automatic humidistat control wherein the humidity levels can be adjusted through this option, the set level is maintained by the dehumidifier. Its digital LCD displays the option to manually drain the condensate pump, defrosting mode, job and life hours, humidistat and inlet-outlet temperatures.
Lastly, it makes use of hot-gas defrosting system to ensure that clearing of frost or ice from the coil is quick and efficient, and the unit has a hot-gas defrosting system.
---
5. Stanley Black & Decker
The Brand
Stanley Black & Decker started in humble beginnings with founder Frederick Stanley in 1843 in a small shop in New Britain, Connecticut. He manufactured bolts, hinges and other high quality from wrought iron. Over the years, he amassed an unparalleled family of iconic brands and trusted products. 
In 2010, Stanley Black & Decker became a leading global diversified industrial company known for superior quality and innovation. The brand remained driven by a passion for excellence and committed to providing only the quality products.
Featured Product
Black+Decker BDT70PWT 70-Pint Portable Dehumidifier
With a clear, concise electronic control panel, the Black & Decker BDT70PWT Dehumidifier is Energy
Star certified. The digital display enables you to control the adjustable thermostat, set the 24-hour timer. It also allows easy control of automatic settings such as the auto-restart, auto-shut off, and auto defrost features and choose from three different fan speeds of high, medium, and low.
It collects up to 70 pints of moisture every 24 hours and operates within a range of 41 to 95 degrees Fahrenheit and uses pre-charged R410a refrigerant. A built-in collection tray holds up to 14.8 pints of water.
---
6. Frigidaire
The Brand
Frigidaire is an American brand of consumer and commercial appliances. From 1919 to 1979, the company was owned by General Motors. They initially owned Electric self-contained refrigerator, home food freezers, room air conditioners, 30″ electric ranges and coordinated colors for home appliances. Until they ventured into other home appliances such as the dehumidifier. 
Featured Product
Frigidaire FFAD7033R1 Dehumidifier
The highly-rated Frigidaire FFAD7033R1 Dehumidifier is Energy Star Certified and is capable of
continuous operation when the unit is located near a suitable drain. It has a built-in Ready-Select electronic control that includes a digital humidity readout, a 24-hour on/off timer, and a control lock.
It can collect up to 70 pints of moisture every 24 hours and enables you to control the humidity in any room according to your preference. It has a portable design that includes a top handle, integrated side handles, and caster wheels, all of which make it easy to move from room to room.
---
Key Takeaway
The brands and models are hand-picked based on online research, online customer ratings, and customer reviews. Some of these are intended for commercial use but are particularly highly-effective in residential applications. Protect your home from mold and mildew, as well as other air contaminants that can cause minor to major health and structural damage. 
As responsible consumers, be informed before making a purchase. Select dehumidifier models from renowned and credible brands like Aprilaire, Dri-Eaz, Ebac, AlorAir, Honeywell, Stanley Black & Decker and Frigidaire.