A lot of thought  goes into planning and designing a kitchen. Part of that thought process includes how to incorporate cabinet design and flow, counter tops and electrical appliances such as range hoods, hot plates and so forth. Ideas on pendant light fixtures for kitchen islands may also be considered.
In open kitchen plans, an island is often a good idea and does facilitate interactions in keeping with the social place that the kitchen has become in recent times. An island provides an extra workspace for food prep, company, and dining area.
That said, it also provides a splendid  decorative opportunity to further accentuate and harmonize the kitchen.
Below we share a few ideas on practical light suspension pendant fixtures that can add that missing piece in making your kitchen's decor complete.
1. Vix LED Linear Suspension by Cerno
The lighting company behind this piece specializes in creating LED lighting and contemporary pieces. It meets today's increasing demand for energy efficient lighting options with modern contemporary designs.
The Cerno Vix LED Linear Suspension adds character and aesthetic lighting to a kitchen or dining area. With this lighting unit, it is the simple yet stylish build of the unit that reels customers in.
The simple lighting solution involves a rectangular frame of high quality wood stained with dark walnut. Three LED lights are then embedded within the plank of wood for upward and downward lighting then suspended from the ceiling to hover above a kitchen island.
The result is beautiful, rustic and provides practical lighting adequate light for performing tasks or dining.
The length and functionality of the Vix hangs well in the kitchen and dining space for aesthetic ambient lighting that warm up your kitchen.
For homes or kitchens that have a sloped ceiling, this unit will still work just as well because it is also adaptable to sloped ceiling profiles. You'll have the option to pick either the small or large model, as well as different color temperatures depending on your kitchen island design.
---
2. Feiss Belle Pendant Light Fixture for Kitchen Island
Installing suspended light fixtures over your kitchen island can be a great way to add a bit of style to your kitchen. This Belle Pendant light by Feiss is an excellent choice.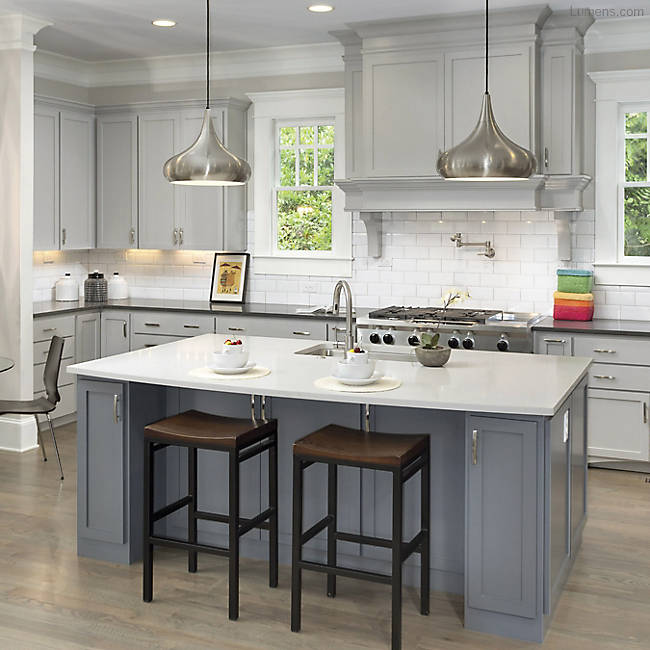 One light fixture in either end your island kitchen provides practical task of downward lighting as well as illumination for casual dining while holding a conversation.
This set also does great job of filling up empty space that may make the kitchen area look bear. They do so without becoming clutter and seamlessly meshing into the overall decor.
The design is that of an elongated teardrop suspended by adjustable cable. This can be installed as a pair or more depending on the size of your island. The Belle Pendant can be installed on a flat ceiling and can also adjust to a sloped ceiling of up to an angle of 30° with a ease. It imparts style on space whether it is installed alone or in a cluster.
No matter what the color of your cabinets, counter tops, tiles or walls, one can always get this unit in various colors to suite your decors. The lighting fixture comes in black with polished nickel, brushed steel, dark bronze with antique copper and polished nickel with gloss black.
These color combinations are an excellent match with an extensive array of decors.
---
3. SONNEMAN Lighting Suspenders 4 Tier LED Fixture
These lighting fixtures are very stylish and playful. The design gives this unit a minimalist chandelier look with several stems from which the light can be suspended. For this reason, these 4 tier LED Tri-bar is a great choice for higher ceilings.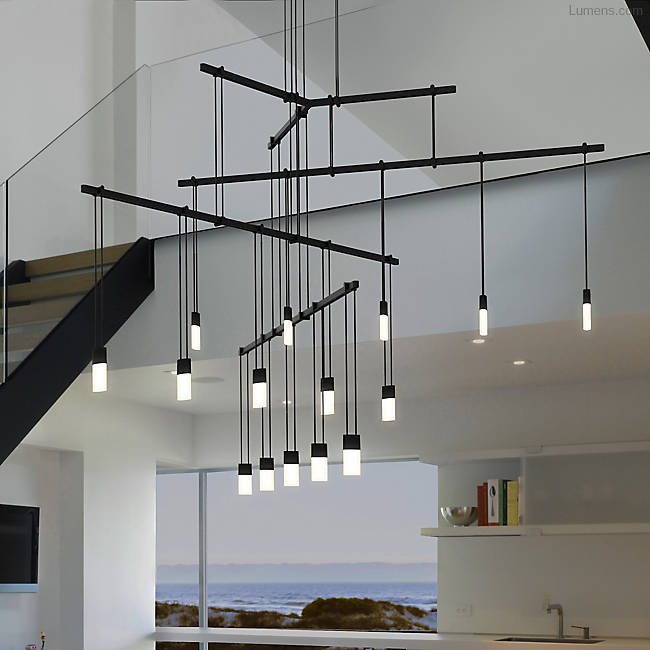 While this will work with any kitchen with a moderate ceiling, it particularly draws incredible contrast in areas with higher ceilings. For instance, if your open plan kitchen borders an open staircase that descends to the kitchen island, these are perfect because they can be hang high. The various tiers of light serve to decorate your kitchen but also the open air space at the side of the staircase that terminates at the kitchen.
The design has a solid construction and allows a 30-foot run in any direction from an existing power feed. This fixture features 24 inch diameter Tri-Bar with 12 arms that can each hold 5 LED luminaries. Thus, the design allows adequate coverage of a tall ceiling space.
The unit comes finished with either bright satin aluminum or satin black.
For user who prefer LED lighting, this fixture does an excellent job of providing an extensive array of LED styles. They range from but are not limited to clear cylinder, half-etched cylinder, crystal chiclet, half-etched sphere, crystal ladder, drum, crystal teardrop, reflector, crystal oval, wings, crystal double rod, etched chiclet and  ball to name a few.
---
4. LZF Link Suspension Pendant Light Fixture
If you are looking to add an ornamental piece of lighting to your kitchen island area or dining section of the house, this piece is good for almost any kitchen. This fixture is also perfect for complementing the recessed type of lighting.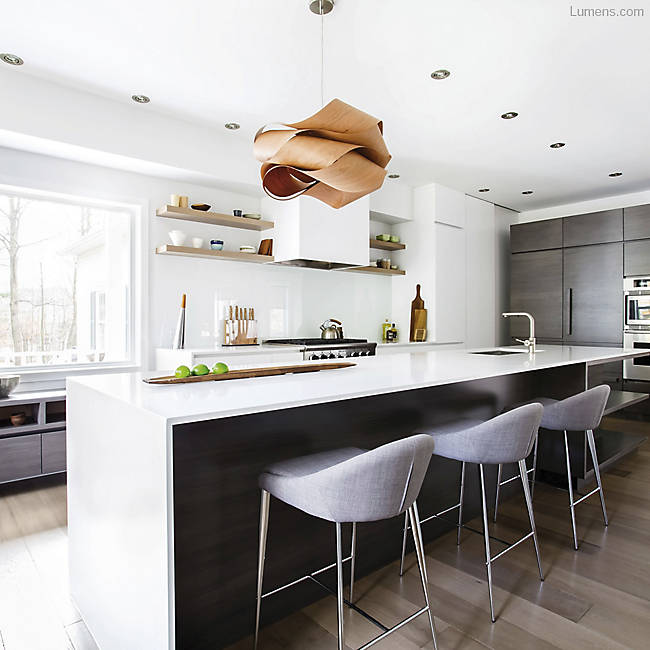 It is decorative and artistic at the same time in an understated way so that although it draws speculative attention, it does not sap all the attention of the room. Its essence meshes with and complements the rest of your decor.
The design creates the impression of continuity comprising of engaging curves. The pattern is organic and regular with a warm glow in tones of light to dark. This emanates from the heart of the fixture from an almost invisible LED lamp. The rays of the light escape the center of this fixture illuminating the maximum potential of the reflective veneer for a beautiful shade of light.
The Link Suspension Pendant Lighting features a natural timber wood veneer shade in a variety of colors that are capable of sprucing up any kitchen or dining decor. These colors shades include, natural cherry, orange, red, yellow, blue, turquoise, ivory white and natural beech to name a few.
---
5. Terzani Mizu 15 Multi-Light Pendant
The Terzani Mizu 15 Light Pendant Multi-light is an exquisite fixture that delivers an air of tranquility to your island space.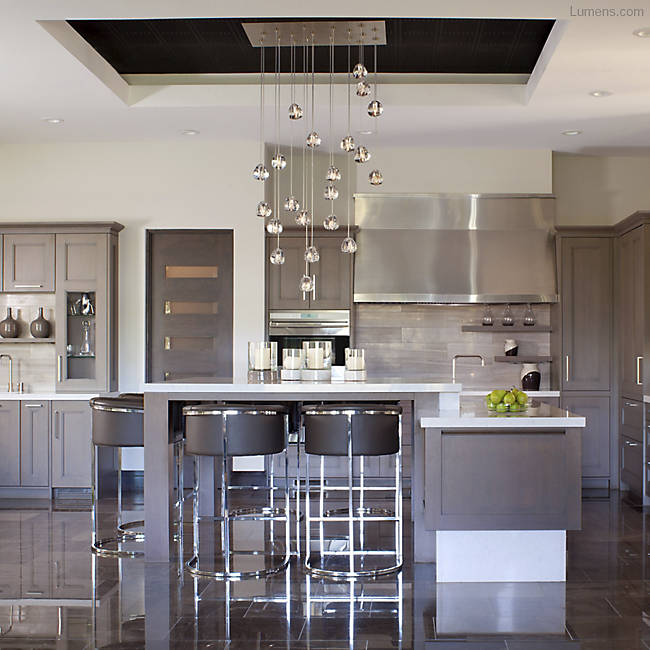 The crystals are handmade and cause light rays to be randomly distributed every time light hits the crystal.
Its suspension cables offer a steel canopy that descends to hold this beautiful lighting in varied heights. Even without the lights on the unit looks exquisite, but when the lighting is lit, their light display is exceptional for an ambient and stylish setting.
If you are very particular about the shape of the steel canopy, you have a choice between a round and a rectangular option.
The crystals come in various color options that are suitable to one's taste or decor. Shades include, gold, clear and silver.
---
6.  George Kovacs Tube LED Kitchen Island Pendant Light
The George Kovacs Tube LED Linear Suspension delivers contemporary form into a fresh new light. The practicality of this fixture and the fact that it dresses up an empty space over a kitchen island easily wins you over.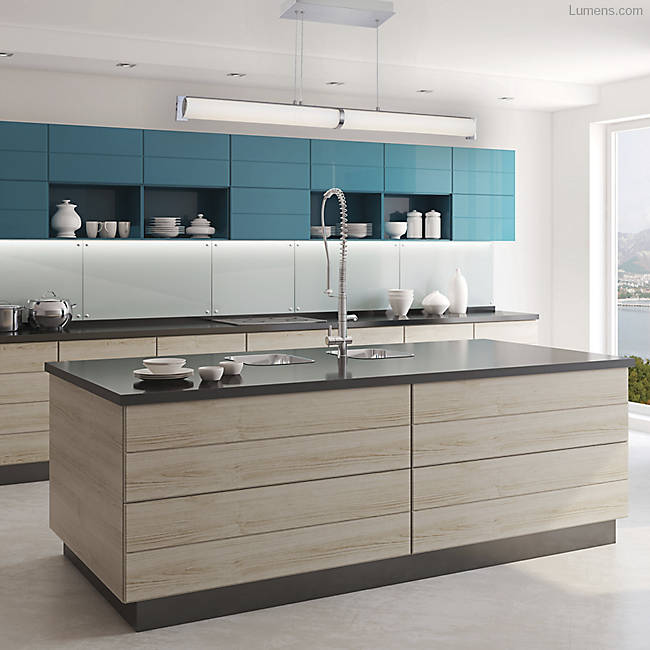 Design-wise, it helps form a demarcation without affecting continuity and open concept between the kitchen and the rest of the living room. This light fixture does so effortlessly because of its unapologetic lengthy design.
The long and lean tube features an energy efficient LED light source. The unit is firmly secured by strong cables for an authentic minimalistic design.
Its etched white glass tube is lined with a metallic frame that contours the shape of the tube while matching the finish of the canopy. The unit comes in a large and smaller option to suit different size needs of your kitchen.
The suspension cables are also adjustable to suite varied height including high ceilings. This is perfect for the kitchen and can also serve as an auxiliary light when you do not want to light up the whole kitchen with the main lights.
---
7. Kichler Braelyn Linear Suspension Light for Kitchen Islands
Nothing quite presents a mid-century feel than an industrial design. This Kichler lighting unit pulls that off to perfection.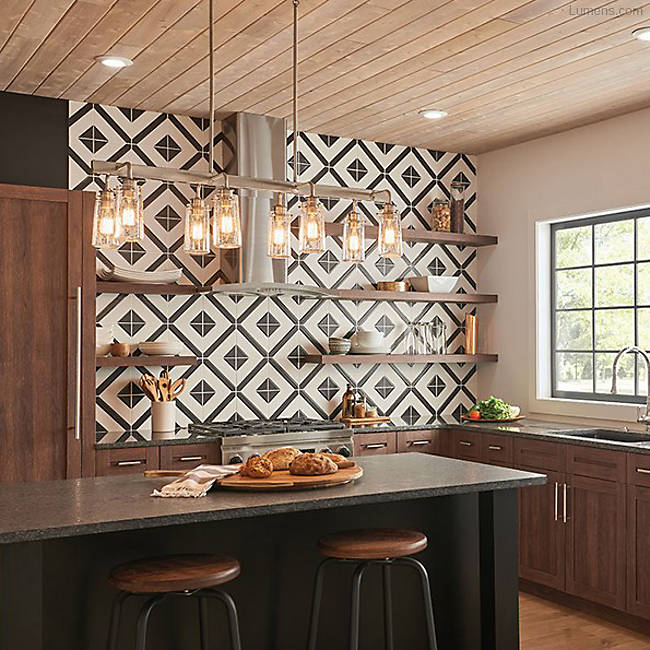 The suspension cables are neatly attached to a rectangular metal canopy for firm ceiling anchorage. The cables descend to take hold of a lateral old bronze finished metal bar which has four smaller perpendicular metals bars attached to it that serve as lamp holders. Each holds 2 lamps.
The total number of bulbs may range from 6 to 8. The lateral flow of the design looks amazing on a dining table and sets a warm relaxed mood for dining.
This is also suitable for a kitchen island because its light sufficiently covers the length of most kitchen islands. It also adds a sense of decorative separation between the rest of the house and the kitchen.
The lampshades resemble clear inverted kitchen jars and are seeded for a nice antique finish. The LED's within the lampshades are Edison-style bulbs with prominent visible filaments that add to the already convincing industrial look.
This fixture comes in two BN old school finished of either Old Bronze or Classic Pewter.
---
8. Artemide Pirce LED Suspension Pendant Fixture
This is a curious design that will continuously prick the curiosity of your guests. Is it a cloud? And how did the designer achieve that look? The design does conjure up the thought of a cloud.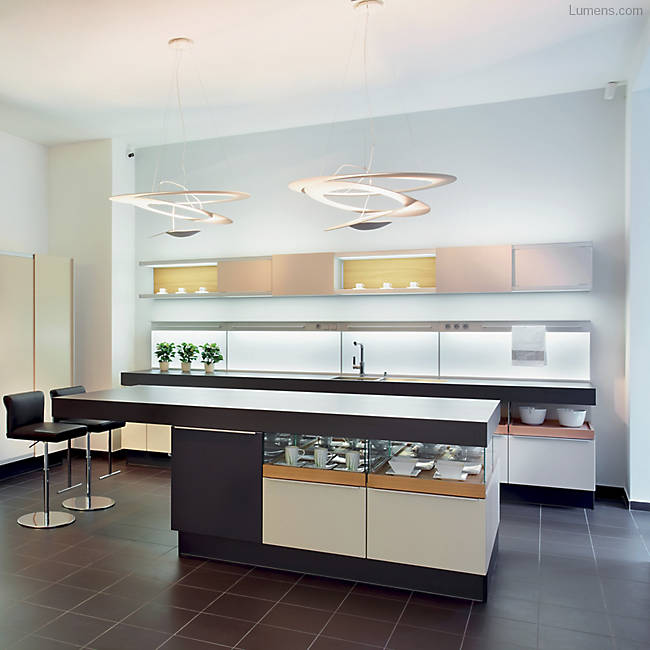 Its shape may seem quite complex but it is fairly easy to achieve. The crafting of a descending disarray of white metal spirals is made possible concentric cutaways of a single slim sheet of aluminum. While that is easier said than done, you can trust the work of remarkably skilled artisans to have brought this to life.
These are fascinating and provocative Artemide lighting fixtures that are a welcomed addition to any decor surrounding a kitchen island as well the dining areas.
As if the crafting alone was not enough, the lighting finishes the job by discreetly embedding a powerful light source in the shallow bottom bowl. The strong reflection and illumination plays a mesmerizing game of lights and shadows. While the artful lighting may be obvious, it is the mystery of the meshing of light, shadow and craft that has your eyes drifting back to the fixture every so often as if trying to solve the puzzle.
To say the nuance of craft and light is beautiful in this unit, only begins to scratch the surface. These not only add another layer of beauty to an already beautiful decor but can also be used for auxiliary lighting in your kitchen area when you have no need for the main lights.
---
9. Pablo Designs Cielo XL LED Pendant Light for Kitchen
If you are familiar with the stunning Pablo Designs Cielo lighting Collection, then you will perhaps realize quite quickly that this Cielo XL LED Pendant is even more innovative with a few additional inclusions.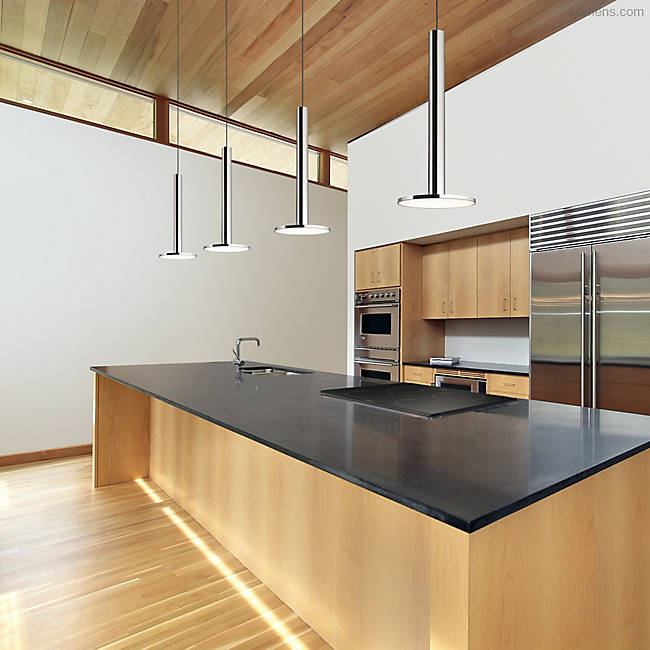 They have included even more powerful lighting that meets your residential needs as well as commercial illuminating needs. That is because this model spots 1200 lumens of warm and bright ambient lighting with a lifespan of 50,000 hours.
The construction is smooth with fine cuts and precise lines for a more sophisticated Cielo XL LED Pendant that needs no wire cutting.
This design effortlessly allows custom heights after installation, by the mere click of a button at the top of the pendant.
Other than impeccable flowing design, this lighting fixture allows you to set the tone and mood of your kitchen or dining areas using a fully dimmable flat panel LED.
In the case of this lighting option, the size of your kitchen island is no issue because you can install as many as the length of your counter top will allow. That makes the Cielo XL LED Pendant transformative nature a fit alternative to long counters such as bar counters that are in need of some elegant brilliance.
With this unit, adding glare free illumination with class and brilliance to your kitchen, office or bar spaces has been made all the more easier.
It worth pointing out that a sloped ceiling can also benefit from this fixture as it adaptable to a maximum slope of 30°.
The unit is noticeably light. That is thanks to the solid construction with quality and non bulky build of aluminum and a shade material of polycarbonate bezel.
Depending on the color scheme of your space, one can choose from several finishes that include, gloss white, brass, polished aluminum, black and satin aluminum.
---
10. Flos Ktribe S3 Suspension Pendant Light
At first glance, it's easy to surmise the look of this unit as nothing more than an inverted bucket. But some would argue that that the first glance impression especially when not lit is part of the Thai unit's undeniable charm.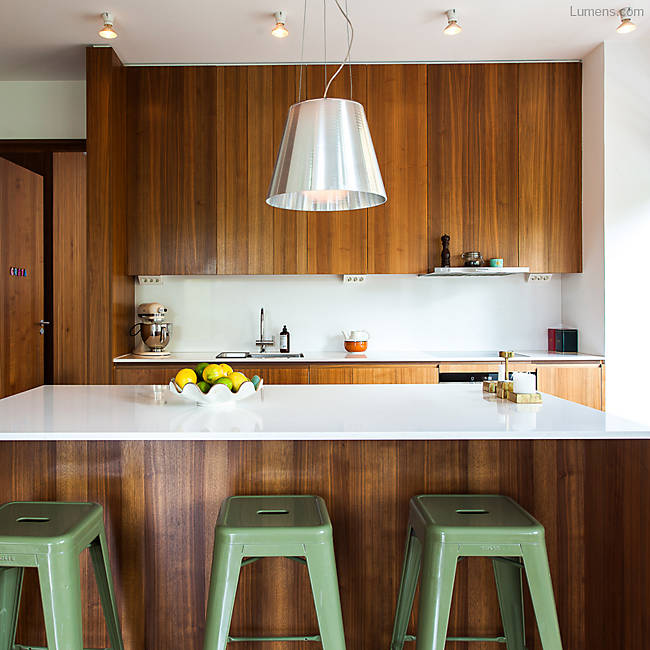 When the lamp is off, all you see is a glistening aluminum exterior. But when the fixture is lit, that's when it hints that there is another layer to this simplicity.
The inner layer of the Flos Ktribe S3 Pendant is fabricated using a specialized polycarbonate that exposes a large diffuser that diametrically creates the shade shape when the lamp is turned on. That beautiful display of light looks so simple yet quite warm and endearing.
The unit's construction is quite solid and delicate at same time because it is built from Polycarbonate and Polymethylmethacrylate in addition to steel. When you are looking to go simple yet captivating, this fixture is the solution for the kitchen island table or dining area.
---
11.  Visual Comfort Darlana Linear Suspension For Kitchen Island
The idea of a lighting fixture over a kitchen island or a dining table is to set a nice lighting ambience that elevates the dining experience and social interaction.  The Darlana Linear Suspension is oversized with an imposing presence that brings a touch of medieval to any interior space.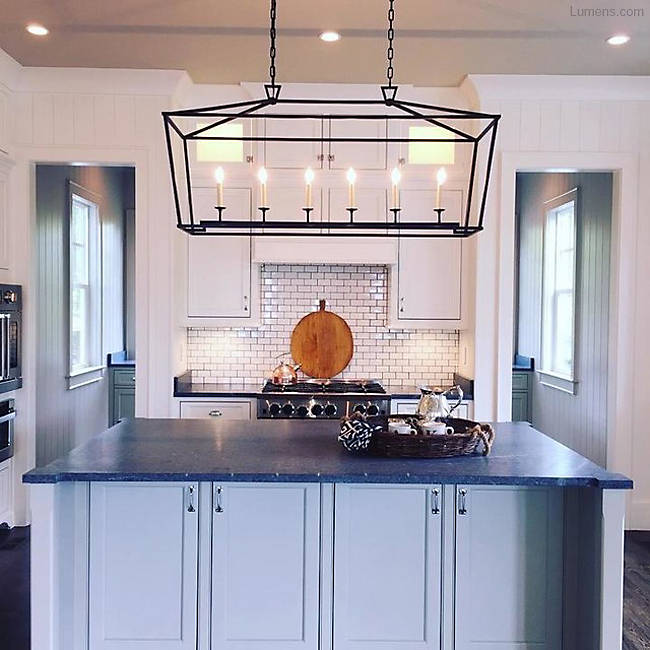 This geometrical pattern is well put together using metal like aged iron or gilded iron with a polished nickel finish for a rustic ancient look.
The uncomplicated design is what makes this fixture charming. It's impossible to miss the neat row of candelabra sockets within the frame that inject a transitional flair to your kitchen surroundings.
You are likely to steal a glance if not two just to make sure what your seeing are not lighted candles. And that creates the subtle curiosity that this well crafted artistic suspension lighting promises.
The unit is suspended by two chain-link cords that attach to the firmly anchored rectangular canopy. The light that shines through from the candelabra sockets in this fixture produces a shaded but unimpeded glow that fills your space with ambient lighting.
This light fixture comes in small, medium and large options to suit the size of most kitchens or dining tables. What's more is, because of the uncovered frame and lack of complexity, it can matched with pretty any type of decor or color scheme, provided the owner appreciates a touch of old, raw rustic charm.
---
12. Hudson Valley Lighting Burdett Pendant Lighting Fixture
Victorian design and aesthetic at its best is what this fixture offers. The Burdett Pendant has impressively extravagant details.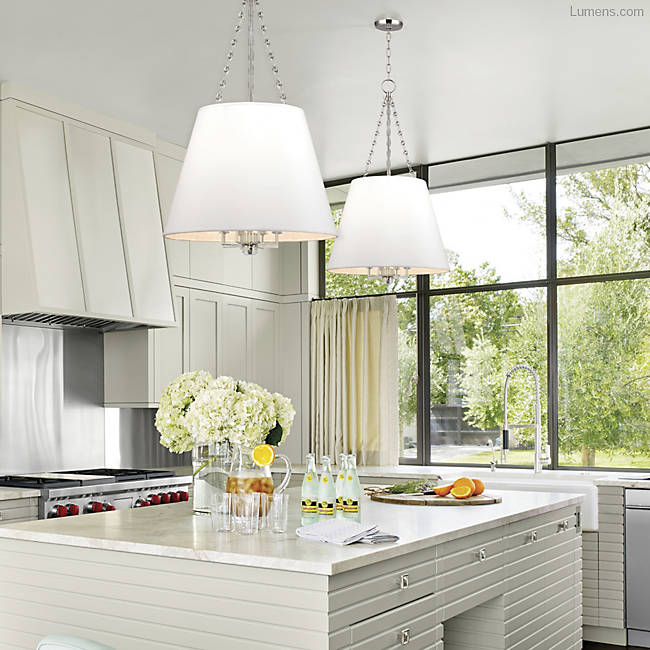 From the smooth flawless exterior of the drum shaped shade to its flaring interior's exquisite gathered pleating of White Faux Silk shade this unit brings elegance to the table.
The opulent interior houses an LED which whose shaded light cascades below the fixture and gives a relaxing warm glow that sets the a calm tone for the dining table or kitchen island.
The white drum shade is held in place by a central stem and supported by an additional three decorative chain link suspension. These converge at the top to and attach to a ring. The ring has one chain link that finally links the fixture to the canopy on the ceiling. The entire design is simple and elegant with built with finesse to form a modern illusion of effortless Victorian aesthetics and charm.
The beauty of this fixture is that it can be installed as a single fixture or can be done repetitively and well spaced out depending on the size of your kitchen island or dining table. Whether, one, two or several, the outcome is absolutely classy.
---
13. Sea Gull Lighting Belton Linear Suspension Pendant Light
This vintage design borrows from the delightful concepts of the industrial age. Interlocking pies with decorative holders help bring to life an era of the 20th century gone by.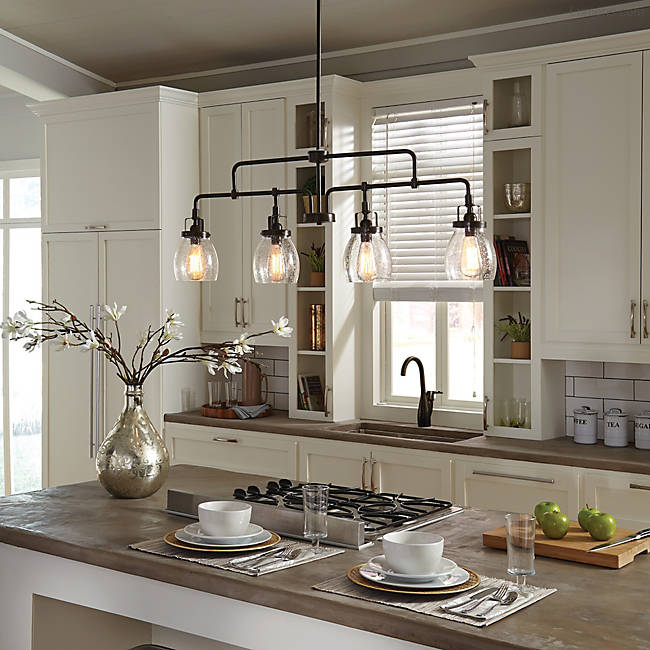 The Belton Light fixture has a round shaped canopy that neatly attaches to the ceiling. A slender polished rod descends from the canopy to hold a tier of a smaller lateral pipe which is purely for decorative effect. That bar holds is attached to a slightly longer bar beneath it which is in fact the lamp holder. The second longer lateral bar holds 4 seeded clear glass jars that serve as lampshades.
Within each glass shade is a downward vintage Edison bulb. That lighting combination provides an enchanting ambient lighting that is sure to lively up any kitchen island or dining table decor and lighting experience.
The metal pipes are rich with antiquity, thanks to the thin build with a brushed nickel and heirloom bronze finish. This design and color elements work together to provide a warm, shimmering ambiance that is not only functional but beautiful as well. This is the definition of tasteful decor with vintage charm.
---
14. ET2 Lighting Larmes Multi-Light Pendant for Kitchen Island
The Larmes Multi-Light Pendant features several tear drop otherwise known as "larme," in French which means clear glass shades. Their beautiful design and lighting effect is enhanced by the reflective polished chrome finish on the canopy.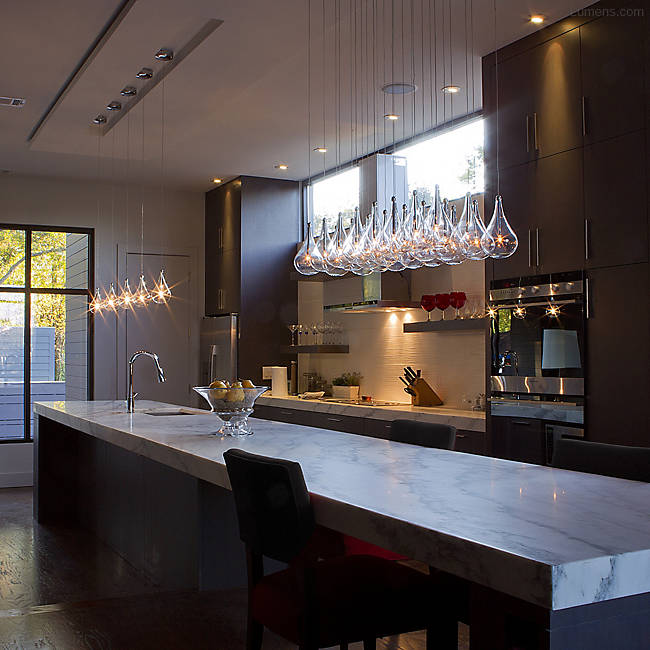 This fixture can be arranged as a cluster of equal lengths or staggered length for an even more dramatic effect. The third option is that the individual units can be placed in a line repetitively depending on the size of the island or dining table.
The design of this suspended lighting fixture can virtually work with any decor, bright, calm, neutral or dark.
---
Conclusion on Pendant Lights for Kitchen Islands
Kitchen design has changed with time. With numerous customers taking to open kitchen plans and minimalist decor, kitchens have evolved to be more than just a cooking area. It is now a space for social gathering as well. Family members seem to be drawn to the kitchen as by a magnet. That is why giving your kitchen area a bit of an elegant feel augurs well with the rest of the decor.
With all the above options to play with and contemplate, your open plan kitchen although elegant should no longer lack appeal. This suspension lighting fixtures crown your kitchen and help bring all its vibrant and tasteful décor elements together in a harmonious way.