For some, garages have been worked on to assume a neat order. Unfortunately, some garages can pose an immense challenge before you get them to become spaces that are pleasant to be in. One of the major steps towards making that possible is ensuring that the air quality in the garage is good and the heat as well as humidity is neutralized. Installing a ceiling fan that can withstand the garage environment is often a good and affordable idea.
Depending on how frequently you use the garage and the other extenuating factors such as climatic conditions of your geography and architectural build of your home, you may find that a high quality fan is all that is sufficient for your cooling needs.
And the good news is that the fan may be enough as a stand-alone solution.
However, if it is not enough the ceiling can be used in tandem with other solutions for effective air circulation, cooling and heating.
Overall, an efficient garage ceiling fan can be the solution you have been looking for to create the ideal garage environment for you and your family.
Here is an excellent selection of the some of the most powerful top garage ceiling fans that can help you achieve the conducive garage you've been needing.
---
Review of  the Best Garage Ceiling Fans
Hunter Fan Company Hunter

Cassius collection 

59262 Contemporary Modern Ceiling Fan
Hunter is a reliable American company that literally invented the motorized ceiling fan as we know it today. They have been in operation since 1886 and their brand promise of well designed, durable, powerful and efficient fans has been fulfilled with every hunter fan purchase.
This Hunter 59262 Contemporary Modern Ceiling Fan is yet another production that bears the hallmarks of the hunter brand.
This ceiling fan has a blade sweep of 52" and comprise of 3 blades pitched at a 13 degree angle for more efficiency at circulating air. The blades are reversible and good for all year round use.
During summer, the powerful motor working in tandem with the 3 matte silver finished blades does a superb job of cooling your space through downdraft fan mode. During winter the motor can the reversed, allowing the black willow side of the blades to revolve in the opposite direction causing an updraft of air that helps to warm your room during colder months.
In case you are wondering whether this unit is capable of generating hot air during winter, the answer is no. However, during winter, you may turn on a heating source such as your HVAC system or have supplemental zone heating such as an electric fireplace log insert. The heat dispensed by these sources is better circulated to all corners of the room when there is a powerful fan in updraft mode.
In cold weather, hot air will naturally lift and linger at the ceiling of your home. With a powerful reversible fan such as this, your space will heat much faster and efficiently as the warm air clinging to the ceiling is forced down and evenly distributed in the room. This also helps in cost saving as rooms heat faster and stay warmer for longer helping give you HVAC and other zonal heat sources frequent breaks and thus reduce energy consumption.
When it comes to installation the Hunter 59262 Contemporary Ceiling fan is very versatile as it comes with a 3 position mounting system. This helps accommodate angled ceilings as well as low or standard height ceilings.
It's worth mentioning that this ceiling fan is damp rated, which means it has an excellent moisture tolerant threshold. As such, the unit can be installed inside the house but also outdoors on covered patios, decks and garages.
The fan will do well in a garage setting, because of its resilient build and ability to move vast amounts of air efficiently.
Features
The blade span of this unit is 52 inches
Equipped with a powerful reversible motor that ensures all year round use
Comprises of three blades pitched at 13 degrees for optimized air movement
The unit is capable of an impressive 5,537 CFM
Blades have variable speed settings
Has a 3 position mounting system angled, standard and low
The unit operated with the help of 2 pull chains
Comes in matte silver/ black willow color combination
Functions with 120 voltage
The unit has two labeled pull chains for ease of operation. This ceiling fan also comes with 3" and 5" downrods that further help with a smooth installation.
Customer feedback
A good number of customers got this ceiling fan for their garage and mentioned that it has impressive power from whisper quiet motor variable fan intensities. This tandem efficiently circulates air for cooling down the summer heat in the garage where it often becomes unbearably hot. Other users shared that the damp rated quality has stellar resilience for covered patios, decks and sunrooms through and through.
---
Honeywell Belmar

Damp Rated

LED Ceiling Fan
A damp rated ceiling fan such as the Honeywell Belmar LED Ceiling Fan is a viable option for damp areas such as sauna rooms, gym locker rooms as well as garages because of the resilient build and finishing.
Damp areas with stagnant air can quickly become uncomfortable. If you are fond of working in your garage on projects such as wood working or art, the stifling summer heat can make working in that space quite impossible.
However, that situation can be made tolerable, even pleasant by installing a powerful ceiling fan that is designed to move plenty of air forcefully and effectively causing a cool breeze whenever the fan is on.
This resilient unit is tough enough to withstand the humidity and moisture that can be associated with a garage setting.
Further, you can be sure that Honeywell Belmar LED Ceiling Fan is up to the job because it has an adequate blade span of 52" and a powerful reversible motor.
What's more, with 5 ABS plastic blades to work with, the often hot and humid condition in the garage or similar environments are no match for this ceiling fan and will not cause the blades to warp as is the case with less resilient blade construction materials.
Garages may have any number of ceiling profiles ranging from low, standard to angle. This unit has all that covered as it accommodates all three ceiling types for easy installation.
The ceiling fan can be installed flush to the ceiling with a 4" downrod to suit a hugger profile for a low lying ceiling. For standard ceiling heights, a longer downrod can be used to achieve the preferred height. Slanted garage ceilings also stand to benefit from an easy installation of this fan owing to the angle mount install option.
With three variable fan speeds to work with and a super silent yet powerful motor, this ceiling fan will provide cooling and air circulation services all year round. At the highest speed setting, this unit will generate air circulation of 5459 CFM.
The unit's efficiency in function and performance plays a key role in cutting down both heating and cooling energy cost for your home.
Generally, durability is guaranteed as the unit's entire frame is metallic and tough.
Features
The blade span of this unit stands at 52"
Comes with a powerful, reversible and silent motor that ensures all year round use
Comprises of 5 ABS blades that will not warp and moves air with great efficiency
The unit circulates air at an excellent 5,459 CFM
Equipped with 3 fan speed settings
Tri mounting system caters to angled, standard and low ceiling profiles
Operation is by 2 pull chains.
Design includes frosted light fixture
Comes in dark bronze
Functions on 120V
If you do not have adequate lighting in your garage, you will appreciate the light kit that accompanies this unit for added illumination to your space. However if you prefer this ceiling fan without the light, the unit comes with a non-light cap that satisfies that need without compromising on design.
Customer feedback
Customers, who settled for this unit to use outdoor or indoor, shared that this was a good buy for several reasons. The installation was a breeze as advertised and operation very easy with the help of the two pull chains. Some customers opted to pay extra and get the universal remote control. Users shared that they liked the lighting aspect and the general aesthetic look on the fan
Some customers added that the unit's performance is whisper quiet with no wobble even at the highest fan speed setting and delivers a refreshing breeze with a powerful airflow.
---
Westinghouse Lighting 7220500 Ceiling Fan

with

Dimmable LED Light Kit  & Remote Control
The Westinghouse Lighting 7220500 indoor fan has a unique build and finish that is rich in character and aesthetic beauty. For anyone whose décor has a vintage theme or would like to dress the ceiling with a practical ceiling fan that has lighting while infusing a touch of vintage into the space, then this is an excellent choice.
Although this ceiling fan successfully projects an antique vibe, one can be sure that every inch of it has been constructed with high quality material with assured durability and excellent service while adding rustic beauty to a space.
The all metallic frame stays  firmly anchored to the ceiling and the downrod descends to terminate at the canopy.
A powerful, reversible and energy efficient motor is housed in the canopy and 4 blades do an amazing job of bringing out the vintage feel of the unit.
That vintage vibe is brought to life through meticulously crafted wood from reclaimed hickory. Since the blades are reversible, they spot 2 colors. One side has been given a barn wood finish while the other has pewter ash coat.
Further, a built-in light kit comprises of a wired cage that accentuates the vintage look. This includes three medium base ST15 filament LED light bulbs that neatly tie in the whole design for an exquisite look.
While this ceiling pulls off that distressed rustic vintage look to perfection, there is nothing vintage in the unit's ability to effectively circulate air in your living space.
Between the 48" blade span and an energy conservative powerful motor, this ceiling fan can manage airflows of up to 4,144 CFM.
All its features can be conveniently controlled via a multi-function handheld remote control.
Features
Blade diameter for this unit is 48"
A powerful reversible motor ensures all year round use
Made up of 4 blades hewn from reclaimed wood for an authentic antique look
The unit is capable of a respectable 4,144 CFM
Blades have 3 fan speeds for select fan intensity
3 position mounting system enables the unit to be easily installed in angled, standard and low ceiling profiles
Operation of the unit is via handheld remote control
Comes in barn wood finish that accentuates the vintage look
Operates using 120V
This vintage-style ceiling fan is ideal for medium  garages, living room, bedrooms, family rooms, kitchen or even hallways. The unit can comfortably cool a space lesser than or equal to 225 square feet and has a standard ceiling.
Customer feedback
Customers looking to add character to their existing décor found this unit to be the perfect piece to do that. Users shared that this ceiling fan runs quietly on all 3 speeds and provides a fabulous ceiling light reflection with shadows. The fan offers strong to mild breezes and can conveniently be controlled by a handheld remote with good range. The dimmable light is excellent. Customers appreciated that the unit was not excessively hard to install.
---
Harbor Breeze Mazon 44-in Brushed Nickel Flush Mount Indoor Ceiling Fan
For those who have a medium to smaller garage and looking for a ceiling fan that can effectively circulate air when needed, the Harbor Breeze Mazon 44" Brushed Nickel Flush Mount Indoor Ceiling Fan may very well be the solution you have been hoping for.
Some ceilings can be low and therefore call for a ceiling fan design that's compact and can be mounted flush.
This unit has a compact build with a fluid look that fits well in low lying ceilings. The unit anchors well to the ceiling and since it does need downrods, the canopy is flush to the ceiling.
Despite the compact build that makes the ceiling fan looks smaller, the canopy houses a reversible motor which packs quite a punch in terms of power.
The ceiling fan has three blades that seem to go all the way into the canopy. Conventionally, most ceiling fans will tend to have blade holders that jut out from the canopy and attach to the blades. The compact feel and look on this unit is in part because of the absence of visible blade holders.
At the tail end of this ceiling fan is a neatly integrated light kit with a matte opal glass shade. The light kit is bright enough ensuring that your garage or any indoor space you choose to install this in is properly illuminated.
This fan is made from metal and given a fine brushed steel finish for a clean glossy look.
Further still, while this unit has a compact look, it still comes with 3 variable fan speeds that efficiently circulate air at 4545 CFM and it will perform well for average sized rooms of 100 sq.ft.
The three fan speeds ensure that you choose the appropriate fan intensity to suit your needs and therefore helps conserve energy without compromising on comfort.
So if you ceiling sits low, worry not as this unit will sort you out with ease.
The reversible motor of this fixture presents you with all year round use helping keep you cool in the summer and reverse mode circulates heated air in the winter to warm your space faster.
Features
The blade span of this unit is 44"
Comes with a powerful reversible motor beneficial in summer and winter
Made of three blades for a stellar look and optimized air movement
The unit can manage airflows of up to 4,545 CFM
Has 3 fan speed intensities
Comes in a hugger profile and best suite low profile ceilings
Operated via a handheld remote control for both lighting and fan speed
The unit comes in brushed silver finish with a matte opal light kit
Functions using 120V
The 44 inch blade span is not an imposing size and can often come across as small. But as long as your room is less than or equal to 100 sq.ft, this unit is an excellent buy that delivers on efficiency, aesthetics and fit for low ceilings.
Customer feedback
Customers who bought this ceiling fan mentioned that they found the installation to be fairly easy. Users also pointed out the compact build and hugger profile was indeed an excellent choice for low lying ceilings. The fan is said to operate very quietly on all 3 fan intensities, so much so that users often forget it is on. Customers also found the light kit is dimmable and the brightness can be adjusted by continuously pressing the light button. Generally, most users who installed this in their garages agreed that it works perfectly.
---
Westinghouse Lighting Westinghouse 7861400 Industrial Indoor Ceiling Fan
If you happen to have a massive living room or great room whose ceiling could use some company for both aesthetic and practical purposes, then you are likely to love the Westinghouse Lighting 7861400 Industrial Indoor Ceiling Fan.
The design exudes longevity as the frame is made of metal with a clean brushed steel finish. The 3 blades on the unit are also made from metal and attached to the blade arms with visible rivets that add to the tough and practical industrial look.
With a blade span of 52 inches and a powerful silent motor, this unit does a remarkable job of standing up to the harsh conditions of most garages. That includes resisting dust and the blades will not warp under intense heat and humidity.
This industrial style ceiling fan features a 12 inch long downrod and will look amazing on a high loft or vaulted ceiling, garage, workshop or a living room with a high ceiling profile.
Operation of this unit is very smooth with variable fan speed and comes with a wall controlled unit. It requires minimal assembly and should be hung at least 10 feet from the floor for optimized circulation of air.
With the fan's imposing size and powerful ability to circulate air, it fits the bill for residential and commercial use.
Features
The ceiling fan has an impressive blade diameter of 56"
A powerful motor that ensures optimized air circulation
Adorned with 3 massive steel blades with no wobble
The fan is capable of an impressive 5972 CFM
Equipped with 5 fan speeds
Features a 3 position mounting system that is angled, standard and low
Every feature is controlled through a wall control unit
Comes in brushed steel with matching steel blades
Operates on 120 volts
Garages are often multi-purpose areas that can be used for storage or a working station. This ceiling fan is versatile enough for usage in any of these applications while remaining resilient.
Customer feedback
A majority of customers unanimously agree that this Westinghouse lighting fan is powerful and efficient as advertised, has a nice industrial look and is unbelievably easy to install. Users also said the wall controller is great because you never have to worry about losing, misplacing or the remote running out of battery. They further said the fan is neat, has an extensive range on variable speed in addition to operating quietly.
---
Emerson CF765BQ

60-Inch Powerful

Ceiling Fan
For a modern home that could use a touch of industrial flair and vibe, the Emerson CF765BQ Ceiling Fan can be a great addition to a living room, modern garage, bedroom, lounge or hallway. This reliable structure of the Emerson ceiling fan has a curious blade design that proudly displays a 14° blade pitch that enables maximum air flow across a vast space.
The unit has 3 blades with an impressive and majestic blade span of 60".
The build of the unit is minimal with industrial elements such as rivets joining the blades to the blade handles are in open display adding to its charm.
The metal framing of the unit firmly attaches to the ceiling and the petite stem drops down neatly and attaches to a cylindrical canopy.
This fan is built for longevity with to its ability to withstand harsh applications such as those of a garage setting.
The canopy is home to a powerful, reversible motor that does an amazing job if driving the massive tri-blades to efficiently cool large rooms in the summer.What's more, its blades also aid in circulating warm air to your space during the winter season as well.
Although the fan is undoubtedly large, installation is incredibly easy. This ceiling fan will work well with higher ceilings, lofts and vaulted ceilings. Entirely versatile, one can always opt for a longer or shorter downrod depending on the height of your ceiling. Whether to install high or low, a user has the liberty to make that choice for a preferred look and aesthetic of their space. Safety and efficiency requirements demand that the unit's tail end be 10 feet above the floor.
Operating the unit is easy for any one. That's because this ceiling fan comes with a full range four-speed wall control unit. An additional control point is available at an extra cost. That would be a handheld remote control for added convenience.
The barbeque black finish augurs very well with the design and industrial vibe of this ceiling fan.
Features
The unit's blade span is 60 inches
Comes equipped with a powerful reversible motor that operates silently
Comprises of three blades pitched at 14 degrees for enhanced air circulation
The unit is capable of an astounding 10,516 CFM
Blades can run at 4 speed intensities
Straightforward downrod installation
The unit is operated via a wall control unit
Available in barbeque black
Operates with 120 voltage output
You might think that such a big fan would present a wobble, but you will be pleasantly surprised to know that this unit installs pretty easily and remains firm and quiet when circulating air at all 4 speed levels. Moreover, powerful as it may be, the unit is engineered to use energy conservatively.
Customer feedback
Users who got this loved the fact that it can install on a high ceiling and still sufficiently be able to cool down your space. Customers also mentioned that over and the above the gorgeous aesthetics of the unit ranging from size, color and design, it's the 4 speed fan intensities and the sheer motor power with which they operate with that makes this unit an excellent buy for the garage or any large indoor section of the home.
---
Reiga 52-in

Noiseless Reversible

DC

Motor

Ceiling Fan with LED Light & R

emote Control 
The Reiga 52" Ceiling Fan with LED Light is made for stunning effect. The design has a beautiful flow reminiscent of a gentle sea wave.
It features a metallic frame and ABS blades that work harmoniously to ensure durability of the unit even when used in less than ideal conditions that may expose the unit to moisture and dust as is common with garages.
Garages can get stuffy, damp and even dusty. With the heat and humidity levels rising to peak levels in the summer, most garage areas need a fan that has a powerful motor, a decent range of fan intensities as well as a fair blade diameter than can adequately push air in a vast room. This unit ticks all of those boxes.
The ABS blades are light yet rigid and will not warp from heat and moisture that accompanies the summer months.
Furthermore, the blades of the Reiga 52" Ceiling Fan have a 17 degree pitch which optimizes the unit's ability to push cool air to the farthest recesses of the room.
Additionally, this ceiling fan also spots a DC motor that among other benefits, has quiet delivery across all fans speed. Further, although modern AC motors are excellent in conserving energy use, the DC motor type takes that efficiency to a whole new level.
The motor is reversible which is added value and utility as one can use the ceiling fan during hot summer months as well as aiding in keeping the space warm in winter by reversing the motor to evenly distribute warm air across a room.
Between the 52" blade diameter presented by this unit and the DC motor, the unit can deliver an impressive 5,614 CFM at the highest fan intensity.
The tri blade design is graced with a light kit that has an opal white glass cover that can be adjusted to several brightness levels that include white light, warm light, yellow light to suit your preference and mood.
The fan also comes equipped with 6 fan speed intensities that offer a broad range of choice which in turn help in reducing energy cost not to  mention, 6 speeds allow the flexibility of finding the right fan intensity for cooling a space without using more power or less power than necessary. That approach ensures comfort without wastage.
Features
The size of this unit is 52"
This unit runs on a powerful DC reversible motor that's energy efficient
Comes with 3 blades pitched at 17 degrees for enhanced air circulation
The ceiling fan can deliver an output of 5,614 CFM
Equipped with 6 fan speed intensities
Assembly is minimal and moderately easy to install
Operation is by handheld remote control
The unit is available in bright white color
This ceiling fan uses 120V
With a handheld remote control, you operate the fan setting independently from the lighting option and vice versa. This gorgeous feature rich fan supports a timer that can be adjusted to 1/2/4/8 hours sleep shutdown. The unit comes with 2 downrods of 6" and 10" to facilitate installation.
Customer feedback
Customers who settled for this unit decided on it after a long search for something, tough yet beautiful. They mentioned that this was by far the best investment they have made in a ceiling fan. Customers mentioned  that the power displayed by the blades and their ability to circulate air in a garage or living room is remarkable.
Some users felt that the light was too bright if installed in the house, however, that brightness is perfect for proper illumination in a garage setting. Most customers who installed the unit themselves, concurred that the installation was involving and moderately difficult.
Overall, this comes highly recommended for customers looking for a functional and powerful ceiling fan that offers value for money.
---
8. Minka-Aire F844-DK Light Wave 52″ Energy Star Certified Ceiling Fan
If you are looking to impress with understated class, it's had to wrong with the Minka-Aire F844-DK Light Wave 52″ Ceiling Fan.
That's because the unit has been designed and crafted by the best designers and artisans. The meticulous and flawless wood like finish is lovely to look at. This unit is best served when installed in an area where all and sundry can gaze on the detailed beauty but a garage will do too.
Hotel rooms, living room, bedrooms, lounges and restaurants stand to benefit from the function and aesthetics of this unit.
The steep blade pitch on the 3 blades is hard to miss. The blades are pitched at a conspicuous 48 degrees. You would be forgiven if you had the impression that the blades have been curved out of wood. These blades are made from ABS material which is lightweight, tough and precise. Therefore they can withstand moisture, dust, heat and humidity without warping.
This unit is so well designed and tough such that, it can be a good fit in a garage and at the same time look amazing in a five star hotel room.
The metallic frame delivers on the toughness while the distressed Koa finish gives the unit a woody look and feel. The blades swirl at a conspicuous pitch for efficient movement of air.
When the blades combine with the high powered motor, the result is a powerful cool breeze that ensures your space is cool and breezy. And what's more, this is Energy star certified for efficient  energy saving through and through.
The unit comes with an integrated light kit that has a gorgeous frosted glass shade which does a fantastic job of complementing the rest of the unit. Moreover, this light is dimmable offering the user flexibility to set a brightness that is best suitable for mood and occasion.
The entire ceiling fan can be controlled via a handheld remote control from anywhere in the room. Installation is a breeze as minimal assembly is required and also comes with a standard downrod to work with.
However, one can always order a longer downrod when installing on higher ceiling profiles.
Features
The diameter of this unit stands at 52".
The powerful motor is manually reversible, energy efficient and silent
Tri bladed and pitched at 48 degrees for better air movement
This unit can manage an impressive 5,024cfm
Blades have 3 fan speed settings
Comes with a standard 6" downrod but one can order a longer or shorter down rod to suite preference
The unit is operated with a hand held remote
Blades have a distressed Koa for a neat wooded finish
Energy Star Certified fan
This ceiling fan operates using 120V
This versatile ceiling fan is made tough and beautiful at the same time. You can be sure that it's a head turner and conversation starter whether you install it in the garage, entryway or living room.
Customer feedback
Users who bought this unit expressed that they were delighted with their purchase. They expressed that the motor performance is powerful and incredibly silent.  Customers also liked the flexibility of downrod sizes that allowed them to install high or low profiles based on preference. They also mentioned that the LED light is dimmable and equally impressive as it moves smoothly through various levels of brightness, and is quite bright on the highest setting. The blades move a lot of air, silently so and remain stable all across the 3 fan speeds according to happy customers.
---
9. Cirrus DC Motor Flush Mount Ceiling Fan
The Cirrus Flush mount Ceiling Fan was designed as an ideal option for low lying roofs. The hugger profile height of this fan stands at a remarkable 13" long. This is exceptionally short and is music to an installer's ears when working with a low ceiling.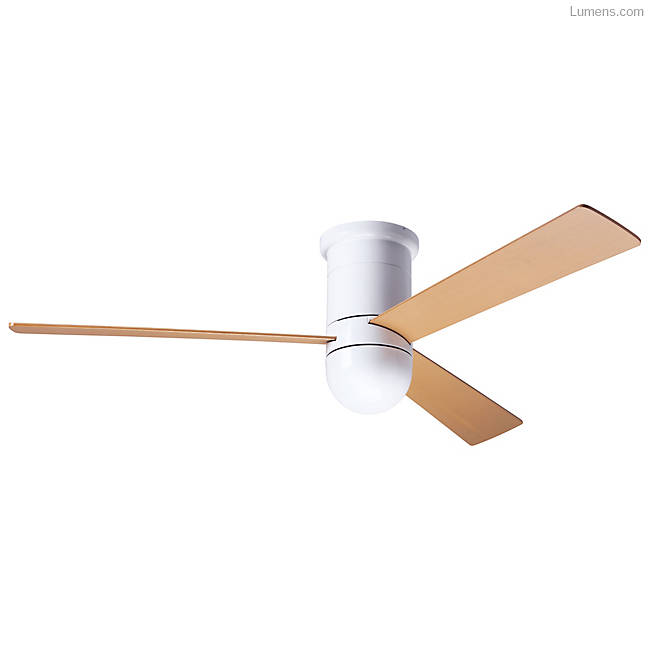 The compact build is made possible by the design that affords the unit a stalky frame that can be installed flush to the ceiling.
A metal cylindrical frame attaches to the ceiling and briefly descends to form the canopy where the powerful motor is housed.
The blades on the other hand, present an impressive blade span for such a stalky frame. Part of the design appeal is the absence of blade holders that jut out. Instead the three blades seem to drive into the canopy.
The Cirrus DC Ceiling Fan also comes with an integrated light kit that adds to the practical utility of this fan.
If your garage is larger than usual, a fan with a powerful motor and an outstanding blades span should help cool the air effortlessly as its capable of circulating air at an impressive 4,257 CFM to efficiently cool down a space.
It's worth noting that the motor is reversible and therefore usage of this fan extends beyond the summer. Moreover, it is also damp rated, which means it can be installed indoors or outdoors on covered patios and decks with its good tolerance to moisture, humidity and dust.
Indoor installation can include garages, living rooms and hallways.
This unit can be operates via handheld remote but the unit is also compatible to wall control should one prefer that option. Minimal assembly is required and the flush installation is a straightforward affair.
Features
The blade span of this unit is 50"
A powerful reversible motor sees to it that you enjoy the services of the unit all year round
Comprises of three blades pitched at 14 degrees for adequate air movement
This fan can manage 4,257 CFM
Blades have variable speed settings
Hugger profile for low lying ceilings
The unit is operated via remote control but wall control option also available
Comes in white body and maple blades
The unit functions at 120V
Low profile ceilings can often present a challenge when you want to install a ceiling fan. This unit makes it possible to safely install a sizeable fan on a low ceiling.
Customer feedback
Most hugger ceiling fans tend to have a smaller blade diameter. Customers said they were glad to find this larger option that is more effective for bigger garage spaces and any other covered space indoors or outdoors. Users mentioned that the fan operates quietly and efficiently with adequate power and fan speed variety to satisfy cooling needs at any given time of day or night.
---
10. Irene-H Flush Mount 3 Blade Ceiling Fan
The Irene-H Flush Mount 3 Blade Ceiling Fan is an excellent example of innovation meeting function. The cylindrical motor housing is solid stamped steel that has a neat polished chrome finish.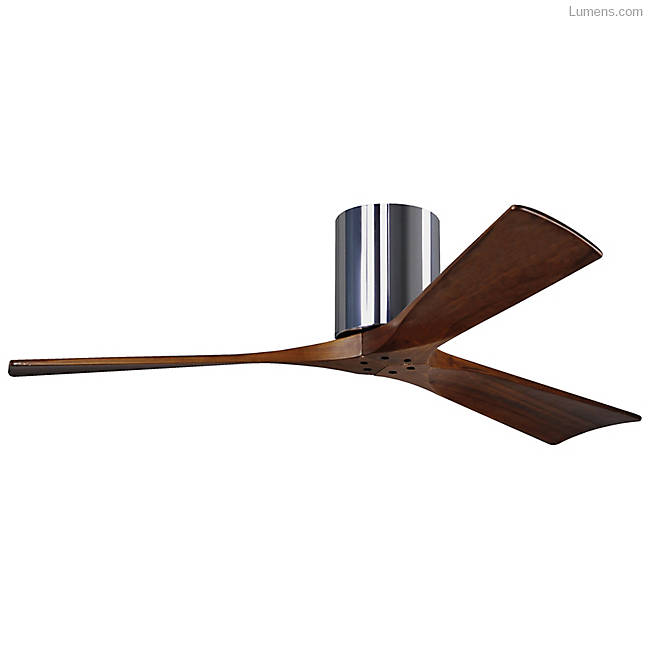 However depending on your preference and décor needs, there's a plethora of finishes to work with including; gloss white, matte black, textured bronze, brushed nickel, textured bronze, barnwood, walnut and brushed bronze.
The blades have been curved out from real wood with exquisite simplicity and fluid continuity. The 42" wooden blades are attached to the metal canopy through hidden screws giving a gorgeous suspended impression.
A DC motor is employed here, for powerful ultra-quiet performance and amazing conservative energy efficiency without compromising on comfort.
Furthermore, seeing that the motor is reversible, this unit will provide you with all year round utility.
The blade and motor working harmoniously are capable of an airflow output of 2,340 CFM at the highest intensity setting.
Features
This unit's blade span is 42". Also available in 52" and 60"
The motor is a powerful reversible DC motor that's energy efficient
Has 3 blades pitched at 15 degrees for optimized air circulation
The unit is capable of 2,340 CFM airflow
Comes with 6 fan speed intensities
The hugger profile is excellent for low ceilings
Operation is via a hand held remote control.
Comes with a wide range of canopy colors and blade hues
This unit operates at 120V
This unit is every décor expert's dream because of its great versatility in terms of robust build and authentic aesthetics. The color options and combinations can be matched to almost every décor style you can think of.
Customer feedback
Customers loved the robust build of this unit and gorgeous aesthetic. Some mentioned that they installed this ceiling fan in a neat garage, while others used it as centerpiece for the living room and other sections of the home. Others als0 shared that this piece also looks great in an office or hotel room.
---
Final Thoughts
Garages are capable of intolerable heat during the summer and in some cases humidity and trapped moisture. Having a powerful fan that effectively circulates the air can create a fresher and cooler space that's more comfortable to operate in. Any of the above ceiling fans offers resilient options that can be used in tougher environments such as the garage, but they also score highly on the aesthetic front to make for exquisite centerpieces in other part of the home, office or hotel room.