A ceiling fan has evolved to more than just a functional piece of equipment. While the functional elements of these units have improved overtime through development of even stronger and quieter motors, the decorative aspect too has undergone an evolution. The reviews below are evidence of impressive designs in the best LED ceiling fan lights that incorporate LED downlights in a variety of styles for an even more glamorous decorative piece.
The LED type of lighting are a good lighting option because of their durability and the quality of light that they produce.  They also last longer than conventional bulbs.
Atlas Fan Company Irene-HLK 42″ Inch LED Flushmount 3 Blade Ceiling Fan
An LED ceiling fan might be all your bedroom or living room is missing to take the decor to the next level. The Irene- HLK ceiling fan has been exquisitely crafted to ensure that it is a worthwhile decorative piece while remaining effectively functional.
The unit is flush mounted and is built from cast aluminum and heavy stamped steel. Its robust construction adds machine cut wood for blades presenting a beautiful decorative piece. The unit is then crowned by adding an LED light that comes with an optional light cap.
The light cap comes in handy in closed damp areas.
While most ceiling fan designs will have a downrod as an anchor this design presents a broader aluminum cylindrical fan and lamp holder that is firmly anchored to the ceiling.
The 3 blades are span by an ultra-quiet DC motor operation. These blades are also reversible and the motor can deliver 6 different blade speeds for the user's convenience.
At the lowest speed, the 42 inch blade span will generate a gentle breeze of 701 CFM. At the highest speed, the blades will deliver a generous average of 2227 CFM.
It is worth noting that this fan comes in several blade sizes which are 42″/52″/62″.
Color schemes are an important aspect of interior design. This unit does not let you down in that department either. That's because it provides you with several options that allow you to work with an extensive array of decors.
This unit will work and look great for both ventilating and lighting needs of a home or office. The fixture can be used both indoors and outdoors.
However, it is worth pointing out that this option is not suited for salt water or ocean front applications.
Features
Dimensions: 42 inches blade span and 12 inches high.
Airflow of 2227
16 Watt, Color Temp of 3075 Kelvin
Has an ultra- silent DC reversible motor
Comes with 3 wooden blades and 6 fan speeds
Available in five body color finishes: brushed nickel, glossy white, polished chrome, textured chrome and matte black
Has two blade colors: Barnwood and walnut
Equipped with a remote control for easy operation
Customer feedback
The build of this unit is sleek with a contemporary design that lends your space understated elegance. Customers loved the blend of materials used and the heavy duty lamp and ceiling holder. Those who purchased this unit mentioned that they liked the various blade span options as it provided them with the flexibility of choosing the appropriate sized unit for their space(s). For instance, some customers mentioned that got the 62 inches blade span for a bigger living room and the 42 inch blade span for the interior such as the bedrooms.
---
Hunter Dempsey Indoor Low Profile Ceiling Fan with LED Light
Low profile LED ceiling fans have an sophisticated look, especially if the design is as simple as the Hunter Dempsey Indoor fan.
In case you are wondering what is the best placement for a low profile ceiling fan such as this one, you will be glad to know that it works extremely well with low lying ceilings. This fan can be used in the living room, lounge, children's room, bedroom and even nursery.
The Hunter brand has been creating and innovating ceiling fans for over 130 years. In the Dempsey indoor fan their creativity shows in both the design and operation. The heart of the fan is super silent. That is because the high quality reversible motor delivers on a whisper quite service on all speed levels.
The beautiful, clean finish works in tandem with a high contrast of angles that flow effortlessly through the entire design. The body of the unit is constructed using metal for durability while the blades are made of wood with LED lighting encased in glass.
The LED lights are dimmable and mounted on a standard Edison base. The four blades on this Hunter unit are reversible for downdraft and updraft depending on your needs given the season and time of the year.
The Dempsey Hunter provides an Energy efficient dimmable LED light experience that allows you control over the lighting and ambiance of your space.
Features
Dimensions:44 inch blade span and 11.03 inches high
Airflow (CFM) of 2997 on highest setting
Features a super silent motor
The motor is reversible
Comes with 4 wooden blades 3 fan speeds
Comes in one body color: white
Available in one blade color: white
Equipped with a universal remote control for easy operation
Customer feedback
Customers loved the simplicity of this design as an additional decorative piece to a living room or bedroom. The unit offers comfort and convenience, thanks to the universal remote control that can control the lighting shade and fan speed.
Users who got this item also mentioned that the assembly and installation was straightforward with a set of instructions that were clear and easy to follow.
---
Minka Aire Fans Light Wave Ceiling Fan Light
This is a marvelous piece that is minimalist and artistic at the same time.
Such a design adds an element of functional art that sparks curiosity and intrigue thereby injecting charm into your space.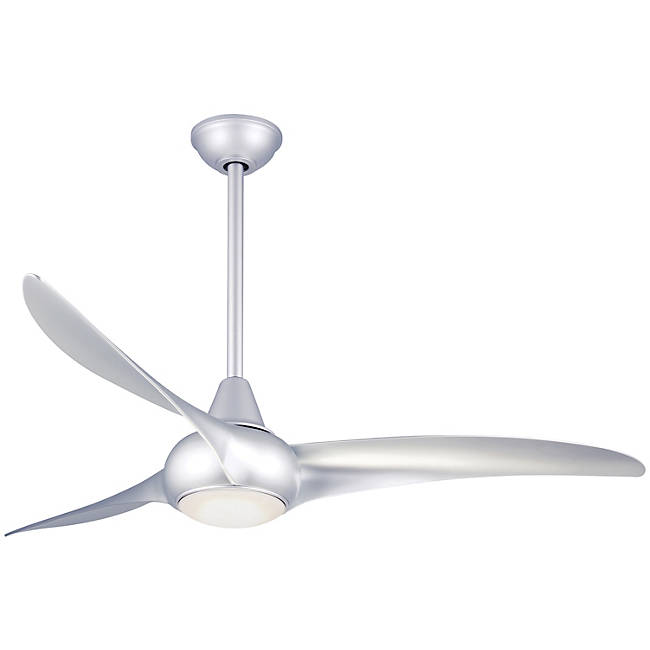 The dramatic twisting curves of the 3 blades lend this piece an edge in design.
The Wave Ceiling Fan is an energy saver due to its operational efficiency.
It also comes with an integrated  LED downlight kit of beautiful etched acrylic lens shade that delivers a soft glow because it is fully dimmable.
Features
Dimensions: 52 inches blade span and 13.75 inches high
Airflow on  highest speed: 4531 CFM
16 Watt, Color Temp: 3000K
Feature a very quiet reversible motor
Has 3 blades and 3 fan speeds
Available in four body colors: Distressed Koa/Coal/ White silver/ Coal
Comes with one blade color: wood
Comes with a universal remote control for ease of operation
Can be used on Sloped ceilings
Customer feedback
This fan is a looker as noted by most users. The installation is manageable and when installed in a space with full view, it easily transforms the space. Customers also mentioned that the unit's ability to circulate air is impressive. They also love how the remote control allows you to on/off the fixture, control fan speed and dim the lighting to your preference.
---
Prominence Home 40278-01 Glenmont Rustic Ceiling  LED Fan Light
The Prominence Glenmont Rustic Ceiling Fan is a beautiful decorative piece to add to different spaces of the home.
Given that the blade span of this unit is 52 inches, utility is best in spaces measuring about 350 square feet. This can be anything from your averaged sized room such as a living room, kitchen, family room, to bedrooms and hallways.
The construction is a beautiful amalgamation of color and material. The ceiling and lamp holder is made of iron that has been given an oil-rubbed bronze finish which hints at antiquity.
Its 4 blades are wooden with barnwood finish. This two elements blend in together perfectly with lLED ighting bulbs that are shaded in clear seeded glass lamp shades. This helps create a beautiful look and ambience in any room.
The low profile and an imposing blade span gives rise to an elegant design that is catchy and bold without being too loud.
The unit features a three branch lighting. It is well built with a decorative feel and it is a good fit for an expansive range of decors.
Features
Dimensions:52 inch blade span and 12 inches high
13.50 watts
Has a super silent reversible motor
Comes with 4 wooden blades and 3 fan speeds
Comes in three color finishes: oil-rubbed bronze/antique pewter/ distressed white.
Has one blade color: barnwood
It is equipped with a universal remote control
Customer feedback
Other than the overall gorgeous look and lighting, customers expressed that they loved this Prominence lighting fixture because of its conveniently quiet reversible motor. Users also mentioned that the unit can also be run in the winter to aid in rotating warm air and helps cut down on energy costs. It also looks great.
---
Hunter Fan Company Hunter 53237 Transitional 52″ Ceiling Fan
If you are out on the hunt for an indoor ceiling fan with lighting that makes a statement, It would be very hard to go wrong with this Hunter 52 inch transitional fan.
The size is majestic and imposing bringing elegant presence to a space without becoming overbearing.
While this unit is a trend setter and a beautiful centerpiece, it also brings character to any space you choose to install it in. Part of this unit's beauty is that it has good contrast and balance without hogging all the attention in a room.
The 5 reversible blades are gorgeously crafted from Brazilian Cherry Mahogany. Just right below a whisper quiet motor, the unit is equipped with a delectable 3 branch dimmable LED light kit with 3 swirled marble glasses as lampshades. The lamp and fan holder is made from brushed nickel metal for a neat finish. One can also choose to install this unit without the lighting kit.
While some designs maybe restrictive and confined to a high or low ceiling, this unit is perfect for both high or low ceilings provided the space is about 485 sq.ft.
This unit is versatile in the sense that it can be installed as flush mount. The build and design also allows this Hunter indoor fan to be installed as standard, low, or angled. For a low standard mount, the unit can go as low as 18 inches which often looks great on a high roof.
Features
Dimensions:52 inch blade span with adjustable heights
5049 CFM
60 watts
Comes with a whisper silent reversible motor
Has 5 wooden blades and 3 fan speeds
Comes in one finish color: Brushed nickel
Available in one color finish: Brazilian cherry mahogany
It is equipped with a universal remote control and pull chain
Customer feedback
Users who got this item were taken in by the construction beauty as well as the enhanced functionality of a three fan speed. That is in addition to three possible installation positions that can work with different roof profiles.
Customers mentioned that the installation was fairly manageable. One thing that did not go unnoticed is the inclusion of a pull chain that can on/off the unit as well as control fan speed. Users appreciate the traditional look that a pull chain adds to this unit. But on the same token, they also liked the comfort provided by the remote control that allows you to operate the fan and dim lights for the  ambience right in the comfort of you couch.
---
Portage Bay 50251 Hugger 52″ Matte Black West Hill Ceiling Fan
The portage bay ceiling fan has a simple yet beautiful look.
This LED ceiling fan is built with a low profile that integrates impeccably with a low profile ceiling. If you happen to have a low ceiling, you need not fret because this ceiling fan measures 11. 7 inches from ceiling to bottom.
The 52 inch, reversible blades are made from wooden material while the motor delivers quiet efficiency.
This fixture also comes with a gorgeous opal frosted dome light fixture for illumination.
This ceiling fan is not adaptable to a universal remote control and is strictly manual. It is the perfect fit for a home that is looking to keep the rustic traditional décor going.
Features
Dimensions: 52 inch blade span and the unit is 11.7 inches high
 2600 CFM

Color Temperature of

2700 Kelvin, 6 watt
Has a quiet reversible motor
Offers 5 blades and a single fan speed
Available in three finish colors: Matte black/ white/ brushed nickel
Comes with one blade color: wooden
It utilizes a manual operation with two pull chords
Customer feedback
Users who purchased this item mentioned that they were looking for a simple but elegant ceiling hugging fan with LED. The design is perfect for such an aesthetic. They also mentioned that they were totally fine with a manually operated ceiling fan as most got this option for interior rooms. Installation is a breeze and will barely take you 40 minutes to get this unit up and running.
---
Casa Vieja 52″ Ancestry Hugger Low Profile Ceiling Fan
Ancestry hugger ceiling fan has a unique distressed white rubbed finish and the overall design brings a touch of antiquity to your environment. The design is French country style and is quite a ceiling hugger with a mere 6.75 inches from ceiling to fan.
This unit also comes equipped with a dome shaped frosted light kit that holds 2 LED dimmable bulbs for illumination. From the ceiling to the light kit the unit measures 12.75 inches.
Additionaly,this fixture is equipped with a silent but powerful motor and 5 reversible blades with a 52 inch blade span
This is another ceiling fan option that gives you the best traditional look of a ceiling fan. You can use it in any room in the house and it will fit right in. The blades are reversible so you can use the unit any time of the year.
Features
Dimensions:52 inch blade span and the unit is 12.75 inches high

CFM

rating of 4343
6 watt 2 dimmable, 2700K color temperature
Has a quiet and powerful reversible motor
Features 5 blades and a single fan speed
Available in two finish colors: Rubbed White/Bronze
Comes with one blade color: Wood
Utilizes a remote control for easy operation
Customer feedback
Most customers found the installation to be a breeze. Some users pointed out that something unexpected about this fan was the wiring. They said that because the remote control unit is pre-wired into the fan, it saves you valuable time and effort over having to do it yourself. You only have to hook up three wires; hot, neutral and ground. The wall switch is equally easy to install and works fantastic.
---
Minka Aire Fans Concept II Flush Mount 44 In. Ceiling Fan
The Concept II Flush mount ceiling fan is a three speed fan with 3 reversible blades.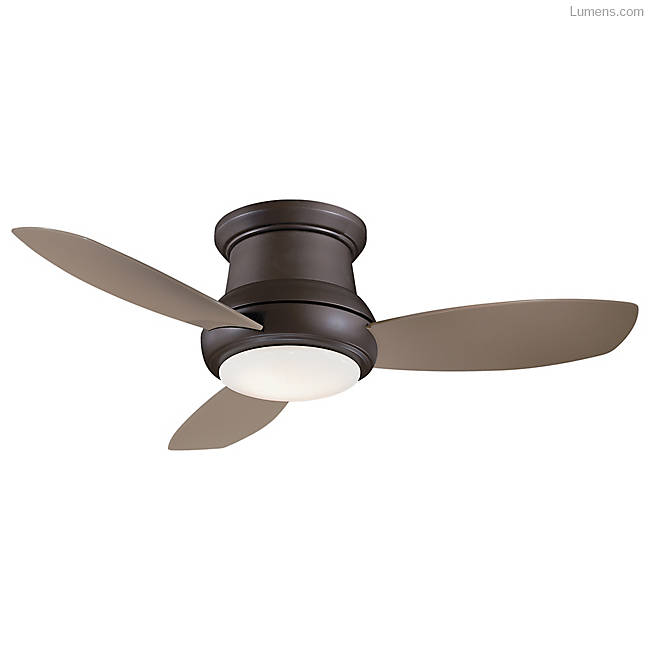 The blade span is 44 inches and driven by a quite yet powerful motor. The minimalist ceiling hugger design has a soft concept that adds charm to a space and particularly brings out the aesthetic value of a low ceiling home.
This fan is further furnished by a frosted glass light kit that adds to its utility. While one might be forgiven for underestimating the power of the fan because it has 3 blades, you will be pleasantly surprised to learn that at the highest fan speed setting.
This ceiling fan will generate an impressive 3783 CFM. At such a speed, the fan remains energy conservative at 88 CFM/Watt Fan Airflow Efficiency.
The fan design will work well for the home, office and even hotel rooms.
Features
Dimensions:44 inch blade span and the unit is 12.75 inches high
3783 CFM
15 Watt, Color Temp: 3000K
Has a silent powerful motor
Features 3 blades and 3 fan speeds
Available in four finish colors: Brushed Nickel with silver/ Oil Rubbed Bronze with Taupe/White/Polished Nickel with Silver.
Comes in one blade color: wood
Uses a remote control for operating the fan
Customer Feedback
Those who bought and are enjoying this ceiling fan in their premises mentioned that they particularly liked the low profile design which augurs well with all forms of low ceilings. Apart from the straightforward installation, customers pointed out that the minimalist design element is an additional plus as it makes the space feel uncluttered. On the functional front, users shared that they were impressed at how quite the fan is and powerful as well
---
Parrot Uncle Ceiling Fan with LED Lights
This beautiful fixture from Parrot Uncle offers a unique design when it comes to ceiling fans.
The lamp holder and blades are held by a neatly finished metal framing that firmly anchors to the ceiling. The metal canopy houses a high quality and silent motor.
One of the ways in which this fixture is unique, is in the fact that it comes with 4 retractable 46 inch blades.
The blades are constructed from acrylic which is light weight. When fully extended, the blade span is 46 inches and when retracted the blades measure 20 3/4 inches and are invisible. The operation is very streamlined and easy. When the fan is turned on/off, the blades will stretch out or retract automatically.
The chandelier lighting fixture is equally beautiful adding a touch of glamour to the design. This fan is exciting and versatile because it can serve as a chandelier lighting fixture as well as a ceiling fan.
Features
Dimensions:46 inch blade span and the unit is 18 inches high
Airflow of 3600 CFM
32 watt LED light kit, 4000 kelvin color temperature
Retractable ceiling fan
Features a super quiet motor
Comes with 4 blades and 3 fan speeds
Available in five finish colors: Black/ brown/ original/ silver/ white
Comes with one blade color: white
Utilizes a remote control for operation
Customer feedback
Customers who reviewed this fixture mentioned that this is the sort of ceiling fan you would not mind having in a smaller office reception area, living room, bedroom or in hallways. The chandelier lighting aspect is gorgeous and adds a sparkling feel to your surroundings. The installation is easy and the blades can retract to provide a cool breeze when needed. Customers appreciated the ease of different contemporary look offered by the acrylic blades.
---
Modern Fan Company Ball Ceiling Fan with LED Light
As far as contemporary ceiling fan designs go, this Ball ceiling fan unit epitomizes the very essence of minimalist design.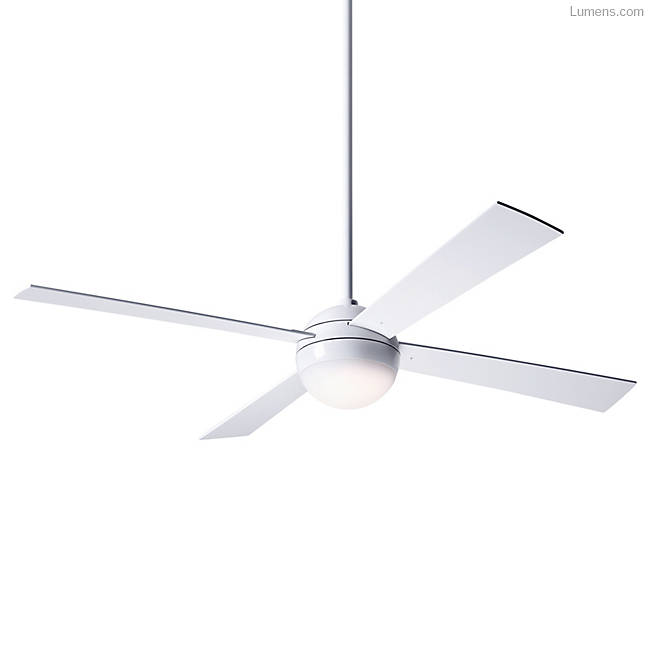 The slim downrod anchors to the ceiling and drops down to a central housing unit that forms a perfect sphere for housing the unit's whisper quiet motor.
The four blades rotate smoothly driven by a high quality motor.
The fixture design is crowned below by a matte opal glass shade for lighting.
Apart from several finishing options to work with this unit comes with two blade span sizes to choose from, 42 and 52 inches.
The blades are also reversible allowing you to use the unit any time of the year depending on the temperatures.
Features
Dimensions:52 inch blade span and the unit is 18 inches high
CFM of 4998
20 Watts, Color Temperature of 3000 Kelvin
Has a whisper silent reversible motor
Features 4 or 2 blades and 3 fan speeds
Available in two finish colors: Brushed aluminum/ gloss white
Comes in three blade colors: aluminum, white and maple
Utilizes a remote control for operation
Customer feedback
According to customers this unit provides superior air circulation, comfort and conservative energy for an efficient contemporary design. Contemporary design minded customers and home owners love it because it is truly minimalist without compromising on function. The assembly is straightforward and pretty quick to install.
---
Westinghouse Lighting 7224600 Quince Indoor Ceiling Fan with LED Light
The Westinghouse lighting ceiling fan has a purposeful smaller build that is ideal for smaller rooms measuring 100 sq.ft or so. This will often tend to be small offices, children's bedrooms, walk-in wardrobes, laundry rooms and so forth.
The unit comes armed with 6 reversible blades of a 24 inch span.
This fixture is also endowed with a lighting kit of opal frosted glass shade with dimmable LED light kit. The unit has a glistening look of a gun finished exterior which blends delightfully well with the graphite finished blades.
For a small fan, this unit packs quite a punch in terms of circulating air. The high quality motor housed in this fan delivers strong air movement of 1259CFM when on high speed and still maintains energy efficiency.
This ceiling fan must be installed with the accompanying downrod. However for a slightly lower installation, one can always purchase an additional downrod separately to achieve that effect.
A point of note though, is that the installation must be above 7 feet from the ground.
Features
Dimensions:24 inch blade span and the unit is 12 inches high
CFM: 1259
16-watt dimmable LED light,
Has a very quiet motor
Features 6 blades and 3 fan speeds
Available in three finish colors: Gun metal, white and chrome
Comes with one blade color: graphite finished
Controlled using 2 pull chains for on/off, fan speeds and lighting
Customer feedback
Users of this unit shared that it was super easy to install, it lights the kitchen well and disperses air efficiently provided your space is not large. Other customers liked the modern styling and clean look. The unit is easy to use as all you have to do is pull on one chain for lighting and the other for fans speed control. Users also added that the lighting kit provides good illumination in your space.
---
Casablanca Fan Company Correne LED Ceiling Fan
The Correne Ceiling Fan manufacturers need little to no introduction because the brand Casablanca is renowned the world over for its delectable fan pieces.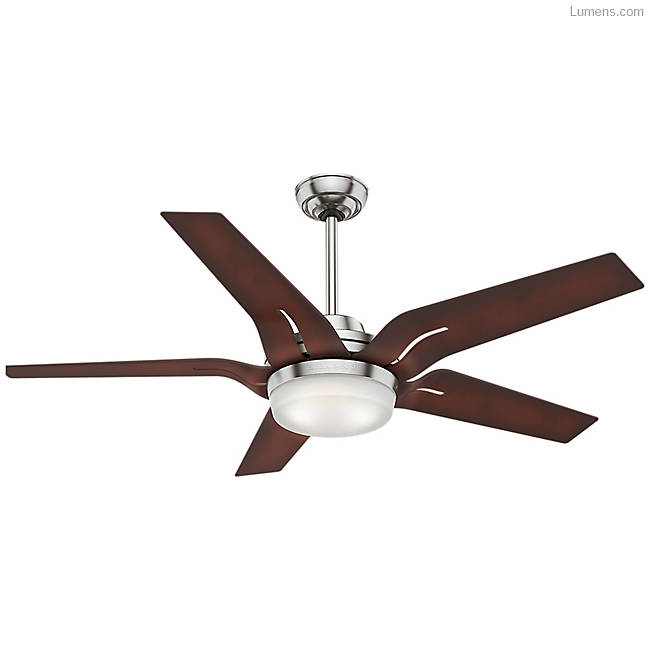 In this particular one, the ceiling fan design offers a unique spin on mid-century styling by using bent plywood blades in conjunction with modern aesthetics. The result is a gorgeous fan.
The fan can be installed flush to the ceiling at a height of 12.5 inches or one can use a downrod for a far much lower installation.
This unit also comes with a LED light kit that has good contrast as the light shade is cased in white glass.
This lovely unit will is well constructed with a decent size and design suitable for the living room, bedroom or hallway.
Features
Dimensions: 42 inch blade span with adjustable height
Fan Airflow of 7152 CFM
17 Watt, Color Temperature: 2700K
Features a powerful yet extremely silent reversible motor
Has 5 blades and 4 fan speeds
Available in two finish colors: Brushed nickel with coffee beech/ brushed Nickel with champagne
Comes in one blade color: plywood
Has a remote control for operation
Customer feedback
Customers who have owned other Correne fans in the past consider this unit to be one of the best in the industry. Users shared that they loved the extremely quiet function of this unit. They also appreciated the reverse feature through the remote that allows the blades to be to efficient in winter and summer. Most customers said that installation was quite easy and the final product presents elegance and a very polished modern look.
---
13. Monte Carlo Fans Minimalist Ceiling Fan Light
This Monte Carlo ceiling fan has an adorable look of fluid clean design. That minimalist feel and look is made possible by a trio of expertly hand-carved wood blades that are generous with gentle curves.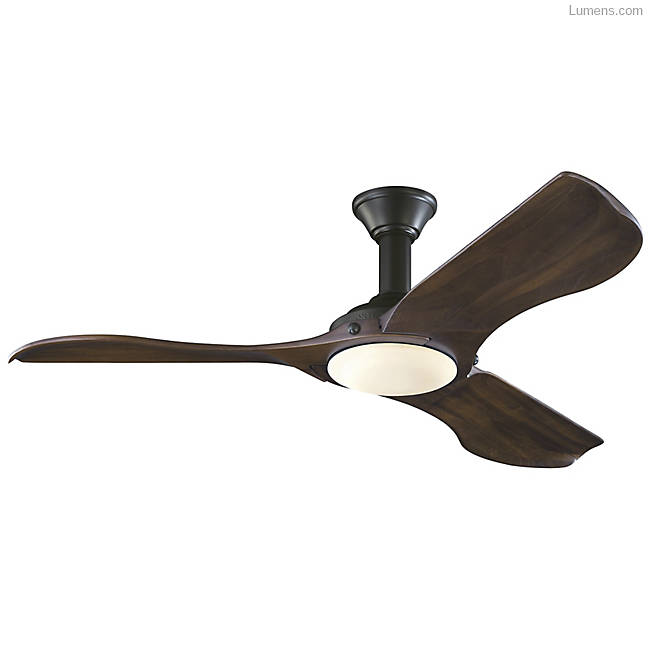 The solid, thick downrod anchoring the fan on the ceiling, drops down to hold the canopy that houses a powerful motor and connects to the three blades.
The design is uncomplicated yet elegant and has an etched LED light for illumination.
This fan has several beautiful color combinations that provide flexibility in marching with almost any decor.
Features
Dimensions: 56 inch blade span and the unit is 13.7 inches high
9468 CFM
6 Watts, Color Temp: 2700K
Features a silent DC motor
Comes with 3 blades and 6 fan speeds
Available in the finish colors: Brushed Steel with Dark Walnut/ Matte Black with Dark Walnut/Aged Pewter with Light Grey Weathered Oak
Comes with one blade color: wood
Comes with a remote control for easy handheld operation
Energy Star Rated
Usable  outdoors under covered areas
Customer feedback
Users shared that this minimalist design is easy to assemble and install. The performance is top notch with an ability to circulate 9468 CFM when set on high fan speed. Users mentioned that they also like the energy conservation approach of this unit. Plus it looks great in all types of decors.
---
Siljoy 36″ Retractable Crystal Ceiling Fans with LED Lights 
If you want to add some sparkle in your space, there is no better way to do it than with this 36 inch chandelier ceiling fan.
It has a solid construction of neatly finished metal frame. It comprises of a powerful motor that drives 4 retractable acrylic blades.
The lighting unit has a cheerful acrylic petal shape and is adorned with shimmering K-9 crystals. The lights are dimmable which allows the user to control their preferred ambience.
This is a wonderful unit to use in a bedroom, hallway or children's room. The unit does a good job of adding some sparkle into your space.
Features
Dimensions: 36 inch blade span and the unit is 13.7 inches high
CFM of 4185
Color Temperature of 2700 Kelvin, 32 watts
Features a silent motor
Has 4 blades and 3 fan speeds
Available in two finish colors: white/ yellow lighting
Comes with one blade color: Acrylic
Uses a hand held remote control
Customer feedback
Users who got this highly recommend it for average sized room. It works very well and looks great, plus, the installation is a breeze. Just note that the blades are not reversible and are therefore only applicable during the summer for cooling.
---
Conclusion
While the best LED ceiling fan lights are primarily designed to circulate air for cooling during the hot summer while providing adequate illumination, they can also prove useful for spreading heated air during colder months helping conserve heating and cooling bills alike. That is thanks to reversible motors and fan blades.
But ceiling fans with LED lights also serve as decorative pieces that can breathe new life to a room and add some glamour to a given space.