For homes that have crawl spaces, the confined space gap between the bottom of the house structure and the ground, it' highly recommended to have foundation vent fans installed. Homes with this kind of foundation are often found in areas with warm and moist climates.
Why Do You Need Foundation Vents?
Excessive moisture found in this crawl spaces and basements causes damage and rotting to beams, support columns, joists, and flooring, as well as promotes the growth of pesky mold, mildew and unwanted fungus.
Foundation fans are therefore useful here because they run constantly to provide fresh air ventilation and cross breezes when the humidity level exceeds a certain setting on the dehumidistat. Thereby, effectively eliminating any moisture build up for drier spaces. 
The number of vents, as required by the International Residential Code (IRC), is one square foot of screened vent space inserted into the concrete block foundations within a perimeter of every 150 square feet of space. Likewise, if your foundation is 30 by 30, which is 900 square feet, the number of vents you should have is the combined square footage of 6 square feet. 
---
Types of Foundation Vents Fans
There are two major types of foundation vent fans: Active Foundation Vents and Passive Foundation Vents. The key difference between the two is that the active ones are operated by a power source and the other is merely a permanent opening in the crawl space covered by a grill. The active foundation vents branches into two types: automatic and manual. 
Automatic Foundation Vents – 

To put it simply, automatic foundation vents eliminate the labor and guesswork of having to switch them on and off manually. For the more technical part, this type of vent is usually made of a metal coil that has a sensor that opens and closes as temperature varies. Typically, these vents open once they detect an external temperature of over 70 degrees and close once it drops down to 40 degrees. 

Automatic vents adjust according to your preference. Regardless of the season, they maintain a reduced level of moisture and humidity. Thus, providing a clean and comfortable home. 

Manual Foundation Vents – 

Manual foundation vents are the ones that need human intervention. There are vents in the market that comprise a shut-door or sash door that needs to be swung open or closed to operate the foundation vent fan. The manual foundation vents are for homeowners unbothered by the chore of having to check on the fan now and then. Ultimately, manual foundation vents fans are as efficient as the automatic foundation vent fans, especially if they have similar CFMs. The only real difference between the two is that the other works with sensors and timers and the other is operated by a person. 
---
Review of the Best Foundation Vent Fans
1. Durablow MFB M2D Stainless Steel 304 Crawl Space Foundation Dual Fans
Top of the list is the Durablow MFB M2D Stainless Steel 304 Crawl Space Foundation Dual Fans whose components are are UL listed for safer and longer use. 
The 18-inch by 9-inch foundation vent is the perfect solution for keeping humidity levels at crawlspaces at par as it works hard to increase optimal air circulation which in turn prevents moisture build-up which could compromise the integrity of your foundation and fixtures.
With a wide temperature range of 32 to 90 degrees F and at 50 to 61 decibels, you can tell that the foundation vent is working from up the basement. The motor and the fan synchronize to produce a distinct yet barely noticeable noise. The power cord included in the unit is at least 6.5 feet which allows you to connect to a power socket without having to use extension cords. 
Furthermore, the unit is also available in a smart home version with Wi-Fi capability model, compatible with Alexa, Google Home Assistant, Echo and IFTTT. With this particular model, you are able to monitor humidity levels on App conveniently on your smartphone. the unit also comes with a remote control.
Features and Specifications
Freeze protection thermostat

– the unit automatically shuts off when the temperature drops below 32 degrees F or 0 degrees F. 

Radon mitigation support

– the Durablow foundation vent supports any radon mitigation efforts being made under the crawlspace. It exhausts the radon gas, treats wood gas and odor that prevents it from seeping into cracks in the basement. 

100% stainless steel

– the foundation vents with dual fans are made of 100% stainless steel, 304-grade panels and housing boxes to combat the humid environment. The T304 is rust-resistant and can last decades if properly maintained. 

Built-in humidistat

– the dehumidistat on the foundation vent boasts the RH range between 20% and 80%. 

Dimensions:

18 inches L x 9 inches W x 2 inches H

Airflow capacity:

220 CFM, Ratings: 120 Volts ~ 50/60 Hz, 0.60 Amps maximum.
Pros
 Exhausts radon gas.

The unit has a built-in humidistat for automatic on and off depending on the humidity level in the crawlspace.

T304 grade panel said to provide longer unit lifespan than galvanized Steel.

The foundation vent includes a three-pronged power cord that eliminates the need for customized wiring in existing circuits.
Cons
The grille of the fan though said to be rust-proof, tends to rust after a year or so.
Customer Feedback
The majority of customers were more than impressed with their Durablow foundation vent purchase as it showed immediate signs of reduced humidity and radon levels in the crawlspace some time after it started running.
It's said to run quietly and work overtime to move a lot of air for optimal ventilation so that any musty smell as a result of moisture accumulation is eliminated entirely. While for most users the unit operates quietly, others were of a different opinion and suggested installing the unit further away from the main rooms or running the unit during the day.
Additionally, the fact that the foundation's vents' timers that can be purchased separately was a huge plus as it allowed customers to set up their preferred time of operation. 
Overall, the price of the Durablow foundation vent may not be the cheapest but it's definitely a sturdy, high quality unit that customers say eventually pays for itself because of the fantastic job it does year after year.
This is highly recommended as a great foundation vent perfect for those looking to eliminate any radon gas concerns as it's able to effectively and efficiently vent out radon gas and moisture out of the crawlspace, basement and other confined spaces.
---
2. Tjernlund V2D UnderAire Crawlspace Ventilator Fan 
Tjernlund UnderAire Crawlspace Ventilator Fan is specially designed to circulate fresh outdoor air underneath homes and porches in order to maintain the integrity of your foundation.
In addition to being ideal for venting out damp air, radon gas, treated wood off-gassing and odors in crawlspaces and basements, it's also suggested for use to ventilate hot garages, storage areas, workshops, stoves and fireplaces.
The great and notable features of the Tjernlund V2D UnderAire Crawlspace Ventilator Fan are its adjustable dehumidistat, freeze protection limit and 6-foot grounded power cord.
Other than the V2D UnderAire model (220 CFM), the series is also available in an airflow capacity of 110 CFM and 540 CFM.
Features and Specifications
Versatile galvanized faceplate

– the faceplate of the ventilator fan can be trimmed if necessary to retrofit into a hole and reduce the footprint. 

Adjustable dehumidistat control

– turn on the fan once relative humidity rises above the preferred and selected set-point. 

Pre-wired thermostat –  which will prevents the fan from falling below 35°F outdoor temperature. Once the temperature outside rises near 50° F the fan will resume operation.
Dimensions:

18 inches L x 9 inches W x 2 inches H

Airflow capacity: 220 CFM –  115 Volts ~ 50/60 Hz, 0.60 amps maximum
Pros
Helps to vent out radon gas

Reversible fan design allows you to position each fan in opposite direction for balanced fresh air exchange.

Customizable and galvanized faceplates – can be trimmed if necessary. 
Cons
The unit can be noisy in an extremely quiet environment according to some customer reviews.
Customer Feedback
Customers of the Tjernlund ventilator fan approve of the quality and price tag of the unit.
It's said to have helped a large number of users successfully deal with higher humidity levels as well as the musty smells in crawlspaces and basements. When it comes to noise levels which some customers said is quite noticeable, it's been suggested inserting rubber washers between the fan and the foundation reduces vibration and muffles the noises, so this may be a great precaution to take.
To sum it up, the performance of this fan is said to be outstanding for the most part, and the lower price tag makes it an even more enticing purchase.
---
3. Elite-Air FAT2 220 CFM Dual Fan Crawl Space Ventilator With Dehumidistat
Elite-Air FAT2 220 CFM Dual Fan Crawl Space Ventilator With Dehumidistat by Endeavoring can be used in replacement of Tjernlund V2D and M2D models as they have the same
dimensions of 18" x 9".
The corded electric dual fan ventilator components can be bought separately. If a part falls apart, a replacement can be obtained from the manufacturer. There will be no need to buy a new unit just because of an element malfunctioned. 
Features and Specifications
Built-in dehumidistat –

the dehumidistat of the foundation fan ventilator boasts of RH range between 20% and 80%.

Thermostat equipped – to prevent operation of the fan below 35 F. The fan resumes operation once 50 F is achieved.
Face Plate – that can be trimmed. 
Dimensions:

18 inches L x 9 inches W x 2 inches H

Airflow capacity:

220 CFM, Motors: 115 Volts ~ 50/60 Hz, 0.60 amps maximum
Pros
Retrofits to spaces occupied by Tjernlund vents. 

Face Plate can be customized.
Customer Feedback
A customer shared that after a week of operating Endeavoring's Elite-Air FAT2 220 CFM Dual Fan Crawl Space Ventilator With Humidistat in their basement at 40% humidity setting, the house was free of the musty mold smell completely.
When it comes to noise levels, the fan, as expected, is said to be quiet by some users while a few others completely disagree. While sensitivity to noise differs from one person to another, from one house structure and size to another and location of installation, the performance of the product when it comes to reducing humidity levels in crawlspaces and basements is said to apparent.
The durability of the unit and functionality are all worth its price tag, this according to the majority of the favorable reviews.
---
4. AC Infinity AIRTITAN T8, Crawlspace Basement Ventilator Fan
The models under the Airtitan Series, particularly the model T8 Crawlspace Basement Ventilator Fan by AC Infinity, are powered by a Pulse Width Modulation (PWM) DC-motor. This
motor allows the ventilator fan to perform quietly and energy efficiently.
Probably, the greatest feature about the basement ventilation fan is its smart programming. The control enables the user to adjust the airflow depending on the temperature and humidity, timer and alarms, as well as eco-mode and back-up memory.
To ensure that the users will enjoy every feature of the AC Infinity AIRTITAN T8 for the longterm, the frame is made of heavy-duty build. Galvanized steel and aluminum mounting frame guards the fan for a prolonged product lifetime.
It's suggested for use to control the temperature and humidity levels in your basement, crawlspace, attic and garage, the unit operates at 32 decibels, which is the industry standard for quiet operation.
Features and Specifications
Heavy-duty and stainless steel frame

– the frame of the ventilator fan is made of stainless steel with IP-44 rated fans that is resistant to liquid and dust. 

LCD

– the features displayed on the LCD screen are the smart thermostat, customizable fan speeds, and dehumidistat control.

Programmable controller

– the controller of the fan can be adjusted in response to the outdoor temperature and humidity under the crawlspace. Smart programming includes alarm warnings, fan failure alerts, eco-mode, and backup memory. 

DC motors

– controlled by 120mm PWM DC fans, the ventilator fan maximizes airflow and reduces noise levels and power consumption.

Dimensions:

18 inches L x 9 inches W x 1.6 inches H

Airflow capacity:

240 CFM
Pros
Included in the unit is a 12-foot corded-sensor probe.

Smart programming for fan speed, alerts or warnings, eco-mode, and back-up memory.

It has a 10-speeds double fan.
Customer Feedback
One of the best thing about the AC Infinity T8 ventilator fan is its 10-speed fan which allows the user to set the right power accordingly. Some of the customers have mentioned that in less than one week, the humidity levels or their crawl space as well as the musky smell was completely eliminated.
With continuous operation, especially during the summer, the ventilator fan can be trusted to perform its job without any human intervention. Moreover, the smart programming of the unit was also a great bonus.
A lot of customers appreciated the back-up memory feature so that, in case of a power outage, the unit will automatically resume in the previous setting once the power comes back. For most users, T8 ventilator fan is an easy plug-to-play type of product.
---
5. Glass Block Factory Crawl Space Vent Foundation Openings
Glass Block Factory's Crawl Space Vent Foundation Fan can be retrofitted into any 16 inches by 8 inches opening. The foundation vent has a sash door that turns on the fan at a slight
open. The unit is available in two different colors, one of which is clay and the other is white.
Its grounded power cord length stretches up to 6 feet. Backed by a limited lifetime warranty, the crawl space vent foundation openings by Glass Box Factory offers convenience that users never thought they needed. 
Features and Specifications
Quiet and ball-bearing fan unit

– the fan – can move an airflow of 160 CFM. It is protected by a nickel-plated steel fan guard to ensure it remains intact and free of moisture.

The automatic switch

– the crawl space vent foundation openings consist of a sash door that, when opened, the exhaust fans turn on. The sash door is made of double-pane and frosted glass with an extruded bubble seal around the perimeter to promote thermal properties. 

Dimensions:

15 ½ inches L x 7 ¾ inches H x 3 ⅛ D

Airflow capacity:

160 CFM
Pros
The sash door operates as the turn-off and turn-on of the foundation vent fan.

Moves a lot of air at 160 CFM, yet performs at a quiet level according to many customers.
Cons
The cord comes out of the center instead of the inside face where it would be easier to position it.
Customer Feedback
This manual foundation vent is said to be like a little awning window that pulls moisture from spaces while also at the same time eliminates odors. The sash door is extremely convenient such that when you need to vent out air, you simply lift the door like opening a window.
The frosted panel glass sash door is also a fan favorite as well as the design that makes it look unobtrusive, like an ornament to the bare corrugated foundation side.
Overall, customers love their purchase as the foundation vent fan does the job it is supposed to.
---
6. Tjernlund X2D Model Products Xchanger Reversible Fans
The models under the Xchanger Reversible fans by Tjernlund like the X2D Model offer three airflow options. Users can easily reverse the direction of the airflow to exhaust musty air,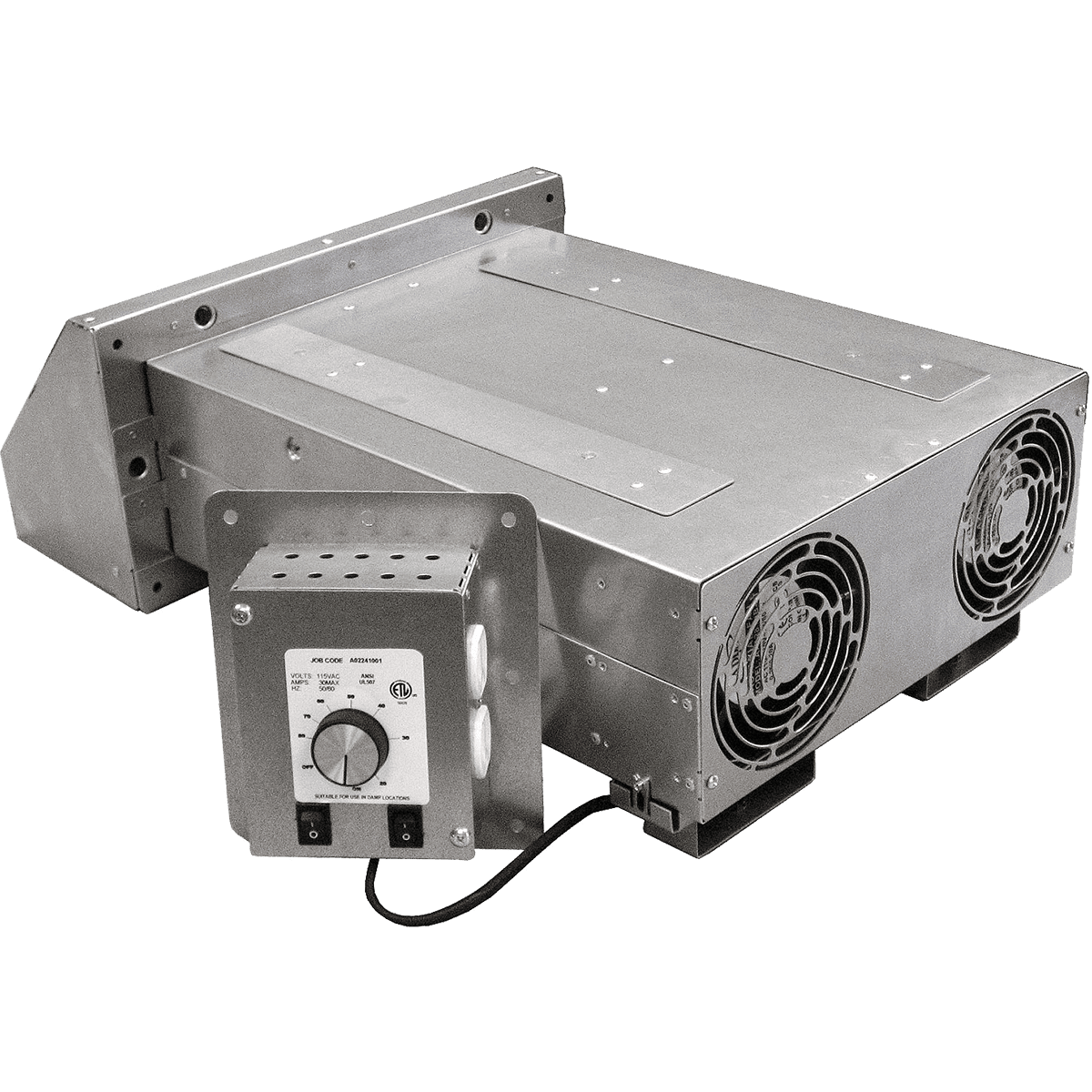 supply fresh air and a balanced air exchange without any bypass from either of the air streams.
It only takes a few steps to reverse the airflow, which is to rotate the fan 180 degrees. Tjernlund X2D Model Products Xchanger Reversible Fans have a dehumidistat control range of 20% to 80% relative humidity and fit into a rough-in wall  12 ¼ inches x 5 ¼ inches opening.
Features and Specifications
Dehumidistat control

– the control can automatically cycle depending on how the user sets the relative humidity levels.

Three flow air options

– the options include exhaust air, supply air, and exhaust plus supply air through a single bypass.  

Dimensions:

15 ½ inches L x 7 ¾ inches H x 3 ⅛ D

Airflow Capacity:  180 CFM

 
Pros
Three airflow options to adapt to the needs of the crawl space. 

It retrofits into 12.25-inch with a 5.25-inch rim joist. 

Both fans are reversible in that they can be set to one direction, in or out or on opposite directions.
Cons
Customer Feedback
A majority of customers loved the extreme functionality of the Tjernlund X2D Model Products Xchanger Reversible Fans. Customers mentioned that the humidistat does a great job turning the unit on and off as needed depending on the setting.
When it comes to the installation of the foundation vent, some customers installed the unit by themselves with minimal problems in under an hour. The unit is said to operate silently and with almost no vibration at all. 
---
7. Field Controls EL-1 Crawl Space Vent Fan
The Field Controls EL-1 Crawl Space Vent Fan that attaches to any vent is a motorized fan that activates when the external temperature exceeds 50 degrees F. 
This foundation vent can be operated in two ways. The first is through an adjustable de-humidistat to set varying levels of humidity. The second is through an optional control wire in place of the standard temperature switch.
The housing material is made of galvanized steel with mounting plate dimensions of 14 ⅜ inches by 6 ⅞ inches. 
Features and Specifications
Adjustable de-humidistat control

– the dehumidistat control of the foundation vents can be adjusted from 20% to 80%. The control needs to be purchased separately.

Dimensions: 15 ½ inches L x 7 ¾ inches H x 3 ⅛ D
Airflow capacity:

100 CFM
Pros
It has a quiet operation and draws a lot of moisture out of the crawl space at 100 CFM.
Cons
Dehumidistat control is not included in the unit. To fully obtain the functionality of the vent, some parts may be required to be purchased separately. 
Customer Feedback
Though not a popular brand, this model is a decent purchase that the users found to eliminate most of the humidity in crawlspaces and basements. Customers would recommend purchasing the 24-hour timer and temperature or humidity switch from the to fully equip the foundation vent.
---
Conclusion on This Review on the Best Foundation Vent Fans
While there are some other ways to get rid of excess moisture from your crawlspaces, basements, garages, attics and other spaces, foundation vent fans are still some of the most effective. Not only will they mitigate the damp and musty odor-ridden indoor space for drier environment, but ultimately you will also notice an improvement in your indoor air quality and temperature.