In any given house, there are areas that heating may not be so adequate. It can be quite unpleasant stepping on cold tiles as well as walking into a cold bathroom in a chilly morning. The best most effective electric wall heaters usable in bathrooms are great options that can remedy this problem in this space as well as other areas of the house that may need supplemental heating.
What constitutes a good electrical wall heater for the bathroom?
Well, let's check a brief buying guide that will clue you in.
What to Consider When Buying  an Electric Wall Heater for Bathrooms
There are a lot of electrical wall heaters being sold in the market today. Unfortunately, not all have the ability to perform as advertised. To ensure you purchase the right product that suits your heating needs look out for the following.
Efficiency and type of heater
There are two types of fan heaters to consider here, convention or fan forced wall heater. Compare efficiency among several products to get an idea which one has the best heat output versus the energy used. To minimize energy usage check for features such as adjustable thermostats, programmable timers and wattage options.
Heating capacity
The size of the space the heater can cover is determined by wattage rating. As a general rule of thumb, a supplementary room heater uses 10 watts to heat each square foot of space. Make sure you know the size of your space in order to buy a unit with the right wattage.
Safety
This factor cannot be overstated. Most wall heaters feature overheat protection which automatically turns the heater off if the temperature gets to unsafe levels. If it doesn't have at least this feature it may not be the right fit. This keeps you safe even if you forget to shut off the heater.
Noise level
This is primarily for fan forced heaters since convection heaters do not have  fan. And so, fan forced heaters may emit some noise when running, some more than others. For silent operation, you will find convection heaters to be your best bet.
---
Here are Some of the Top Best Electrical Wall Heater for Bathrooms
Stiebel Eltron 074057 Wall Mounted Electric Fan Heater
This powerful German engineered wall mounted electric fan heater operates on 208 – 240 volts of electricity and can be installed in any location where heat is needed quickly during cold days. These areas include hallways, kitchens, bathrooms and living rooms.
For rooms that don't get enough warmth from a central heating source these heaters can supplement the heat. For small rooms they can serve as the only source of heat.
The Stiebel Eltron CK 20E electric fan heaters are designed to be mounted on the wall surface. They can be installed over  existing heaters that are way past  their prime.
It worth noting that this unit is not supplied with a power cord and so has to be hardwired and mounted vertically at 6 to 8 inches off the floor. Installation at a minimum of 4 inches is necessary for proper disbursement of warm air.
They protrude 5 inches from the wall and their unique sleek design blends with the room decor in a subtle way. This unit is lightweight and has a compact design which fits just about anywhere in the bathroom.
The way this fixture works is by downdraft design that sucks in cool air from the top and disburses the warm air out the bottom. This in turn heats up the floor and the surrounding spaces evenly.
One of the things that you are likely to fall in love with in this fixture is how smooth and quiet the fan runs producing only 49.7 decibels of sound.
The unit also has an inbuilt thermostat for easy heat adjustment. In rooms that are larger than 215 square feet, this CK heater can be controlled by a wall thermostat.
It produces 2000 watts of heat powered by 240 volts of electricity with a fan enhancing heat transfer. This fixture is a great replacement for conventional electric space heaters.
Features
The unit is 240v and is capable of an output of 2000 watts
Dimensions are 20.08 x 15. 35 x 6.3 inches
This unit weighs 8 pounds
Quiet running
Comes with a fast heating nichrome coil element (convection heating)
The mount type for this unit is surface mount
It needs to be hardwired
Customer feedback
Customers who got this unit were impressed by how effectively it heats their bathroom and other sections of the home where they installed it. They mentioned that it ran quietly and it was aesthetically pleasing. They also praised its size which is compact but with enough power to heat up rooms with impressive efficiency. It comes highly recommended for keeping the bathroom warm during those a cold mornings.
---
Broan-NuTone 194 Wall Heater

for Bathroom
This Broan-NuTone 194 High Capacity Wall Heater serves as a perfect energy saving heating supplement to fit in your home. Its output is 3000 watts at 240 volts. It can be converted to operate at 1500 watts at 120 volts.
The Broan-NuTone 194 wall heater has a heavy duty, white grille with down flow louvers directing air flow towards the floor. Offering an easy way to control the heat level is a front-mounted adjustable thermostat.
To ensure lasting, reliable use it features a heavy duty sheathed element with steel plate fins that provides heat quickly, a permanently lubricated motor that keeps the fan running quietly and a manual reset thermal overload protector for safety.
To prevent the fan from blowing cold air, this heater has  an in-built fan delay that stops the fan from starting until the heating element heats up and then as the heating element cools down keeps the fan running maximizing energy saving and heat delivery. This heater may be surface mounted or recessed, simplifying installation.
It can effectively warm 200 to 300 square feet.
Features
It offers 3000 /1500 /1000 watts and uses 240 volts
Dimensions are 3.75 x 18 x 16.25 inches
It uses fan forced air to heat the space fast and effectively
It can be both recessed and surface mounted
It has to be hardwired to the wall
Customer feedback
Customers who purchased this unit were happy that it efficiently warmed up their rooms. One user mentioned though that it ran rather loudly but because it worked so efficiently they could live with the noise. They also like the different wattage options that help conserve energy.
---
Cadet Com-Pak Electric Wall Heater with Thermostat
This electric wall heater by Cadet is a non expensive efficient way to heat your bathroom without having to incur bills for installing ducts.
Having multiple installation options and proven safety features ensures that these hardwired fan heaters reliably give out warmth for years.
The Cadet CSC202TW Com – pak electric wall heater is powered by 240 volts of electricity with a 2000 watt heater, ideal for economically heating smaller areas and sections of the home. It can also heat larger areas, but in such a scenario, it means that it will take a bit more time to warm up the room. This electric wall heater is available in two variations: One has an inbuilt thermostat, the other comes without.
To ensure the Com – Pak electric wall heater  does not overheat it has two thermal safety features installed and a one time over temperature thermal fuse as well as a  sturdy, heavy duty high temperature manual power reset.
The heater spots a nichrome coil element that heats up very quickly and the heat is spread evenly by the the centrifugal fan delivering a quiet efficient airflow that can comfortably warm up an area of area of 200 square feet in just a few minutes.
The Cadet CSC202TW electric wall heater comes with a heater, grill, built in adjustable thermostat and a wall-can designed to make installation easy and simple. The assembly is pretty simple and only takes three screws to assemble the unit in place. It fits flush with the wall maximizing living spaces with its compact unique style. The recessed mount unobtrusively sinks into the wall for a nice aesthetic look while creating an air of space in the room.
Its minimalist design is built for recess wall mounting. To eliminate accidental cuts from sharp metal edges, the fixture finishing is first coated with a powdered paint and then layered with high gloss enamel paint.
For heat to be disbursed from above, 1500 watt or less models can be mounted on the ceiling keeping wall space clean. For peak performance these models should be used in areas that are under 10,000 feet of elevation.
Features
The model variations use 240/120 volts and offers 2000/1500 /1000 watts
The dimensions of this unit are 5.25 x 14 x 9.5 inches
This heater weighs 7.05 pounds
It's equipped with a fast heating nichrome coil element (convection heating)
It offers recessed mounting
The unit need to be hardwired to the wall
Customer feedback
Customers who bought this unit were very impressed  by its fast heating ability. One user shared that he installed this heater in his bathroom and was surprised at how quietly the heater ran and how much heat it emitted. They also love that it fits flush with the wall allowing full utilization of space without banging  your knees and shins on a protruding heater.
---
4. KING PAW1215-W PAW Electric Wall Heater
This electric wall heater features the original Pic-A-Watt element which has a range of wattage options to select from. That allows the user to tailor the heater's settings to correspond to any room's particular heating requirements.
King Paw 1215-W electric wall heater is a fan forced wall heater that comes with wall can, interior and grill. Disconnecting color coded terminals allows the user to change wattage output to suit their specific heating needs. That design is unique to King Paw.
The unit is ideal for expansive living areas as well as bathrooms and bedrooms as it runs silently enough.
For smaller areas, one can always opt for a lower wattage which will efficiently warm the room and for larger spaces select a higher wattage for maximum comfort. The integration of the almost inaudible squirrel cage blower and an effective high – mass steel element, presents unparalleled high performance and years of untroubled operation. The five year warranty that comes with this heater speaks volumes about its quality.
The unit spots a squirrel cage blower for whisper silent operation providing excellent airflow and long life. The steel finned element produces heat efficiently.
An additional safety feature is the smart limit protection overheating safety system. It ensures that in an abnormal event, the power to the heater is cut off automatically. To resume normal operation, the unit must be manually reset. For your own peace of mind and safety, one can rest easy knowing the unit comes equipped with a thermal safety guard.
The grill has a clean crisp finish that will blend in with any décor.
Installation is easy with the screws that mount the heater into the recessed wall-can which has quickset stud alignment tabs.
Installing the King PAW1215-W electric wall heater in every room creates a zonal system, heating only the rooms currently being used. This helps in save on energy and which translates to shaving off the amount you pay on energy bills.
Features
The unit has a 1500 and 2250 wattage and uses 120, 208 and 204 volts respectively
Dimensions of this fixture are 5 x 4 x 7.5 inches
The heater weighs 9 pounds
Comes with a steel fin element for faster efficient heating (convection heating)
Offers recessed mounting that creates space
The unit power is hardwired
Customer feedback
Customers who got this unit were impressed with the versatility of the wattage settings and  how efficiently it warmed their rooms. Users also praised the unit's maintenance which is pretty easy and ensures that it works perfectly for decades. Many appreciated the ease of installation as well.
---
Dimplex Deluxe Wall-Mounted Fan-Forced Bathroom Heater
This wall mounted Fan-Forced  Bathroom heater is just what you need when preparing for your day on those cold winter mornings. It gives out instant warmth heating the the bathroom so you don't have to step into a cold bathroom.
Measuring approximately 18.3 x 7×13.3 inches the Dimplex Deluxe Wall Mounted bathroom Heater compliments any decor with its sleek design.
It comes with wall brackets to ensure it is securely attached to the wall. Conventional mobile space heaters can start a fire if placed close to a combustible material like blankets. The wall mounted fan forced bathroom heater provides a safe efficient alternative to this .
To prevent frozen pipes, this heater has a frost protection setting that activates the heater as needed. It also features a built in thermostat that produces upto 1000 watts of heat. The output can be boosted to 2000 watts for upto 60 minutes to get more heat with a simple setting of the timer.
This heater is hardwired and is powered by 240 volts to produce 2000 watts of heat and it comes with a 2 year warranty.
The Dimplex EF12 Deluxe wall mounted bathroom heater is quick and easy to install. Once the the wall brackets are screwed to the wall, the heater is mounted on to the brackets and fits securely.  It has 2 fan speeds both of which are are able to distribute heat efficiently.
It can not only be installed in the bathroom, but kitchen, bedroom and laundry room as well. For users' peace of mind, this wall mounted bathroom heater has been tested by the relevant government bodies in the USA and has been UL listed.
Features
Offers 1000 and 2000 Watts  and uses 240 volts
Dimensions are 18.3 x 6.9 x 13.6 inches
It has a weight of 7.7 pounds
It uses fan forced air for fast heating
Offers recessed mounting
The unit power is hardwired
Customer feedback
Customers who purchased this unit were impressed by the amount of heat it puts out. One user mentioned, the quality and performance was great and therefore worth every penny. Several were impressed by the installation of this fan which is simple and quick because it does not  require to be assembled. Once the wall brackets are set in the wall, you can go ahead to mount the heater on them and it's done.
---
Cadet CEC163TW Energy Plus Multi-watt 120/240V Wall Heater with Electronic Thermostat
This CEC163TW energy plus wall mount heater is a hardwired heater featuring a variable speed fan. The temperature control on the unit is digital and easy to use.
A point of note is the fact that this unit has been engineered to consumes 30% less energy than regular heaters and operates at 1600 watts at 240v, 1500w at 208v and 1000w at 120V.
This bathroom heater has the ability to consistently maintain a set temperature keeping your home very comfortable. It can maintain the temperature of a room to within one degree eliminating wide temperature variations because of the auto adjusting fan speed and intelligent controls.
If heat is not required this fan can be switched to fan only mode to keep the air circulating which is another way to save energy without compromising on comfort.
This heater can be used in living rooms, basements, garage, bathroom and bedrooms.
The Cadet CEC163TW energy plus multi watt wall heater is easy and safe to install. It has a smart sensor that auto adjusts the voltage of the heater to correspond with your power supply whether it is 120, 208, or 240 volts. This is a very useful and practical feature which saves you from having to rewire the electrical infrastructure to accommodate a different voltage in order to power the heater.
The Cadet CEC163TW heater has an inbuilt, simple, backlit, digital thermostat. Further still, it has a single main mode button to help you choose between daytime heat, and nighttime heat.
It runs very quietly and efficiently bringing up the temperature to the preset level in minutes. When the desired temperature is achieved, the auto adjust fan slows down saving energy and while running whisper silently, maintaining the set temperature to within a degree.
At night just press the 'night' button and this heater will evenly heat the room and maintain the preset temperature. Because the thermostat is backlit, you don't need to turn the lights on. Simply press the + button to quickly bring the  temperature back to the previous setting.
Features
It uses 120, 208 and 20 volts and works with 1600, 1500, 1000 watts
Dimensions are 12.62 x 10.87 x 6.56 inches
It has a weight of 8.1 pounds
Uses fan forced air for fast heating
It is a recessed mount unit
It has to be hardwired to the wall
Customer feedback
Customers who used  this heater were totally impressed with its efficiency at heating their spaces and it's  whisper quiet operation. The smart sensor that makes it possible to adjust the voltage of the CEC163TW heater saves you from incurring rewiring bills by connecting it with the existing wires. Some users installed this heater in their bathroom which was adjacent to the bedroom. It proved to be so efficient that it even warmed their bedroom allowing them to stop using their central heating.
---
Broan-NuTone 9815WH Grille Heater with Built-In Adjustable Thermostat
For heating small spaces such as dressing areas or bathrooms for short periods of time, built-in wall mounted electric heaters are the perfect choice.
Turning on the central heating system just to warm individual rooms may be inefficient and may come with huge  energy bills.
One of the upside of a wall heater is that all the energy is channeled into the home. Having no external venting, electric wall heaters do a good job of directing heat exactly where it's needed ensuring energy is fully utilized. These heaters present an easy way to take the chill out of a room. This makes them an excellent addition to pretty much any room.
Broan – Nutone 9815WH electric heater is powered by 120 volts to achieve a 1500 watt heat output. It can be converted to 240 volts producing 1500 watts. This variation makes the unit versatile. The electric heater has an efficient alloy heating element that warms a room rapidly.
For maximum room warming the unit features a transverse blower that directs heated air downwards. Long life bearings with large oil reservoir spin the quiet motor. For safety, the motor is thermal overload protected and shuts down in case of overheating. The bearings with extra large oil reservoir are permanently lubricated keeping the motors running quietly and needing zero maintenance. Its heat resistant white grill has a contemporary design with straight louvers, subtle contours, and radius edges giving it an attractive, clean appearance. Installation of this heater is very easy.
The Broan-NuTone 9815WH is a high capacity wall heater and  is ideal for lobbies, vestibules and entrance ways which are prone to heat loss. The efficient alloy heating element rapidly heats up and the transverse blower spreads the heated air downwards circulating in these areas which are  prone to heat loss and the thermostat maintains the set temperature. It can however, still work for bathrooms, bedrooms and pretty much any room in the house.
For your peace of mind this heater is UL listed. It comes with a one year limited warranty.
Features
The unit has a 1500W-240V and 1500W- 120V option
The dimensions are 10.5 x 3.38 x12.5 inches
It weighs 8.75 pounds
Utilizes a fan forced design for adequate and even dispersion of warm air
It is a recessed mount that keeps the unit flush to the wall
The unit has to be hardwired
Customer feedback
Customers who got this unit were happy with ease of installation and the heat output. They mentioned that even if you have a narrow bathroom, this unit will look and perform efficiently owing to the recessed mounting. This wall mounted heater is easy to install and easy to use.
---
QMark COS-E Fan-Forced Wall Heater
This fan- forced wall heater is ideal for heating up small spaces and single rooms fast. The heater comes in several wattages and voltage layouts providing a maximum 2000 watts of heat.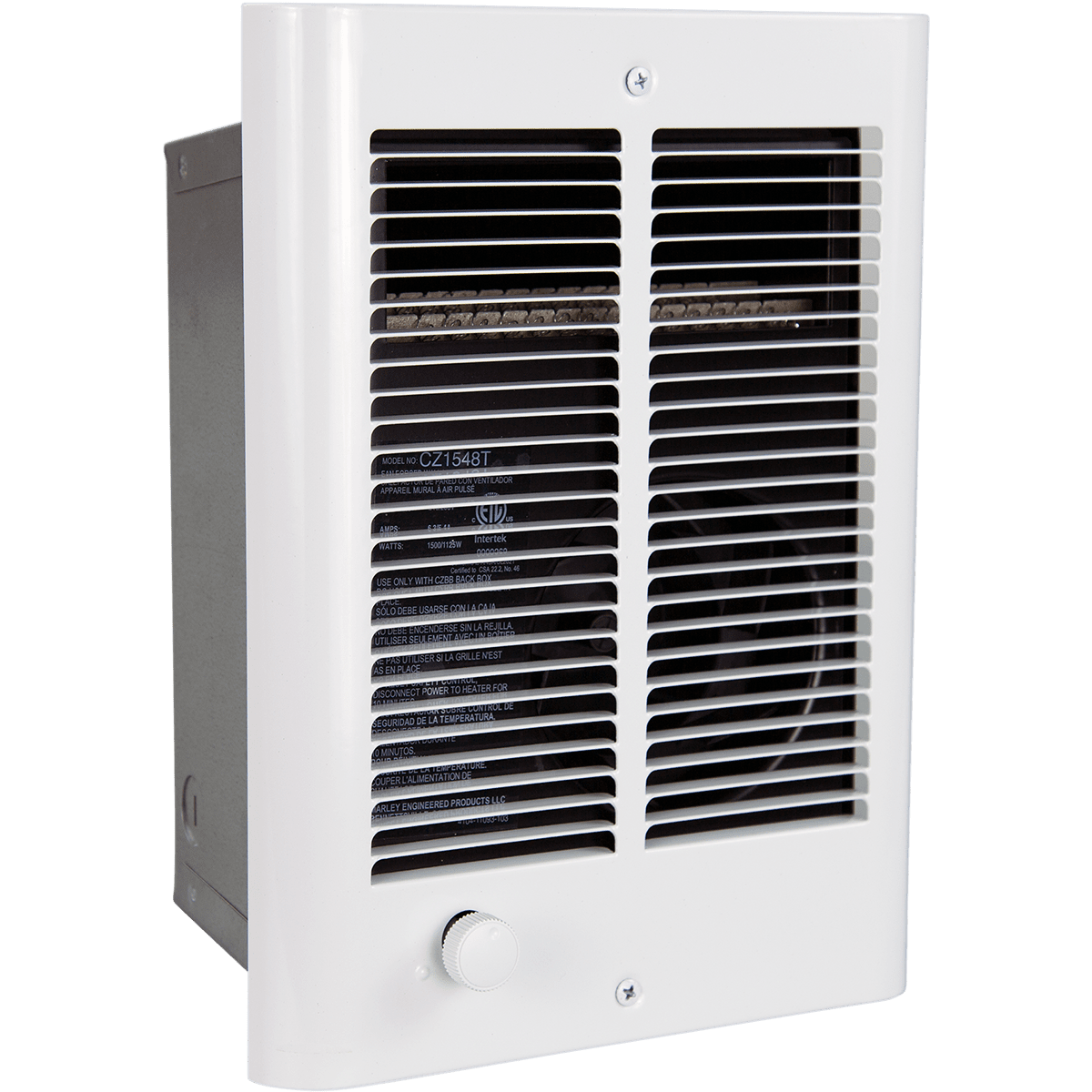 Designed for recessed, semi-recessed or surface mounting each heater features a three piece design making installation very simple.
These versatile  heaters can be mounted in bathrooms, hallways, basements, and bedrooms.
QMark COS-E Forced- wall heater has a fast response heating coil that heats fast. A permanently lubricated, completely enclosed fan blows over the hot heating coil evenly spreading warmth throughout the surrounding space.
To give you control over heat output is a built in double pole thermostat with an easy to use control knob. The grill is made of rugged stamped steel directing airflow through louvers.
These wall mounted heater is hard wired. The models come in various configurations of 120 volts and 240 volts.
Ensure your business or home is wired for the matching voltage and choose a wattage that best suits your space. The heater is fitted with Clip-N-Fit controls which allow you to adjust the heaters wattage to a lower output without having to move the jumper wire. This gives you greater flexibility in installation as well as control over energy use of the unit.
In case of an airflow blockage, to prevent overheating accidents, a thermal cutout disengages power and resets the heater. In the event of a more serious problem, a one time thermal fuse also terminates power. These safety measures are adequate to keep the user safe.
To get the best results from these wall heaters they should be mounted 18 to 24 inches from the floor. The heater should not be installed any place where the flow of air may be blocked such as behind a door, on the floor or closet.
The heater black box should have a distance of no more than 4.5 inches from the adjacent walls or the floor and no closer than 12 inches from the ceiling.
Keeping a 5 feet minimum distance from objects like furniture placed directly in front of the heater is a good idea. That's because, it ensures that the disbursed warm air flows unimpeded ensuring proper heating efficiency.
The unit is well constructed with a fan that comes with one year workmanship warranty and five year warranty on the element.
Features
The unit works with 120V and 240 v as well as wattages of 1000W, 1500W, and2000W
The units dimensions are 12 x 9 x 5 inches
This unit weighs 10 pounds
A fan forced air feature ensure efficient distribution of warm air
The unit is recessed/semi-recessed and can work as a surface mount as well
It has to be hardwired.
Customer feedback
Customers who got this heater loved the safety measures that allow the unit to automatically disengage power until the fault or issue has been resolved. Users also said that the unit warms up any space with good efficiency and quiet operation. They especially appreciated the presence of the patented Clip-N-Fit controls that allow you to adjust the wattage of the heater to a lower output allowing more control of energy use.
---
King Electric 47- Inch Cove Heater
This is a low profile electric heater that is wall mounted and hangs directly under your ceiling, allowing you to maximize your space. Because this heater is mounted high in the wall it allows you to fit it on any wall in a room without interfering with decor placement or furniture.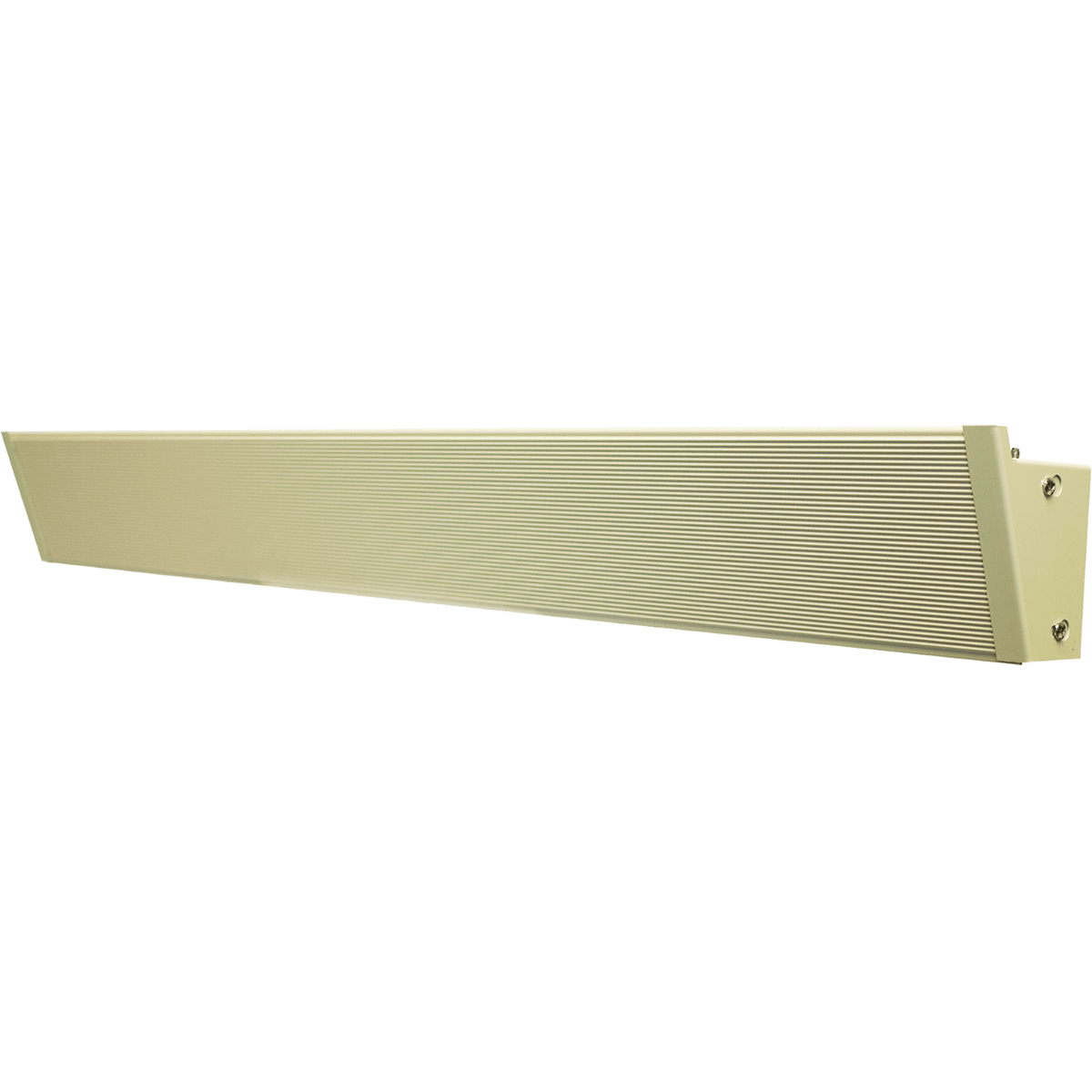 The King Electric 47 Inch Cove Heater powered by 240 volts combines instant comfort of radiant heat together with the longer lasting warmth of convection heat to evenly spread warm air throughout the room. Compared to baseboard and fan heaters, surface temperatures of the Cove Heater are lower creating a pleasant form of heat.
This heater has no moving parts making it quiet and maintenance free.
It is used to heat a wide range of spaces including assisted living housing, housing developments, daycare centers, bedrooms, bathrooms, laundry rooms and offices.
The King electric Cove Heater is hardwired into your wall for maintenance. It warms up a room the same way the sun does the earth keeping a constant, comfortable temperature. This heater delivers the heat from the top going down towards the floor making the room feel warmer.
All the objects in the room including the wall are bathed in this warmth same as the occupants so there is nothing cold to draw the heat. It also does not blow allergens and dust around. Being a radiant and convection heater this unit provides a healthier room climate. It is used together with a wall thermostat to maintain a precise room temperature.
This wall mounted heater has an extruded surface panel and a saw tooth profile increasing the radiating surface area. It's open on top and bottom to maximize convection heating of air.
It has been tested and given the stamp of approval by the mandated government bodies for use in the USA and it is also UL listed.
This heater should be mounted at no lower than 6 feet above the floor and no closer than 2.5 inches to the ceiling. The unit is well constructed and comes with a one year limited warranty.
Features
The unit uses 240 volts and offers 600 Watts
Dimensions are 47 x 3.19 x 3. 88 inches
This unit weighs 9.5 pounds
The heat mechanism is convectional/radiant
This unit can be surface mounted
It is hardwired to the wall
Customer feedback
Customers who got this unit were impressed at how thoroughly it warmed their rooms. They also found it durable with easy maintenance as well as the installation being very straightforward. Many mentioned that the combination of radiant heat and natural convection spreads the warmth evenly throughout the heated space.
---
Stiebel Eltron 120V 1000 Watt Wall Mounted Convection Bathroom Heater
Using  natural Convection heating , the Stiebel Eltron 120 volt wall heater disburses the warmth evenly to heat areas such as bathrooms, foyers,  and offices of 100 to 150 square feet.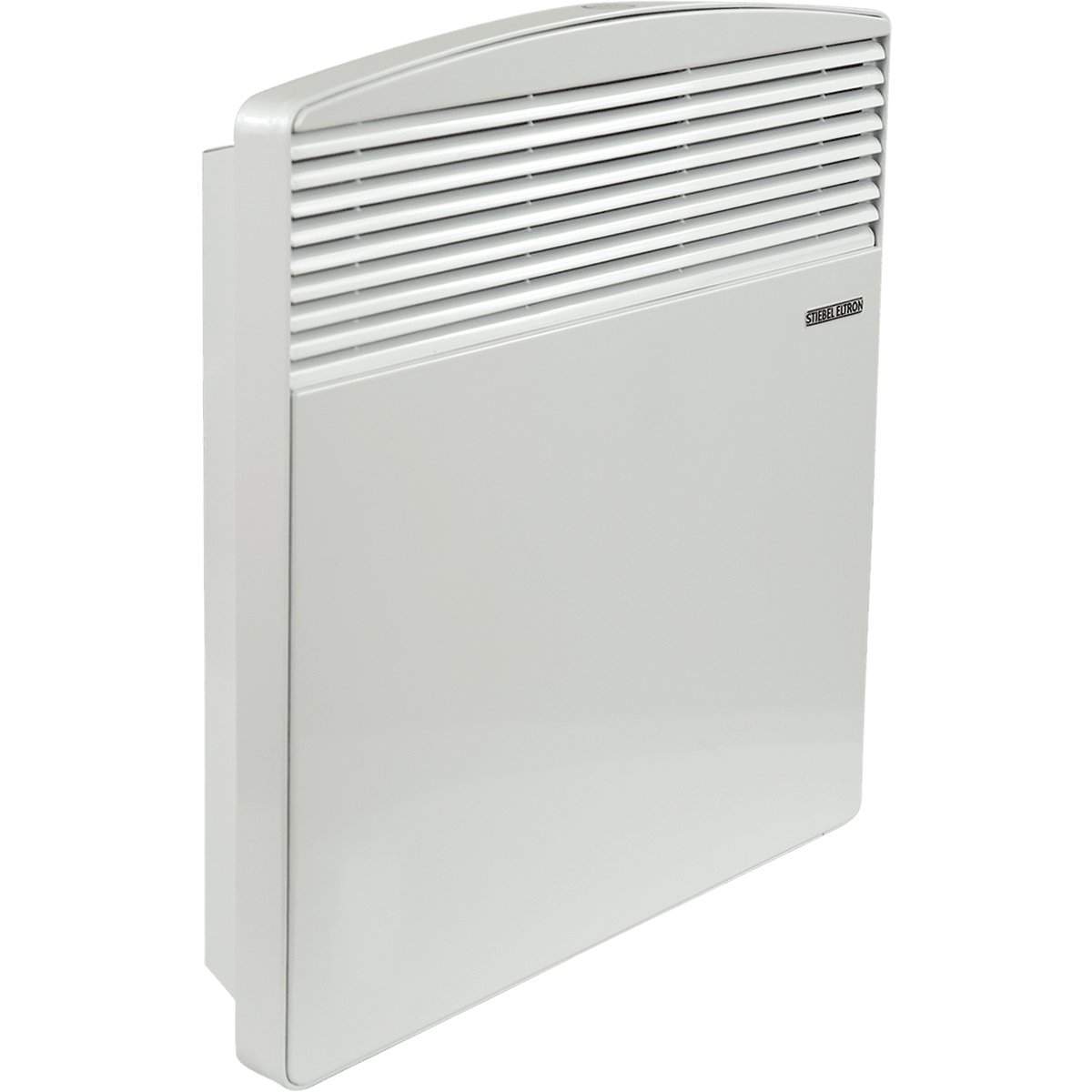 In larger areas you can add supplemental heat with 1000 watts or 1500 watts. With its renowned German engineering, the incorporated quality parts of this Stiebel Eltron heater make it one of the quitest models available in market today. They unit is well constructed with galvanized steel and is built to the highest standards featuring a sleek design that adds a modern touch to your room.
A built in thermostat efficiently maintains your preset heat level between 41 and 86 degrees Fahrenheit without any more input on your part. Additionally you can add a separate thermostat that is programmable to control the heater or wire the heater to the existing thermostat.
The in-built heater is very efficient and is easily adjustable using the  knob on the right hand side of the heater.
The Stiebel Eltron 120 volt surface mount wall convection heater comes in two variations. The Stiebel Eltron CNS 100-1 E which utilizes 120-volts and discharges a power output of 1,000 watts. This is perfect for small rooms up to 100 square feet.
Then other variation is the Stiebel Eltron CNS 150-1 E, which utilizes 120-volts and delivers an output of 1,500 watts. This can be used in slightly bigger rooms of up to 150 square feet. Both heater options need a 15-amp circuit breaker and 12 AWG wire size.
For safety, this heaters have an overheat protection mechanism. When overheating is detected a sensor cuts off operation.
The heater has frost protection as well which come in handy in preventing the pipes from getting frozen. Turn the knob all the way to the right to activate this function. This keeps the room above 47 degrees Fahrenheit. The heater starts automatically when temperatures drop to this level.
For the users peace of mind the Stiebel Eltron wall mounted convection heater has been tested by the mandated government bodies and has been approved safe to use. Additionally, this heater is backed up by a 3 year warranty which speaks volumes about the manufacturers confidence in the quality and performance of the unit.
Features
Comes in 1500W- 120V and 1000 W- 120V
The dimensions of the unit are 8 x 17.5 x 3.9 inches
This unit weighs 12.6 and 9.7 pounds depending on the model
Mode of heat transfer is convection
The unit can be surface mounted
It has to be hardwired to a wall
Customer feedback
Customers who got this unit liked the fact that you could wire it to a new programmable or existing wall thermostat even though it came with an inbuilt thermostat. The stealth running of this unit while in operation was the other feature that customers absolutely loved. They mentioned that this heater gives out even warmth and it runs very quietly.
---
Final Thoughts on the Best Electric Wall Heaters for Bathrooms
If you are looking for supplement the heating spaces such as the bathroom amongst other the sections of the house, the above option will not let you down. They are some of the best electric wall heaters for bathrooms in the market and they are reasonably priced not to mention, effective at ensuring the room is warm and toasty especially during those chilly mornings.