Studies show that as much as 50% of the air in your home finds its way up from the crawl spaces and basement and into other areas of your living space. Since basements and crawl spaces are very prone to moisture accumulation, growth of allergens is often a possibility. Allergens can make life uncomfortable especially if you have a sensitive respiratory system. But that can easily be mitigated by some of the best types of compact dehumidifiers ideal for crawl spaces and basements.
A crawl space dehumidifier is a perfect solution that neutralizes allergens by extracting moisture from basements and crawl spaces. The extraction of excess moisture creates an inhospitable environment for these organisms to grow and also freshens and purifies the air in your living space.
In case you have been sniffling, sneezing and having a runny nose but can't pinpoint the cause, you might be suffering from an allergic reaction triggered by unclean air. Often that is as a result of mold spores, dust mites and even pollen that find their way into the air in your environment.
Damp air in crawl spaces or basement is not only bad for health, but it can also damage valuable furniture like antiques. It also affects the home's infrastructure, flooring and electro-mechanical systems.
When shopping for a dehumidifier for crawl spaces and basements, it is important to bear in mind that these spaces can be differently sized based on how tightly-sealed the spaces are.
What are crawl spaces in a building structure?
Fully fledged basements we know of, but what are crawlspaces? As the name suggests, a crawl space offers only enough to room to crawl into rather than stand. It usually measures anything from a height of 3 ft to 4 ft under the house's structure
Crawl spaces are sometimes necessary in substituting a concrete slab foundation that would otherwise prevent building inspections.
Although hard to maintain, they do serve important functions such as providing access for the repair of electrical wiring, plumbing as well as heating and cooling systems without having to excavate. The only tricky part about crawl spaces is their susceptibility to unstable temperatures and humidity.
A crawl space dehumidifier is therefore beneficial in residential or commercial properties because it will stop and prevent moisture related issues right in their tracks.
Where ordinary dehumidifiers may fail, a specialized crawl space dehumidifier will not. These are specially engineered to fit in other tight spaces such as basements, attics, warehouses, storage areas, laundry rooms and garages to ensure these moisture prone areas are dehumidified.
---
Review of the Top Best Crawl Space Dehumidifiers 
Since not all dehumidifiers are made equal or even ideal for crawl spaces, one should proceed with prudence when shopping for one because the market is plentiful when it comes to dehumidifiers.
Below we have reviewed the 'A class' in dehumidifiers for crawl spaces  and narrowed the field for you for the best results. Check them out below.
Best for Long-term Reliability and Performance: Santa Fe Compact Dehumidifier
The moisture in basements and crawl spaces is inevitable especially if you live in parts of the country that are known for high humidity. This Santa Fe compact dehumidifier is one of the best, most powerful solutions for getting rid and preventing the buildup of moisture in your space.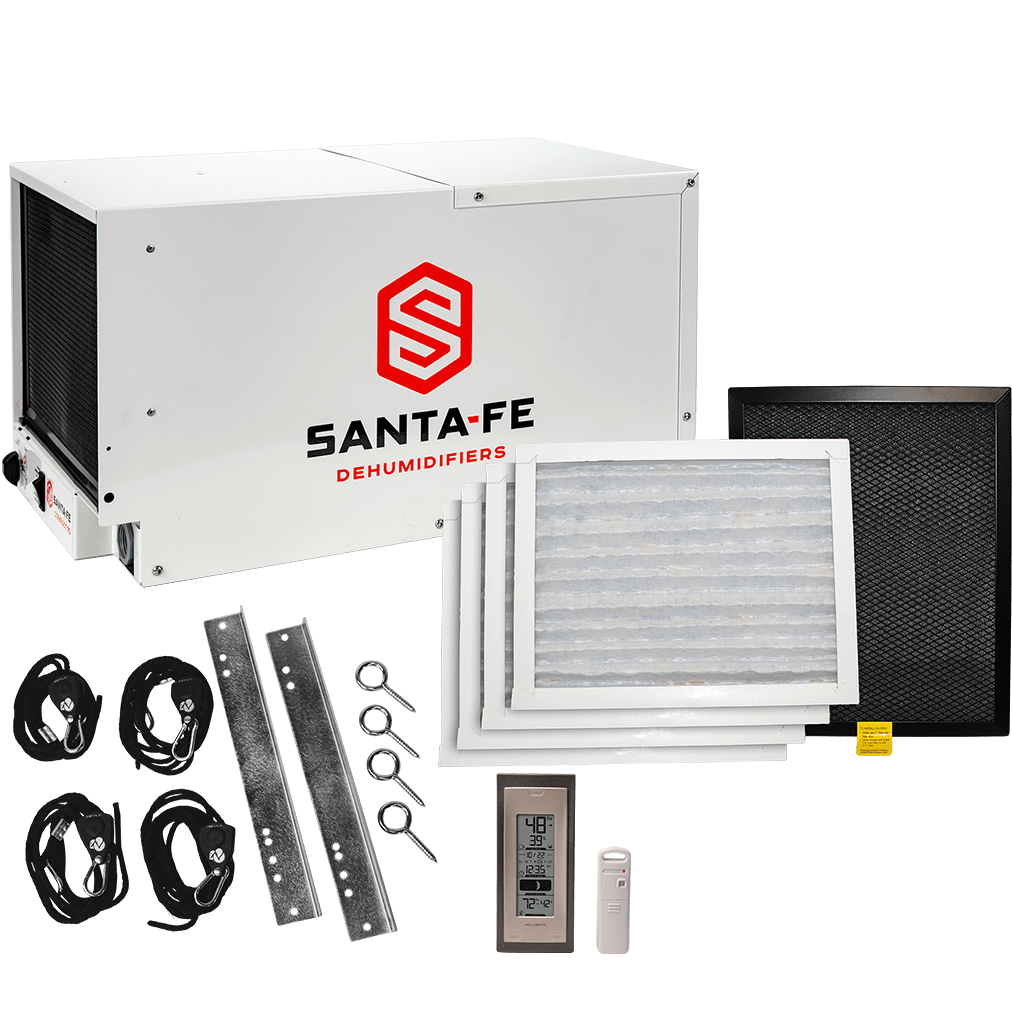 Its horizontal design gives this dehumidifier a compact look that is very practical making it perfect for low-clearance crawl spaces and tight basement areas.
This unit measures 12 x 12 x 21 inches only. The compact design makes this unit small enough to fit in between floor joists while still delivering some powerful performance.
In more ways than one, the warranty given by a manufacture for an electric appliance is very telling of its quality. This Santa Fe dehumidifier comes with a 6-year warranty which speaks volumes of its high quality in both durability and consistent peak performance.
The solid design and tough exterior is made from heavy duty steel. The parts are also made from high quality material that can stand up to tough environments like a rugged crawl space environment.
The Santa Fe dehumidifier is impressively efficient in extracting more moisture from your space, at low energy use. At a minimum, this unit can remove 2.4 liters per kWh. The unit is ideal for covering basements up to 2,200 square feet.
One of the reasons that makes this unit so effective at dehumidifying crawl spaces is the two-stage air filtration process.
This process comprises of two filters that work in tandem to rid your space of allergens such mold and mildew spores that form and float in the air.
A foam pre-filter works in conjunction with a pleated MERV 13 filter to ensure that your space dehumidifies efficiently while capturing any lingering allergens.
The mechanism of this unit takes into account that you may need this unit to dehumidify crawl space in colder months. With colder temperatures, one can expect some frosting to occur on the unit. The Santa Fe is exceptional because it has you covered even in cold weather. The unit is designed with an Auto-frost feature. So in the event that frost should form on the internal components, the unit will automatically shut off operation and the auto-defrost system will kick in to melt the frost and then resume normal operation.
The dehumidifier is easy to control with the presence of a knob for setting levels of humidity as preferred. This ranges from 20% to 80% humidity. The fan can also be easily controlled with the flip of a switch.
This is entirely customizable to user needs including adding a condensate pump, ducting kit, remote humidistat, wheels and other accessories which can all be bought separately.
Features
Energy Star rated for efficient and money-saving operation
Compact design that can easily fit in crawl places
Dimensions are 12 x 12 x 21 inches
The unit can dehumidify a space of up to 2200.sq.ft
Offers efficiency of 70 pints per day
Durable exterior made from high gauge steel
Automatically restarts  to previous settings after a power outage
Includes an 8 feet drain hose
Operates at 58 to 63 decibels
Automatic Defrost
Auto-Restart
Washable pre-filter and MERV 13 filter for allergens
Fan runs continuously or only when dehumidifying
Has a 6 year warranty
Customer feedback
Customers who bought this to dehumidify crawl spaces appreciated the auto restart feature on the Santa Fe dehumidifier.
This came in handy when there was a power outage in their area, the unit automatically restarted to previous settings after the power outage. A customer who purchased this unit for use in an old house basement shared that he loved it. He liked that the unit design is a space saver. He says the unit has done a phenomenal job of bringing the humidity down to 48% and managed to shave off some $25 off the first electric bill he received after installing the unit.
Other customers appreciated that with this brand, one can purchase accessories separately such as a hang kit, remote thermometer or humidity sensors which can help with the task of dehumidification as well as monitoring humidity levels. The replaceable filters are quite long lasting. Users mentioned that changing the filters frequently is recommended for the unit to perform at its peak . Fortunately, a replacement set includes 4 MERV 13 filters and 1 pre-filter which will take you a while to get through.
Overall, despite its high price, this is considered by a majority of customers to be a worthy investment given it superior performance efficiency, not to mention, its consistent durability.
---
Best Quiet

: AlorAir Basement/Crawl Space Dehumidifier
The AlorAir dehumidifier is engineered for low temperature operation as well as the moisture related issues that can be wreaking havoc on a property. This unit can help dehumidify crawl spaces and improve the air flow issues that are so prevalent in places such as the garage, basement and attic.
Admittedly, these areas can be a quite rough and therefore any dehumidifier to be placed in such areas needs to have a tough exterior that can handle a few bumps. The Alorair is up to the task as the exterior is constructed from a hard gauge metal with anti-rust coating.
This units design is compact, portable and equipped with riveted handles that allow easy transportation and handling. Crawl spaces often being tight spaced, its compact design is ideal as it fits in such spaces with quick ease. With CE, ETL certification, this unit is energy rated as efficient and energy saving.
This dehumidifier has a capacity of extracting 5 pints/ kWh in an hour and can do so for a space as large as 1300 sq.ft. The unit is built for efficiency, extracting more moisture at less energy cost.
The fact that the brand gives a 5 year warranty is a testament that it's built to high quality standard.
Features
Compact design that can easily fit in crawl places
The unit can dehumidify a space of up to 1300 sq.ft
Dimensions are 19.2 X 12.2 X 13.3 inches
Efficiency of 55 pints per day (has the option of 90 pints available)
Comes with an 8 feet drain hose
Durable exterior made from high gauge steel
Energy Star rated for efficient and money-saving operation
Quiet operation at 52 decibels
Auto defrost feature
Carry handles for easier mobility
5 years warranty
The coils in the unit are coated with a stainless side plate. This is for purposes of corrosion protection and minimized freon leakage that is common in other dehumidifiers.
Customer feedback
Overall, customers who shared of their experience with this unit, mentioned that the AlorAir HD55 is of high quality  and offers greater versatility when compared to other dehumidifiers they have used in the past.
The G3 filter in this unit does a good job of getting rid of moisture but also trapping allergens as well. Some customers appreciated that the manufacturers offers the option to purchase a handheld remote separately as an additional point of operating the unit
Users found the HGV Defrosting system to be an excellent feature. Every time the unit is used in colder temperatures and frost forms, it shuts down for a short while to defrost and then resumes with the dehumidification.
---
Best with Condensate Pump: Dri-Eaz PHD 200 Dehumidifier

with Pump for

Crawl Space and Basement
The Dri-Eaz PHD 200 Dehumidifier  is a powerful refrigerant dehumidifier that comes housed in a super compact package. This unit has a tough exterior that remains protective of the unit over the years despite being placed in tough surfaces.
The signature tough and durable exterior of roto molded polythylene material is rust-proof and can ably resist the wear and tear of heavy usage across many years.
The exterior design is geared towards easy transport around the home or work facility. This is because the unit is equipped with recessed handles which serve to enable hassle free positioning in hard-to-reach areas. In the event that you need to stack several units on top of each other, the recessed feet on this unit allow you to stack up to three units securely for even more enhanced moisture extraction firepower.
The unit is well constructed both externally and internally and comes with an built-in defrosting system. That makes it possible for the unit to operate under colder temperatures that may result in frosting. The unit has the ability automatically stop when frost sets in, defrost and then resume normal operation thereafter.
The unit also has an internal condensate pump as well as a drain hose included. The high-power condensate pump is able to lift out collected moisture up to 3 feet and then drain it through a 20-foot drain hose. The hose is included in the purchase of the unit.
With two dehumidification modes, this unit can be set to a humidistat mode which maximizes moisture removal efficiency. It does so by allowing you to set a preferred humidity level for your workspace upon which the dehumidifier's fan cycle and compressor will on and off accordingly to maintain that desired level of humidity.
The other is a continuous mode that comes in handy when you want to reduce the humidity in your space ASAP with no downtime. For convenient tracking, this unit displays the temperature and relative humidity of your space on the control panel in real time.
The unit has an impressive capacity to extract 75 pints of damaging moisture per day under AHAM Conditions. In a case where you have almost saturated conditions, the unit can push to approximately 134 pints per day.
Features
Compact design with recessed handles and feet that can easily fit in crawl places
The unit can dehumidify a space of up to 1300.sq.ft
Dimensions are 17.6 X 12.5 X 21.5 inches
Highly energy efficiency of removing 75 pints per day
Durable exterior made from roto molded polythylene material
Comes with an Internal Condensate Pump and 20 feet drain hose
Energy Star rated for efficient and money-saving operation
Automatic defrost system.
Automatic Restart feature
Self-diagnostic system
Has a noise level of 65 decibels
5 year warranty available on the unit
This dehumidifier is equipped with a mesh particle filter that sees to it that small particle in the air are captured. This crawlspace dehumidifier can operate in temperatures ranging from 45°F to 100°F and everything in between.
Customer feedback
The DriEaz is hands down one of the best industrial dehumidifiers in the market. That is the sentiment shared by several restoration professionals who use this unit for dehumidification of spaces. Customers agree with this assessment and share that their experience with this crawlspace dehumidifier is nothing short of impressive in performance.
According to users they found it to be very low maintenance in aspects of replacing the filter or cleaning. Customers mentioned that this unit has excellent reviews which it lives up to when they put it to the test.
---
Best Enery Star Rated

: Aprilaire 1820 Pro Crawlspace Dehumidifier for Crawl Spaces
The Aprilaire 1820 Pro is a good dehumidification tool that can help you set the right balance of moisture in your space. The same level that is ideal for you is inhospitable for allergens and other airborne viruses. It effectively prevents the formation of fungi and growth of dust mites and bacteria.
The unit has a robust build with an exterior that is both tough, corrosion-resistant and leak proof. The aluminum coils are of high quality and cannot corrode. The unit enjoys high consumer confidence because of its efficiency as well as a solid warranty.
Operation of this crawlspace dehumidifier is quite easy and convenient. The control panel for instance, has been mounted on the front of the unit. This is by design to ensure easy access in any direction. The interactive display is also very simple and user friendly.
The Aprilaire 1820 redefines the phrase low maintenance as this unit with the capability of dehumidifying a spaces of up to 2, 800 square footage, only needs filter cleaning or replacement once a year.
Features
Compact design with leveling feet
The unit can dehumidify a space of up to 2800.sq.ft
Dimensions are 12.5 x 12.5 x 25 inches
Highly energy efficient at 70 pints per day (Has an option for 90 and 130 pints available)
Has a sturdy durable exterior
Comes with a 10 feet drain hose
Energy Star rated for efficient and money-saving operation
Has a noise level of 65 decibels
Includes leveling feet
Comes with a 5 year warranty
The unit can facilitate the maintenance of a relative humidity below 60%. This is the humidity level that ensures comfort and reduces incidences of asthma and other respiratory allergic attacks
Customer feedback
Most customers who purchased this unit praised its exceedingly high performance that was consistent for a long time.
Most users shared that upgrading to this Aprilaire was a good decision that is paying dividends. They said that for the crawl space, basement or attic this unit is perfect for moisture removal although it can be a bit noisy. With the 5 year warranty customers felt the noise level is a small compromise given the benefits.
---
5. 

Best Reliable for Whole House

: Santa Fe Advance 90 Dehumidifier for Basement, Crawl Space & Whole House
The Santa Fe advance 90 solution is an upgraded version of their former Advance2 model.  If you thought that model was effective, the efficiency of this upgraded version crawl space dehumidifier, will blow your mind. That's because it's smarter and the performance is several notches higher. It provides an effective solution for damp and mold-prone crawl spaces in your property.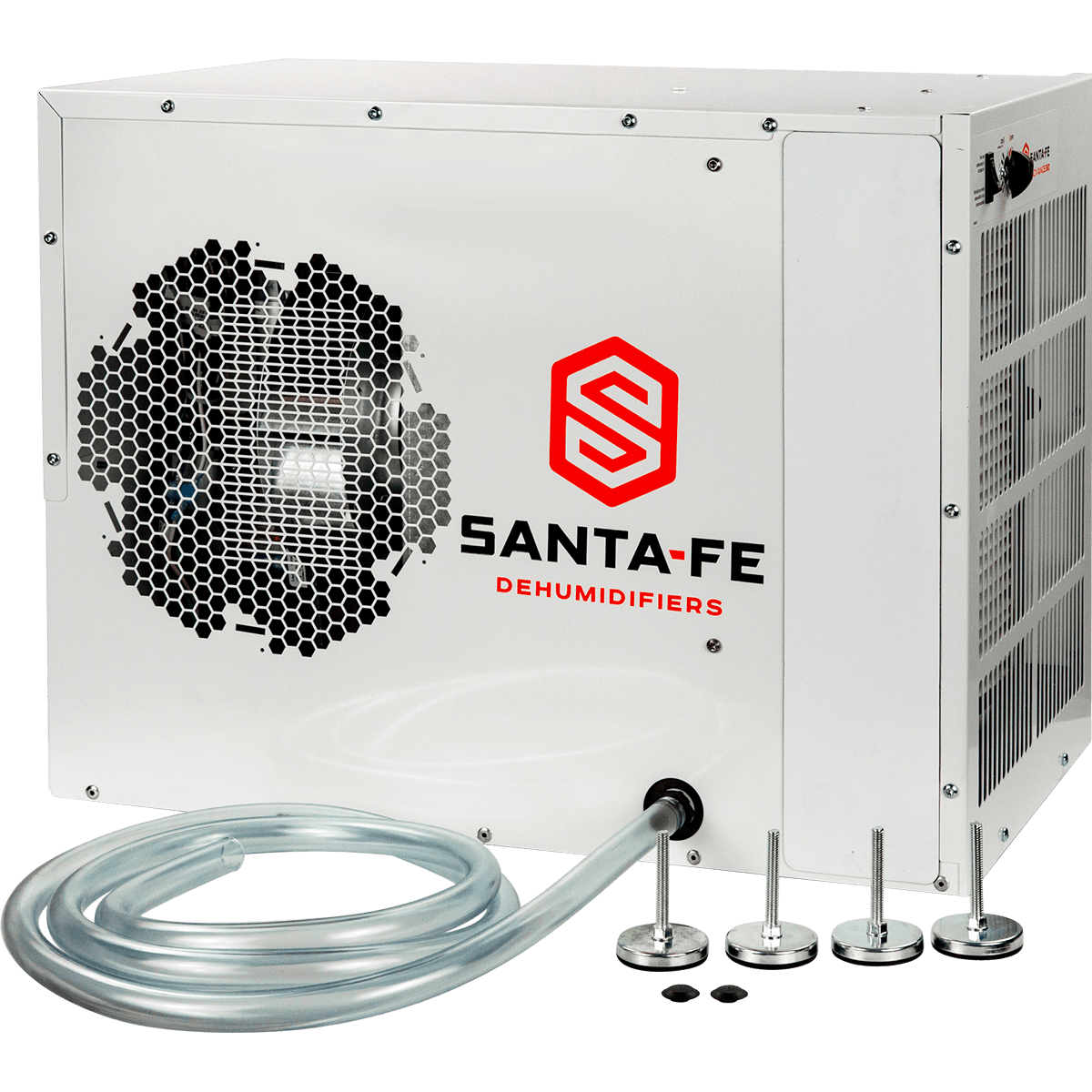 The unit has a low profile compact design that gives the impression of a smaller unit. But don't let that fool you to think that it does not pack a punch. The design is ideal for easy placement in crawl spaces that are tight.
The unit has the capacity to dehumidify a crawl space of up to 2600 square feet.  It can be customized user dehumidification needs by purchasing of a variety of accessories including pump.
Features
Compact design with leveling feet
The unit can dehumidify a space of up to 2600.sq.ft
Dimensions are 19.4 x 14.5 x 26 inches
Ha a humidity Control Knob that allows you to set your preferred humidity levels throughout
Highly energy efficient at 90 pints per day (6 pints/kWh)
Durable exterior built with steel and powder-coated to with stand rugged spaces
Comes with a 8 feet drain hose
Auto defrost feature
Auto restarts
Independent fan control that can run only during dehumidification or continuously
A MERV 13 filter for allergens
Quiet operation at 59 decibels, quieter than the original unit
Has a 6 year warranty
It is worth noting that this dehumidifier can be used in multiple rooms by ducting one exhaust. The four leveling feet give it excellent stability wherever it is placed.
Customer feedback
Generally speaking, a majority of the customers who bought this and shared their experience were happy with their purchase. One user mentioned that he bought a house years ago and this unit was in the encapsulated crawl space. It finally gave out this year 2020 but has served the house for 10 years.
The features and efficiency of this model, make it worth the higher price tag and elevates the general living conditions of the user according, to multiple customers. It is compact and discreet in operation.
---
Best Compact for Extremely Confined Spaces

: Ultra-Aire 70H Dehumidifier for Very Low-Clearance Spaces
The Ultra Aire 70H Dehumidifier can extract moisture from your whole house as well. This is because it has the ability to integrate into your home's existing HVAC system and ductwork and effectively control humidity throughout the entire house.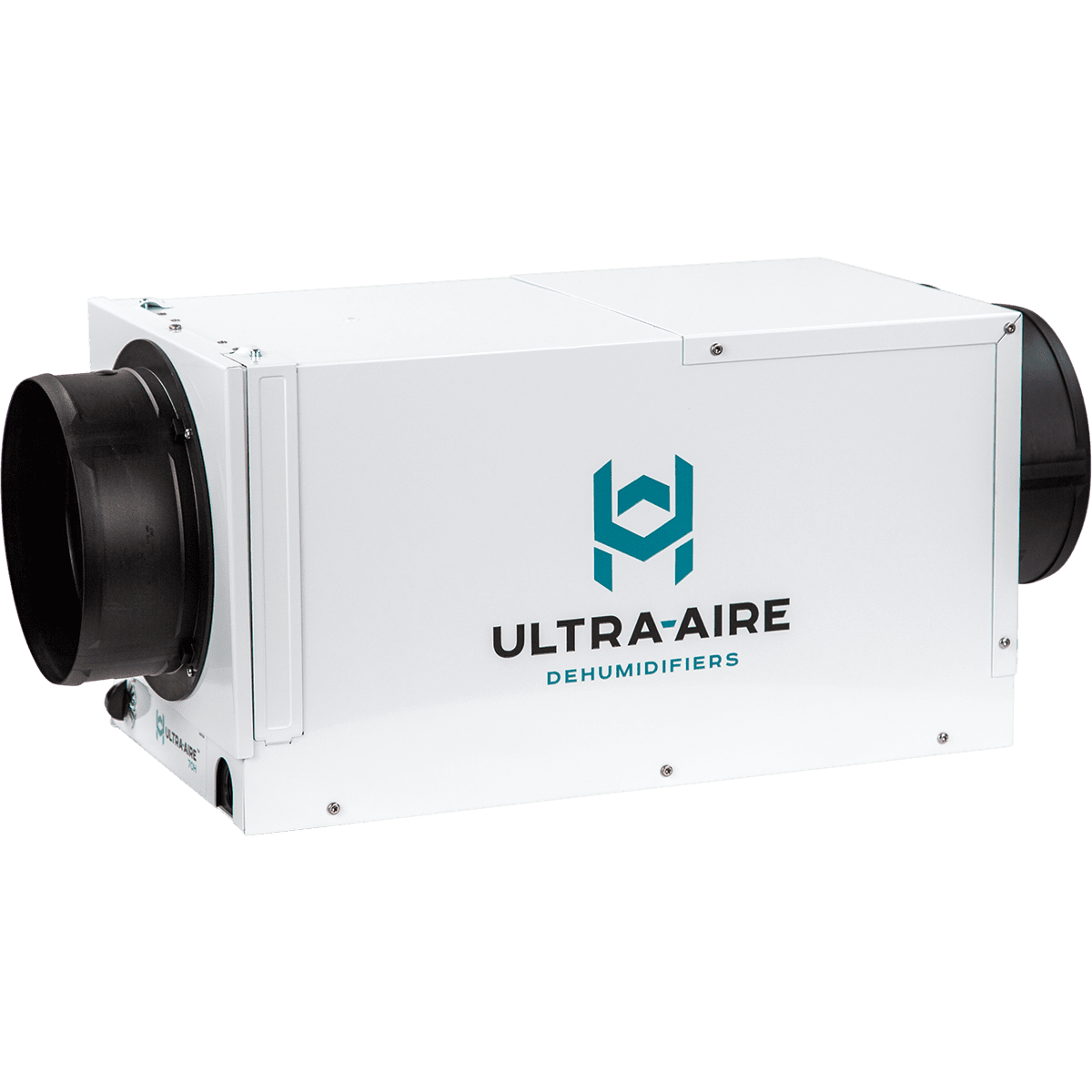 The unit design is low profile and is therefore able to be placed in crawl spaces and other confined spaces where other dehumidifiers may fail to fit.
With a capacity to dehumidify a 1800 square footage space, it is perfect for smaller homes and apartments. The unit also provides the whole house with the optional fresh air intake that can improve your indoor air quality all year round.
This unit was named the Energy star's most efficient unit of 2019. It also features a built-in dehumidistat  to control your humidity to desired levels.
The Merv 13 air filtration filter helps to capture any allergens with utmost efficiency.
Features
Very compact design with leveling feet
The unit can dehumidify a space of up to 1800.sq.ft
Dimensions are 2 x 28 x 12 inches
Highly energy efficient at 70 pints per day
Built-in dehumidistat that maintains your set humidity levels
Durable exterior built with steel and powder-coated to with stand rugged spaces
Drain hose NOT included
Energy Star rated for efficiency and money-saving operation
Quiet operation at 55 decibels
MERV 13 Air Filter
Automatic defrost
Auto-Restarts
Offers users 6 years warranty
The unit's unique build features an outer cabinet with a thoughtful design that enables you to convert airflow discharge vertically or horizontally from the unit.
Customer feedback
Users who bought this unit shared that it works very well in a smaller space. Most customers mentioned that the unit is a good bang for your buck because of the compactness that allows it to fit in the tightest of crawl spaces. Maintenance is also a breeze because of excellent filter access from either side.
They also said it was very efficient and energy saving in addition to offering easy operation. Customers shared that they would recommend this unit without any hesitation.
---
7.

Best for Low Temperature Operation

: Ebac CS60 Crawl Space Dehumidifier
The Ebac CS60 is such a humidifier that comes with a fully automated crawlspace dehumidifying process.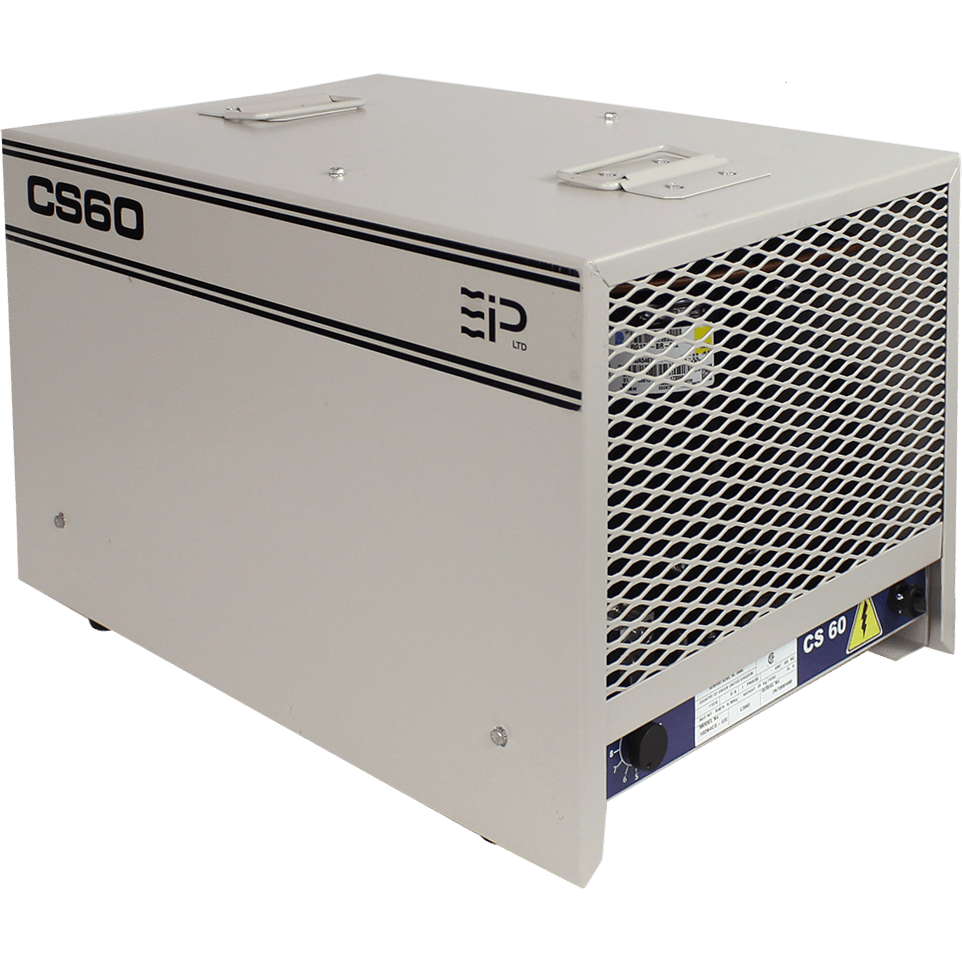 This is a highly efficient unit and saves on your energy bill because of its ability to conserve energy without compromising on performance. That is all thanks to the rotary compressor which is responsible for extracting maximum moisture at the lowest running costs.
The filters can be easily removed for periodic cleaning with running water and slotted back in to continue providing peak performance by the unit.
The anti vibration feet keep the unit stable during operations so that it stays in place. Some level of vibration occurs as the dehumidifiers works.
Features
Compact design with leveling feet
The unit can dehumidify a space of up to 1500 sq.ft
Dimensions are 14 x 14 x 29 inches
56 pints of moisture per day
Durable exterior constructed with a galvanized steel chassis with an epoxy powder coating finish
Comes with a 10 foot drain hose
Offers a quiet operation at 57 decibels,
Collapsible carry handles
Defrost feature
Auto-Restarts
Low temperature operation of up to 33 degrees
Comes with 6 years warranty
The construction of this unit is one of the most rugged on the market. It comes in a square shape that looks like a standard tool box of sorts.
Customer feedback
Customers who bought this item said that it was the perfect crawl space dehumidifier for a 1000 sq ft crawl space. Users mentioned that the unit does a great job of fitting in tight spaces but also extracting moisture effectively and with good efficiency. Customers liked that the unit is fairly quiet with a sound level that's about the same as that of a refrigerator.
---
Best Relatively Affordable:

 AlorAir LGR Compact Dehumidifier with Auto Shut Off and Built-in Pump
Although the unit is meant for crawl spaces that can often be rugged, it did not stop the designers from giving the exterior a sleek look. The unit comes in two colors blue and yellow which is a welcomed change.
While the exterior looks great, it still remains tough with a waterproof design that includes a rubber strip that seals the circuit
The unit comes with 5 Years Warranty and HGV Defrosting which enables you to dehumidify even in colder seasons. The Hot Gas" defrosting system is efficient and quick to clear any frosting from the coils.
The handles allow you to move the unit in and out of the space easily. This is the perfect example of the strength of a commercial industrial dehumidifier.
It comes with a digital humidistat control to monitor the humidity levels as closely as possible.
Features
Compact design with a water resistant rubber seal
The unit can dehumidify a space of up to 2300 sq.ft
Dimensions: 8 x 13.7 x 17.3 inches
Built-in condensate pump
Highly energy efficient as it removes 85 pints of moisture per day
Durable exterior built with steel, powder-coated and rubber water sealed
Comes with a 20 foot drain hose
Energy Star rated for efficient and money-saving operation
Has a quiet operation at 59 decibels
Hot Gas defrosting feature
Restarts automatically
Ridged handles for easy handling
Comes with a 5-year warranty
The Storm LGR Extreme industrial dehumidifier comes with epoxy coated coils. This ensures the extended life of the coils and also maintains the coil's heat transfer ability for a long time.
Customer feedback
This unit is a beast dehumidifier to say the least. Customers who have used this unit agree that the results are fantastic. The unit has a stackable design that allows you transport easily. Being water proof, it is the ideal crawl space dehumidifier to use during flood restoration.
---
What to Look Out for When Buying a Crawl Space Dehumidifier.
While there may be a number of crawlspace humidifiers in the markets, not all have the ability to deliver peak performance.
To ensure that you make the right buy that corresponds to your dehumidification needs, look out for the following.
Efficiency
High quality crawl space dehumidifiers should deliver superior efficiency during operation. If they are energy rated the better. That means that they have been built to deliver more moisture extraction from your space at less energy cost. For instance, a unit that can extract 5 pints/kWh per hour is considered efficient. So look out for the amount of moisture per unit kWh as well as the cumulative moisture the unit can extract in a day.
Durability
A solid exterior and interior construction when it comes to a crawl space dehumidifier cannot be overstated. The exterior should be tough and non-corrosive because this appliance comes into contact with moisture. The coils and other components in the interior of the unit should also be non corrosive and a defrosting mechanism for reliable performance even during cold weather is essential.
Customizable Options
Most dehumidifiers for crawl spaces come without accessories. So you want to makes sure that they are compatible with accessories that you must buy separately ducting kits, hanging kits, wheels or levelers, and condensate pumps to name a few. These accessories are crucial because they help you customize the application to better suit the unique needs of your space.
Coverage
Before purchasing a crawl space dehumidification unit, you want to measure the general square footage of your space so that you buy a unit that fits the needs of your space. Read the specifications of the unit to see if it is the right fit for your square footage.
Design
The design matters. Given that this dehumidifiers need to be placed in crawl spaces, it is imperative that they have a compact design that can easily fit and be maneuvered in and out of tight confined spaces.
---
Conclusion
The need to dehumidify crawl spaces can be as a result of drastic weather phenomena like floods or ordinary moisture retention over time. It is vital to dehumidify crawl spaces frequently to keep the air in your home clean, fresh and free of harmful particles, not to mention protecting the integrity of your house from structural damage.
Any of the above reviewed dehumidifiers are some of the best for crawl spaces and should help you deal with any moisture issue not only in your crawl space, but also the basement, attic, garage, and some, even the whole house.