Considering the amount of time spent in the living room the presence of a coffee table is practical if nothing else. But beyond being practical, one can use a coffee table as a centerpiece of the room to deliver great aesthetics that accentuates your decor.
Coffee tables can take the form of smaller units that function as side tables depending on your style. On the other hand, other designs can be bold and loud with intricate artistry and class with an ability to unapologetically take center stage.
The options below show case some exquisite modern coffee tables ideas that can serve as decorative pieces to your décor while delivering on utility as well in the living room.
---
The plinth coffee table is all marble. It may be unconventional to have a block of marble as a coffee table but we know marble's beauty and its marvelous aesthetic appeal from use in counter tops for kitchen islands as well as bathroom vanity tops.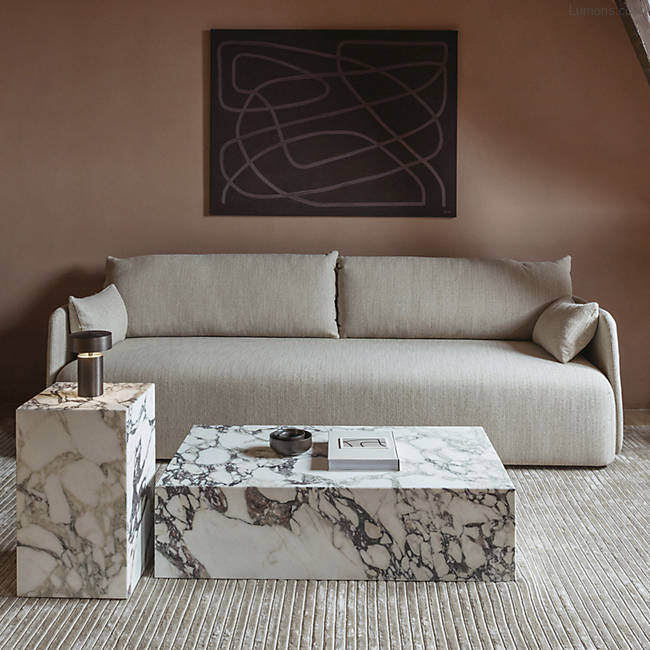 The block of marbles that has of width 23.6″, height 10.6″and a depth of 39.37″ makes a gorgeous and durable coffee table.
The unit is fairly heavy at a weight of 180.78 pounds or 210 pounds depending on the size you buy. This marble coffee table comes in several beautiful shades black, white, rose, brown and grey. The bold block of marble offers stunning visual weight and exudes undeniable beauty through minimalism and fine materials.
In this design old material meets modern styling for an eclectic piece that adds timeless elegance to your living space.
The various shades of colors and patterns are flexible enough to match a myriad of decors such as a wooden floor, trendy rugs and so forth.
---
The Alphaville coffee table is round and sits well in a plush living room. The  design is very playful but also quite unique with reflective elements and is also perfectly sized without being too small or massive.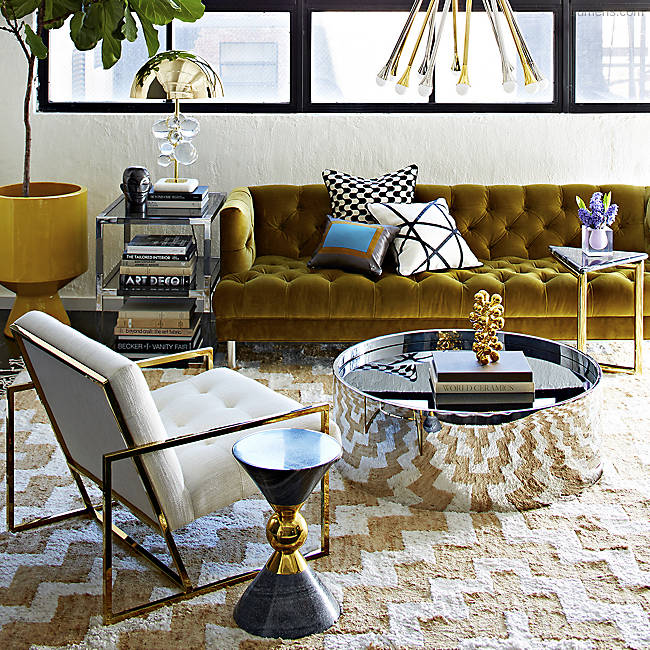 The table stands at a height  of 13″ and has a diameter 38.75″. Its round design and the size are well matched. The reflection from all around the table makes it a focal point in the room.
The base is made from stainless steel base while the top is covered with a  smoke mirror. Placing books and a light vase on it when not serving coffee helps add character to the display.
The unit can also come with a base of honed brass and a lacquer top coat with a black mirror top. This unit will augur well with almost any decor because of its reflective nature. But Alphaville is also versatile in any room so you can also use it in your bedroom decor or study as a centerpiece.
---
The clean look of this modern design is hard miss when you walk into the room. If you love to host and you are often short on surfaces to place drinks, that is one problem you will not have to worry about with this unit.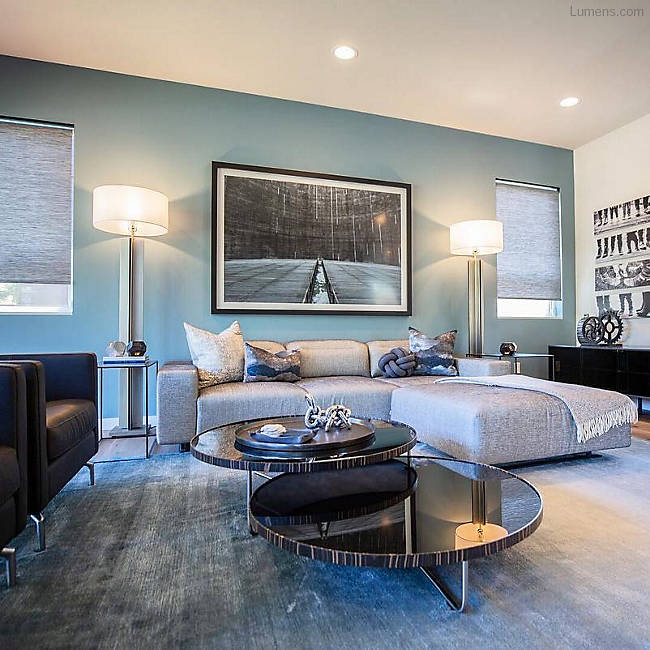 It has two expansive surfaces that are extremely well crafted. Their design, instead of being intrusive, is actually gorgeous to look at in addition to being practical.
This comes as a set of two tables. The genius in the design is in having a shorter table nests below the first. This allows the piece to be easily expanded or minimized as needed.
This unit does not come across as bulky and sits low. That's  because the, curved legs made from carbon steel connect to create a uniform framework below the beautiful glossy surface of the expansive tabletops.This also explains the sturdiness of the table.
The unit has a gorgeous blend of materials that include  black crocco reclaimed leather, black glass, ice glass and white crocco reclaimed leather that bring beautiful contrast and reflection to your space.
---
The muted simplicity of this coffee table will have your eyes drifting back to it every so often. That because one can't help but keep wondering how it has been put together so seamlessly. It the subtle curiosity that it evokes in a space which make this unit quite a remarkable piece of furniture.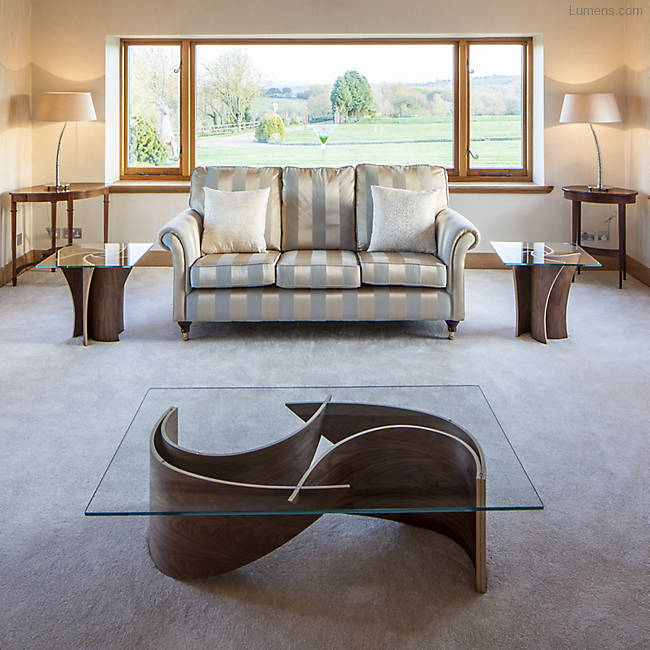 The size of this coffee table is expansive at a of width 51″and sits quite low at a height 14″with a Depth of 31.5″. Its glass top is thick and strong. Being transparent, it lets you take in the sculptural beauty of base from all angles.
The base is made from laminated birch ply and wood veneer base while the top is toughened glass.
The sculptural base that is the design of waves is catchy. Fine but neat curves of the waves give this unit an array feel. The unit although ornamental in a sense, has good utility as it serves a chic coffee table.
The base comes in two finishes, oak and walnut.
This coffee table looks amazing in the living room but will also look just as good in a lounge, reception waiting area or the bedroom.
---
The elements 007 coffee table is an exquisite piece that takes the shape of a massive cup. The coffee table occupies little space and is ideal if you don't want one that hogs too much space.
This table measures a of height 20.5″ and has a diameter of 23.6″. The unit has a glossy clean finish to complement the well sculpted design.
It is suitable as an eye-catching side table or as a pedestal for a stackable sculpture or books. The unit has a glass top that is inlaid with a fiberglass base.
It comes in a variety beautiful colors that can match most decors including  white, ocean blue and warm grey.
---
The Noguchi coffee table is sleek and elegant. The minimalist design strikes the right artistic tone with wooded elements and the clarity of glass. Its modified three-legged design is thought-provoking and bold. The curved interlocking solid wood base is a work of art with its points and lines.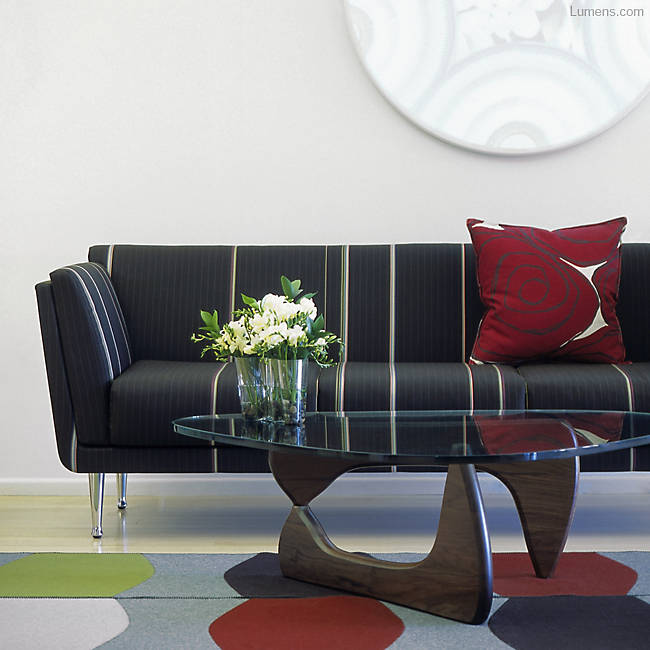 You and your visitors can admire that form through the 3/4″ clear plate glass top. With that thickness of toughened glass for a top, the unit serves as an iconic piece of furniture  and a pretty face but can also be used for serving coffee or book placement without fear that it will cave in.
This piece of furniture would add grace, charm and character to any living room or bedroom.
In case your decor calls for a brighter finish, one can get this unit in white ash. If you like it a tad darker, this unit also comes in walnut or black.
The Noguchi coffee table has low profile with 15.75″ height, a width of 50″ and a depth of 36″ and will be a good fit for small and large rooms alike.
It looks absolutely smashing with pretty much any flooring or rug.
---
If efficiency, comfort and ergonomics are high on your list of priorities in terms of what you want in a coffee table, then it is very likely that you will find all that in this chic piece of furniture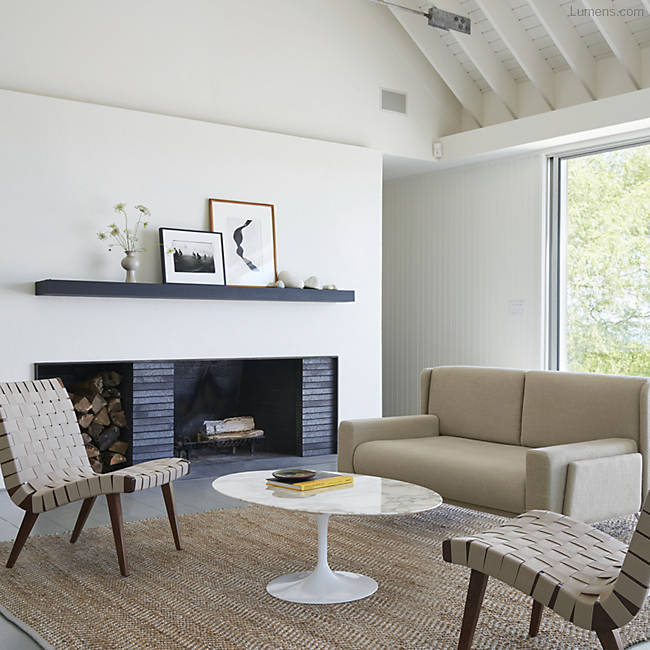 The Saarinen top is 41.25-Inch and oval shaped with adequate surface area to place and serve a tray of coffee or place a stack of books with room to spare.
Its overall build is not only resilient but sleek and elegant too. The materials used to construct the stem and base give this unit its sturdiness and longevity. These are molded from cast aluminum, polished and coated with a touch of abrasion-resistant Rilsan. This ensures a nice glossy finish and an extended lifespan. The base can come as white or black.
The manufacturer recognizes that you might be in love with the design but also in need for the unit to come in a palatable color that suits your decor. Fortunately, there is plenty of choices to work with. The top of the coffee table comes in a range of colors such as wood, natural marble, laminate, coated and natural granite table tops to completed the unit.
---
The Leyton coffee table comprises of intricate square and wooden grid base that is both sturdy, stylish and evokes curiosity.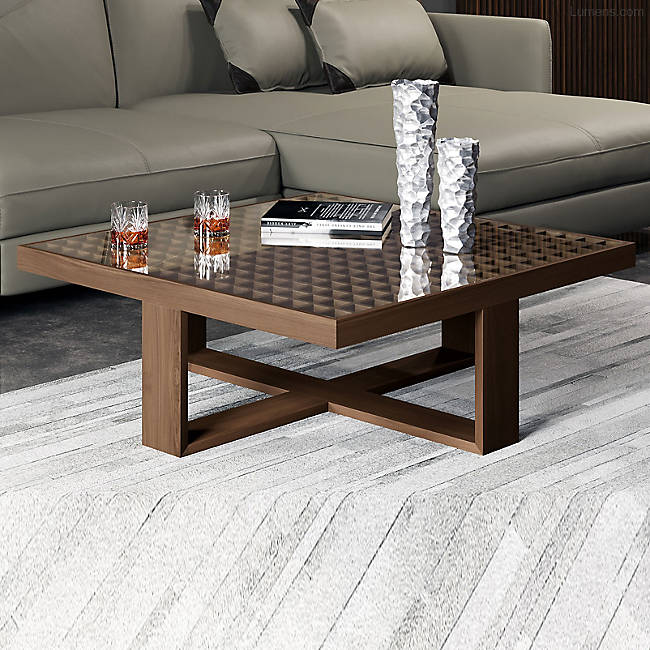 The unit sits well in any living room or conversation area providing beauty and utility all at the same time. The crisscross base stand is finished with warm wood shaded veneer and is quite strong thanks to mitered joints.
The square top has a width of 35″ by a depth of 35″. The unit has a low profile design and sits at a comfortable height of 13″. The unit can also be moved from one point to another with relative ease as it is not too heavy weighing only 63 pounds.
The smooth top is made from clear glass and is ideal for serving drinks to guests or displaying artful tabletop items.
---
If you like a coffee table that has plenty of serving space, the round house coffee table might just be the one that rings the bell for you. Why? You might ask. That's because the rounded wooden top has a sizeable surface area of a 36″ diameter and a lip for multipurpose use.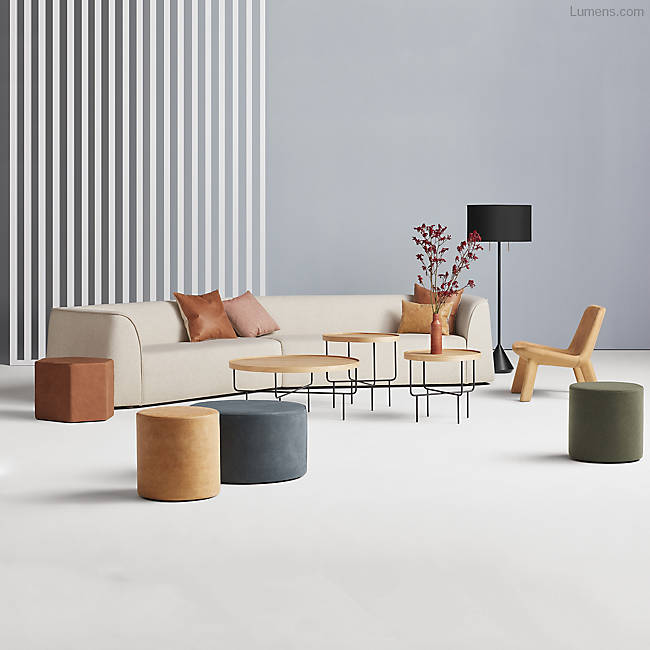 From providing a place for serving coffee and other drinks for your guest, this unit can work as a display area for books or other decorative items as well. It can also be a centerpiece as well.
The design is simple but with loads of character. The Roundhouse Coffee Table offers a stylish gathering point for the modern home. Below the wooden top, a set of slender, powder-coated steel beams form a geometric base for sturdiness. The base culminates into sprout thin legs that touch the floor for all round support of the unit.
This minimalist style is simple yet practical and can adapt to any décor. The unit stands at a height of 16″ and comes in various colors to match a myriad of decors. It is available in ash, black, white oak and navy green.
---
Just like good wine matures with time, the functional pieces of this exquisitely designed coffee table not only effortlessly blend with different styles of decor, but the solid wood is hard wearing and matures gracefully over the course of time. If you think it looks good at the time of purchase, it will add even more character as it ages. That can rarely be said for most furniture items. So in a sense, this unit is a collector's item.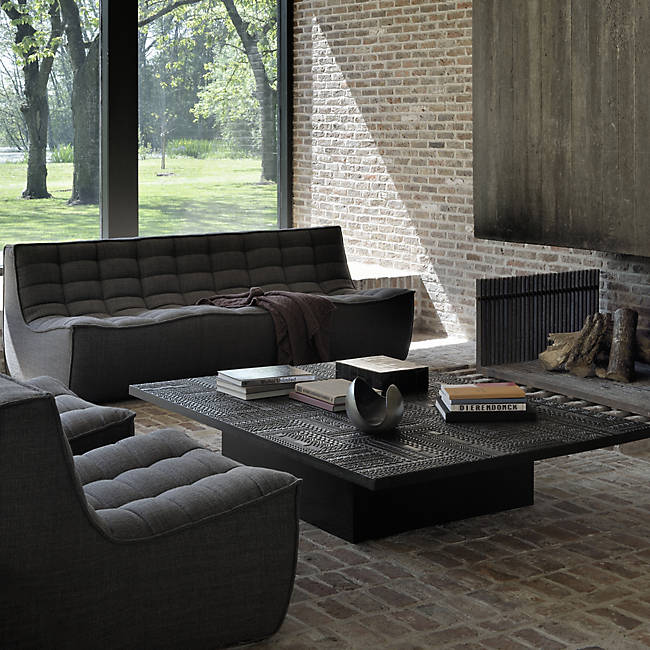 The Ancestors Tabwa Blok coffee table is big, chunky and sure to transform any room with its beautiful tribal artistic markings. The top of the table is constructed from a thin piece of plywood exquisitely finished in a teak veneer.
The surface is well spread with a stately width of 64″ by a depth of 47″ and a low profile height of 16″. It forms the perfect canvas for artful tribal patterns and shapes carved into the surface of the wood to create a beautiful textured piece of art.
This artful display can be added to any modern living space bringing just the right amount of rustic charm.
The base of the coffee table is made of thick oak. The Ancestors Tabwa Blok coffee table can be used as a statement piece or serve to bring inspiration and style to a contemporary space.
---
This Oak Nordic coffee table has a beautiful low profile design to it. The beveled edges add to the flow of simplicity, comfort and utility.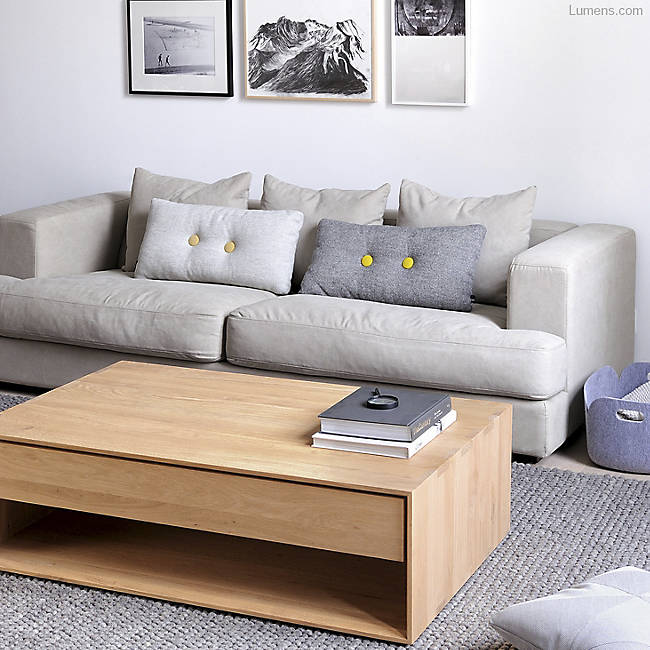 As the name suggests, the unit is made from oak, so you can be sure it will inject that solid wood feel and look in your living room.
The design offers a flat-panel drawer in which magazines and table mats can conveniently be made to disappear until needed.
Its top surface area is sufficient for serving your guests with coffee or other beverages and snacks without fretting for space. The open space at the base can also serve as a display area for a few favorite books and magazines.
---
Some decors and personal taste gravitates towards playful colors and eclectic design. The Plec Large coffee table brings a splash of color to your living room or conversation area.
The beauty of this option is that you can use it both indoors and outdoors.  This table is strong and constructed out of steel and comes coated with textured polyester paint.
The accordion-style design on the legs brings about a delicate balance of light and shadow. The overall design is cheerful.
This is a nice piece of furniture that will naturally have your guests gravitating towards it and has a knack of sparking conversation. It offers plenty of space to serve coffee or drinks on.
---
This wire frame coffee table is really cool and nice to look at. The design is so unconventional yet very endearing. Simplicity takes center stage in the design without comprising on utility and still managing to sneak in an evocative element such as the wire cage.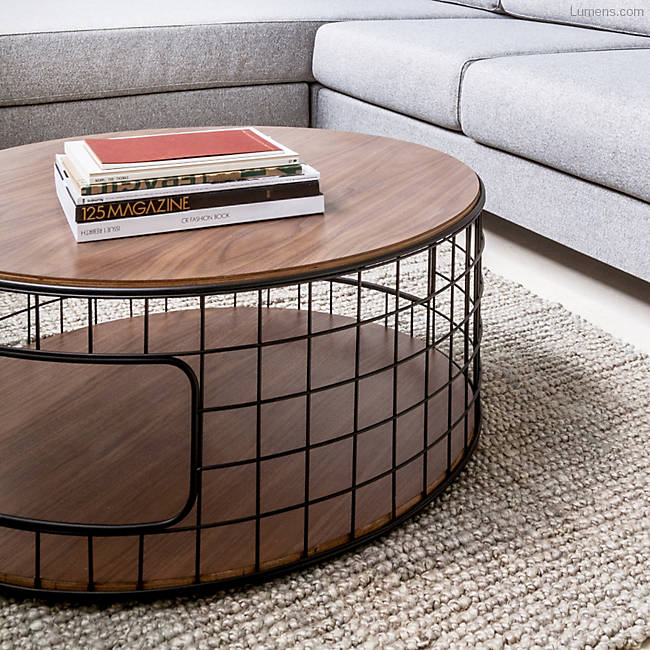 The wire grid that forms the entire midsection of this unit is well constructed and given a smooth black powder coated finish. The rounded top of this coffee table comprises of plywood with a walnut finish and exposed beveled edges for a touch of rustic charm. Its bottom has a plywood board as a base.
The wire grid has an opening that allows access to the storage space in the midsection that can hold a stack of books or any other ornamental item that you may want to place there.
The unit has a height of 15″ and a diameter of 32″ and is drum shaped giving the impression that it's seating directly on the floor.
What you don't see is that this coffee table is equipped with bumpers on the bottom of the frame to protect the hardwood and ceramic floors from any damage. Whether placed on a bare floor, on top of a rag or carpet, this coffee table looks great and can match with a wide range of decors.
---
The Ann coffee table provides an elegant look sure to inject understated elegance into your living room space. This unit is the culmination of traditional class and contemporary style. The classy traditional aspects are brought to life by the cultured marble and glass top that add a natural touch.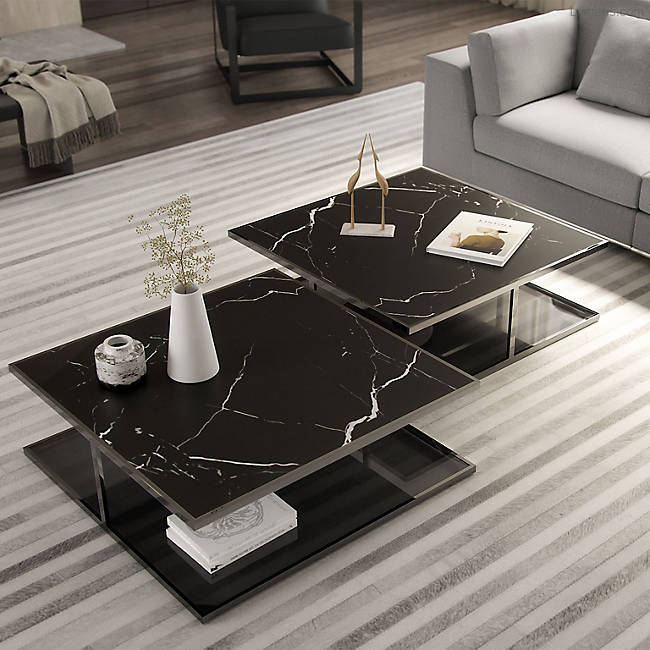 The design is neat with sharp lines that agree with the shining stainless steel frames contouring the edges of the unit. Some pieces serve to connect the tabletop to its corresponding base. The top matches the bottom and they both give off a shining contrast with polished steel frames.
The profile of the unit is low at a height of 14″ and the open space in the middle adds to the allure of the unit.
Depending on the color scheme of your decor, you can get this unit in black marble or white marble. The unit is very decorative but also the square top has ample surface area for serving coffee and covers a width of 39″ by a depth of 39″.
---
Some of the most amazing coffee table creations are those with great simplicity in their design concept. This coffee table with glass top is an excellent example.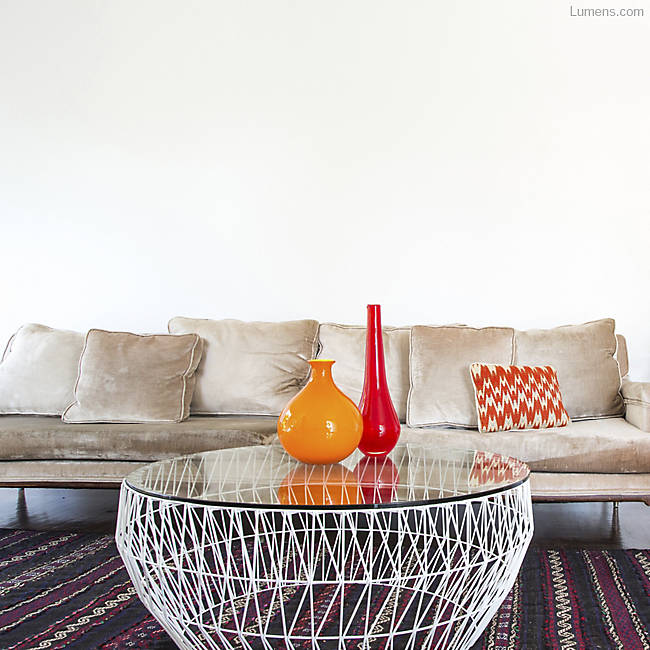 The geometric good looks comes from the 3-foot high open patterned base made from powder coated galvanized iron.
The top constitutes of a 36″ thick toughened round transparent glass that has been nearly laid on the base. Its base comes in two color options. One is gold which is exclusively for indoor use and the second color is white which can be used both indoors as well as outdoors.
The whole design exudes an air flow.
---
This is a stunning coffee table to say the least. The artistry on the base as seen through a glass top is a masterpiece that brings form and function together with great harmony.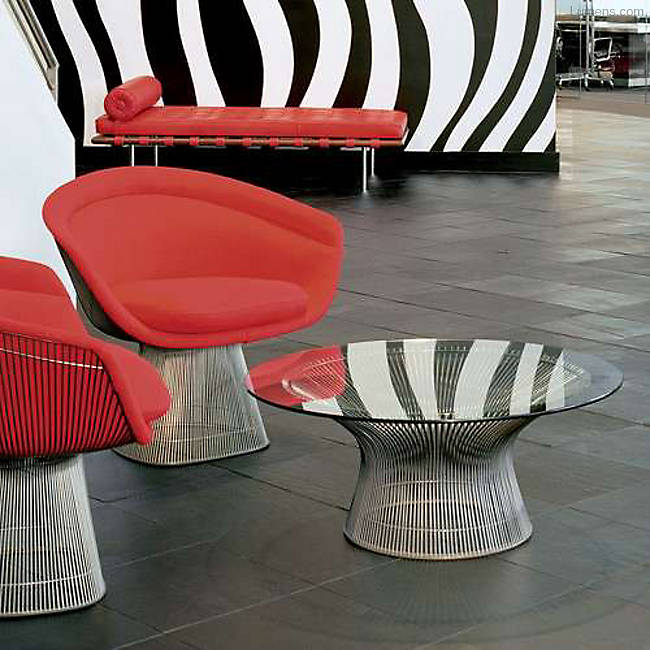 The base is made with vertical steel wire rods welded into circular horizontal rods to give off a fantastic finish. That look can be presented in either painted metallic bronze base or clear lacquered plated nickel base. The top of the unit is a round tempered glass that is 3/8″ thick.
This coffee table is available in two sizes allowing some flexibility in getting the best option suited to your space.
---
The Crayford coffee table epitomizes modern elegance, form and function. The low profile design has a seamless flow to it.
This gorgeous triangular design is engineered with clean crystal clear glass. The way the glass connects to the metal support on the three connection points is impressively seamless. The split metal connectors hold the glass and the base of composite wood in place. Contrast of clear glass and the natural wood walnut veneer base is very striking.
This coffee table is ideal for a living room or bedroom in a modern home. It can also be a good fit for an office waiting area.
---
The rectangular dawn coffee table is a reminder of how simple and beautiful life can be. It is the perfect low profile coffee table for sitting on a cushion cross legged and enjoying a cup of Joe with family and friends.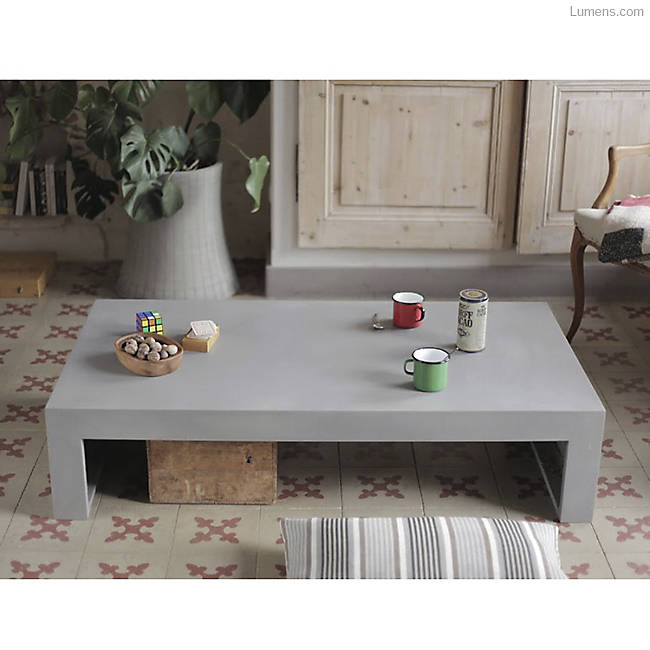 This handsome coffee table is surprisingly made from concrete over a steel frame. The design is inspirational and hand crafted to preserve the natural minute imperfections that add character and beauty to this furniture piece.
This table comprises of a removable zinc tray that provides space for putting your grasses, flowers and other plants to create a centerpiece for the patio or living room.
It is needless to say that this beauty will be enjoyed by many generations to come just by virtue of the concrete construction. The unit can be effectively used indoors as well as outdoors.
---
Conclusion
Landing the perfect coffee table for your living room, bedroom or office boils down to a matter of taste as well as preferred concepts.
Homes have different themes and design concepts in terms of interior decor. What we liked about all the above coffee table ideas, is that they are a tad unconventional and have the ability to bring a unique feel that is elegant but not mainstream and therefore putting a stamp of uniqueness to your space.