Organizing stuff in a small space and in this case a small bathroom can really be a daunting task. This is because you're faced with the challenge of creating that functional area without resulting in a space that is congested and even smaller. The trick is to find a balance between storage and of course – style. Lucky for you, this post covers some great bathroom storage ideas for small spaces that you can employ to not only stay neat and organized, but also ways to create additional space so that your small space is not encroached even more. But before that;
Useful tips bathroom storage ideas small spaces
Bathroom cabinets/vanities– Convenient as it might be in terms of storage capacity, a big wide cabinet in your small bathroom is not recommended because of the obvious reason that it will take up much of the space that you don't have. Instead, go for tall cabinets. This way you will have your storage space and the tall cabinet will take up more space vertically and less space horizontally.
Make use of the space over the toilet– There is no shortage of cabinets designed for is purpose. Or if you prefer, make your own custom cabinet to suit your own bathroom needs and decor.
Make use of corners– Corners are often under utilized. A good way to the corner is to add a tall storage racks, don't you think?
Just get creative and create your own additional space– Behind the door, under the sink, mount storage racks and cabinets on the wall. Don't forget the web. There is plenty of inspiration in the internet if you're not feeling creative.
So about those storage ideas…
1. Invest in a over the toilet storage rack
The space above the toilet is almost always wasted which is why a space-saver like the one above is useful for reclaiming this space. The best thing about a space saver is that is does not require in additional space, it just utilizes what is already there.
2.  Neat wall mount towel racks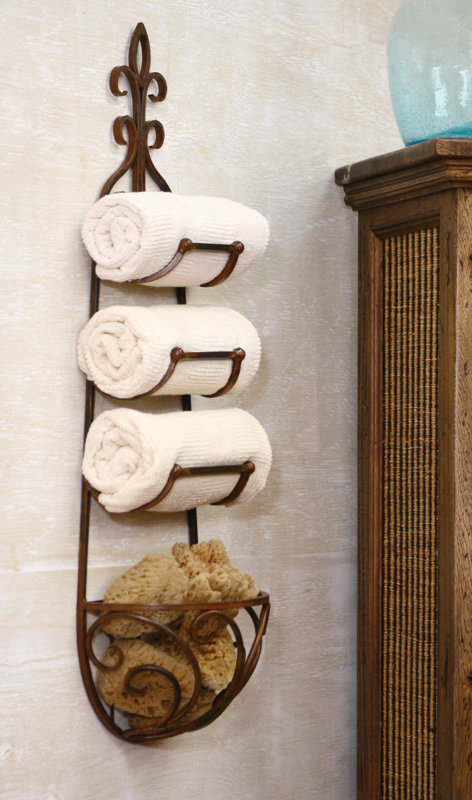 This rack is just too cute and perfect for small spaces. Install it on any part of the wall you want with your towels looking super neat and nice. You can get a similar one here.
3. Over the toilet storage cabinet
Over the toilet space savers are growing in popularity so there is just no shortage of the available designs. This one right here is a popular choice and will fit over most standard toilets.
4. Behind door towel hangers
The space behind the door is another area where people with small bathrooms can take advantage of. You can make your own towel storage holder with as many bars as you want or you can buy one too. Each bar swivels independently. This one is easily attached to door hinges and does not in any way interfere with the movement of the door.
5. Or wall mounted towel hangers
I find wall mounted swivel bars to be the prefect solution for wet towels not to mention just displayed like that, they just look organized. Oh, and the bar is rust proof in case you were wondering.
6. Door mounted towel racks
Get this towel rack for easy mounting on the wall or behind the door. This is a simple and nice way to stay neat while putting all your towels on display.
7. Install a dryer holder with benefits

Get a multi-storage organizer with a hair dryer holder and easily install it on the wall of your bathroom. This one in particular is convenient as it can more of your daily bathroom toiletries and a towel.
8. Or install an organizer inside your bathroom cabinet door.
Another great example of creating space where there was none! And the best thing about this type of organizer that can be mounted inside the door of your bathroom cabinet is that it remains hidden, never adding to the clutter in a small space.
9. Make up and all
With a small space, you can't have your nail clippers, hair brush, skincare bottles, perfume bottles, make up and any other cosmetic all over the place. Organizers like the above are affordable so find something to neatly hold all your items. And one convenient feature of this cosmetic organizer is that it rotates fully so you can easily find what you need. Here is another example of an attractive and affordable organizer.

10. Hanging metal racks
With a total of three fixed shelves and removable 2 baskets, this rack is functional and definitely would make the perfect solution for a small space that needed some additional storage. You can get this wall mounted wonderful space saver straight from Wayfair.
11. Convert your ladder into something useful
Now you know ladders are not only for climbing! Hang some baskets and get the much needed space.
12. Get or make an organizer around your pedestal sink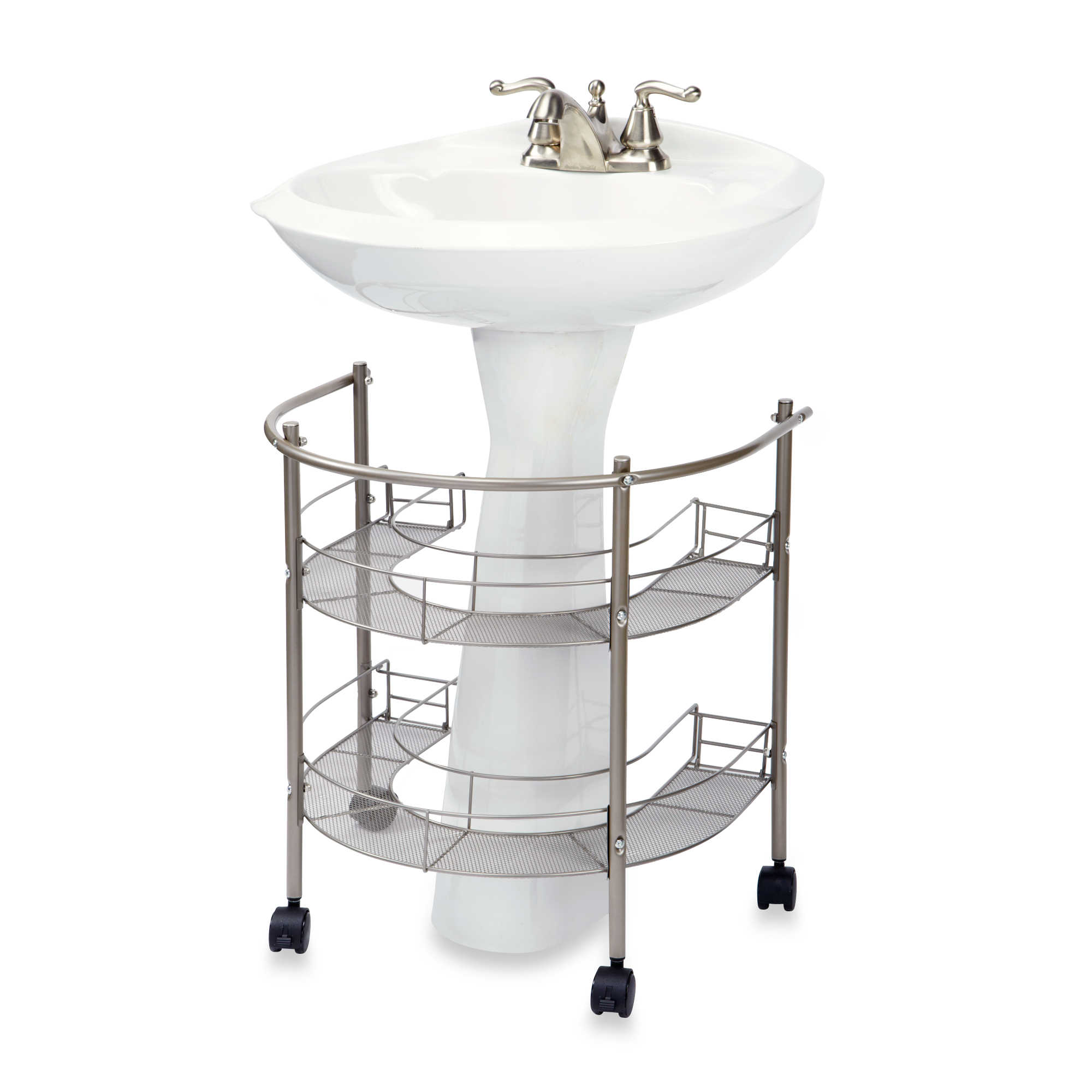 Why let the space under your pedestal sink go to waste when you can have a sleek storage wrapped around it for some of your storage needs? This is perfect for preventing clutter around your sink by storing your spare washing soaps and toiletries that you don't use that often don't you think?
13. Pole caddies for shower corners
Definitely no more walking around with portable shower caddies or placing your shower bottles and other bath necessities on the bathroom window with this pole caddy. Not only is such a pole caddy designed to be functional, its also makes your bathroom look refined and well- tidy.
These caddies take up minimal space in the corner of your shower while storing lots of your bath products. They can be found in may designs and different materials from plastic, wood to metals. Best quality metal caddies are rustproof but there are also many low quality ones that aren't.
14. Storage caddies for hand-held shower heads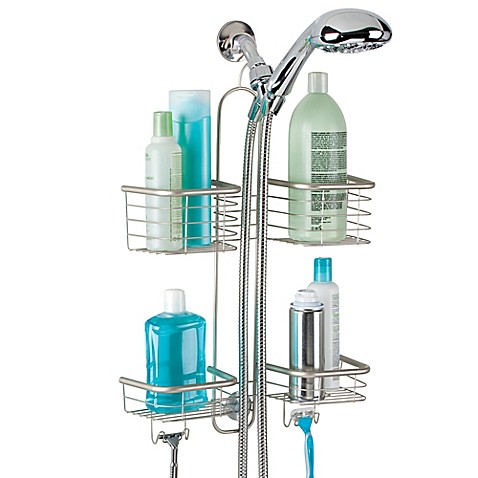 For those who want a smaller variation of the caddy above. Neat and nice as it's supposed to be in the bathroom! You can get this from Wayfair at around $30
15. Hang some stylish-looking baskets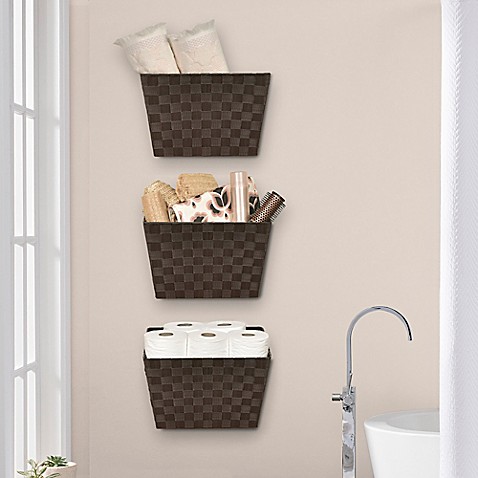 And finally, hanging stylish baskets on the bathroom is not only a way to get additional storage in your small space, but it can also be a way for you to decorate your bathroom. You can get creative here, it's all up to you. Just make sure the baskets always remain neat or the purpose will be defeated.